Hundreds of people protesting President Donald Trump's Cabinet picks marched on Senate Minority Leader Chuck Schumer's Brooklyn, New York, home Tuesday night, demanding he fight the nominations.
As protests against Trump and his policies sweep the nation, activists took to the streets in front of 9 Prospect Park West, the apartment building where Schumer lives in the upscale neighborhood of Park Slope.
Demonstrators chanted, "Chuck! Chuck! Don't sell us out! We need a fighter to knock Trump out!" and, "No hate! No fear! Refugees are welcome here!" as they marched toward Schumer's house.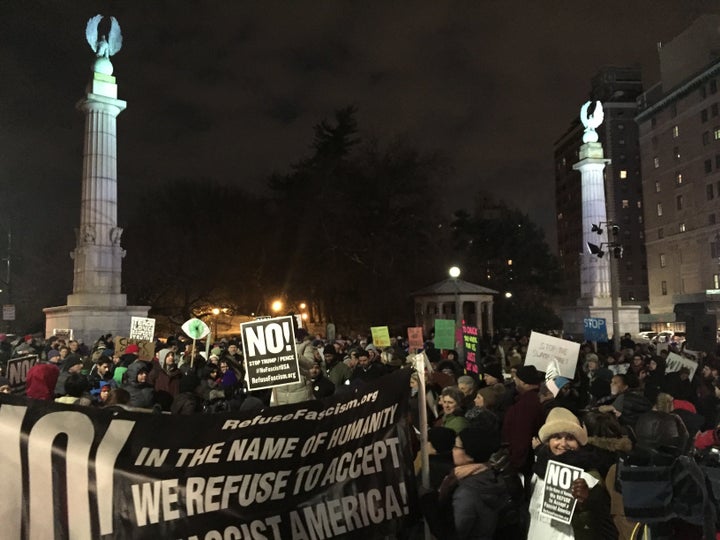 Schumer, the top-ranking Senate Democrat, has been an outspoken opponent to many of Trump's picks for the new administration. Still, he voted for Mike Pompeo for CIA director, John Kelly for secretary of homeland security, and James Mattis for defense secretary.
Schumer will oppose eight of Trump's nominees, "as well as others who don't sufficiently answer deep concerns about the President's egregious executive orders," communications director Matt House said in an email Tuesday night.
Brooklynites Tiffiny Williams and her husband Casmir Andoh, with their two sons on their shoulders, faced the bitter cold to send a message to their senator.
"We don't want Chuck Schumer approving anymore of these Cabinet members," said Williams, a 40-year-old applications expert. "He needs to listen to his voters."
Williams said she fears her sons, ages 3 and 5, will grow up in a "hateful and racist" America under Trump.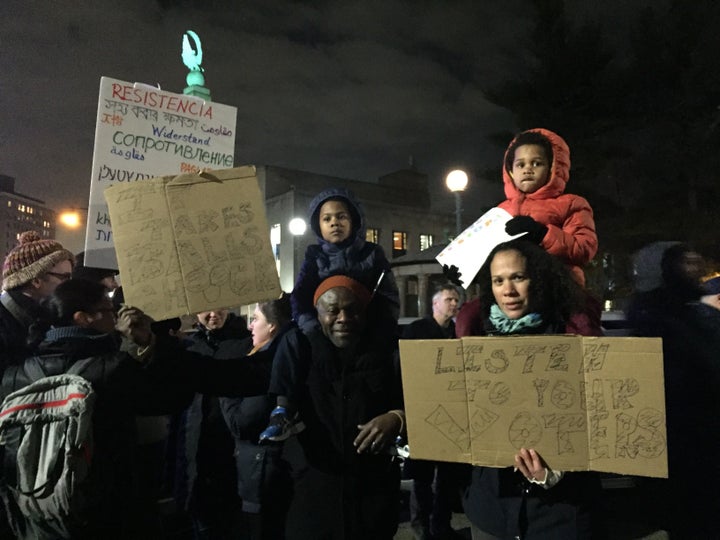 "We want [our sons] to grow up in a fair world, a world in which everybody's needs are taken into consideration," Andoh said. "And it seems like those very basic rights are being trampled as we speak."
Andoh, 48, a food and beverage manager, said it's on the American people to come together and demand change.
"It's going to get pretty ugly ― I know that for sure," Andoh said. "But we're in for the long ride."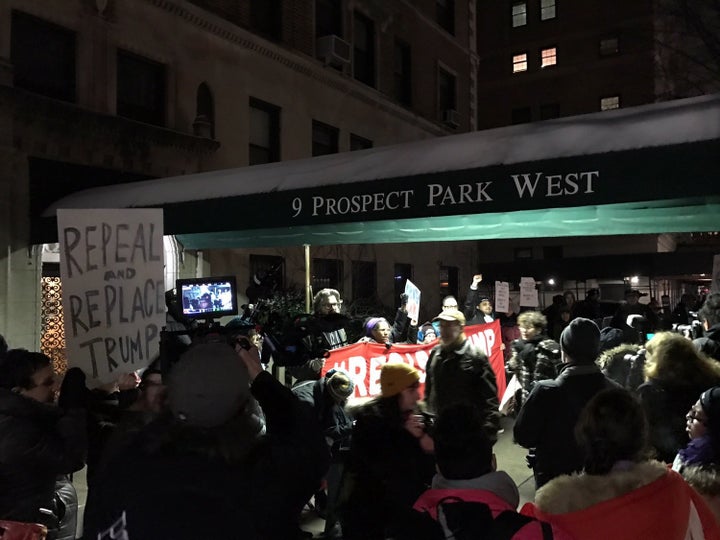 The protest was part of #ResistTrumpTuesdays, a series of events planned for every Tuesday during Trump's first 100 days. The actions are led by progressive advocacy group MoveOn.org, community activist group Resist Trump New York, and several other national organizations. Thousands rallied outside local offices of Congress members during last week's #ResistTrumpTuesdays demonstrations, which followed massive worldwide women's marches.
Caily Herbert, 22, said she joined protesters Tuesday night because she is "vehemently opposed" to many of Trump's actions.
"I care significantly about the sins and crimes of this country," Herbert said. "We have a long way to do go. I want to fight on behalf of absolutely everyone in this country who has been discriminated against."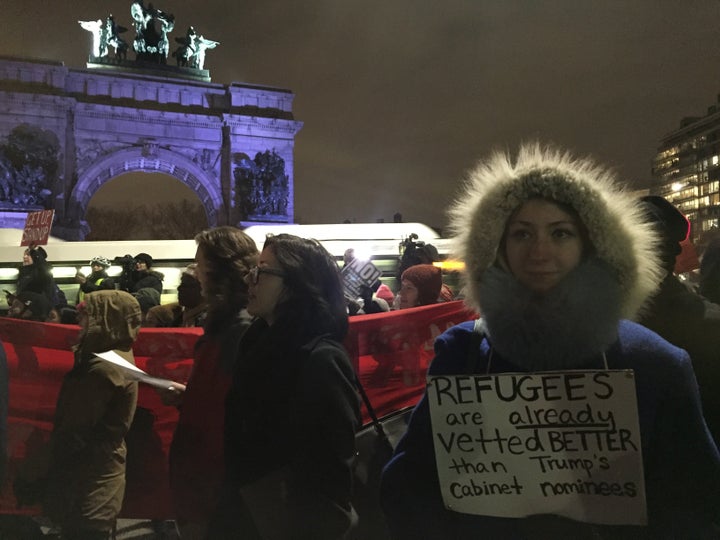 Herbert said she's believes protests are loosening Trump's "iron grip on the media cycle."
"People are turning out so that makes me very hopeful," said Herbert, who lives in Brooklyn. "I do worry that we could lose momentum. ... It's a lot to keep so many people mobilized, but so far so good."
Organizers of the march said it was meant to demand that Schumer "strengthen his resistance and fight fight fight the horrible policies coming out of the Trump administration."
"No appeasement, no dealmaking, no collaboration," organizers wrote on the event's Facebook page. "We need powerful resistance and leadership of all the Senate Democrats to fight the administration!"
Adam Goldberg contributed reporting.
This article has been updated to include a comment from Schumer's spokesman.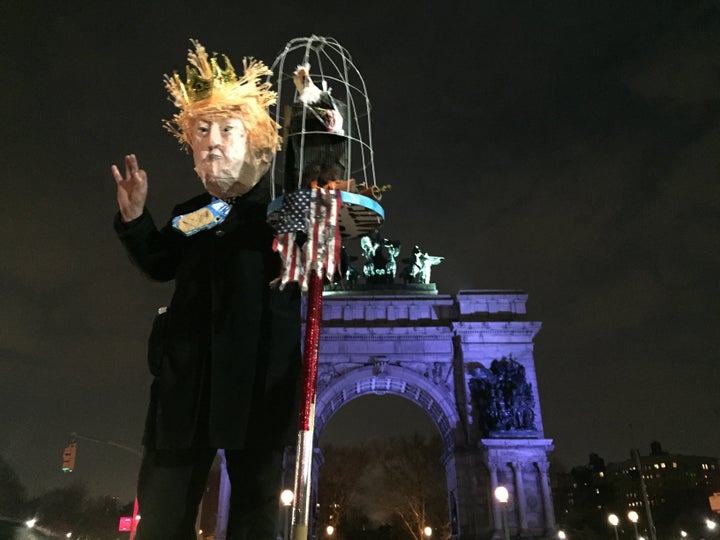 Popular in the Community