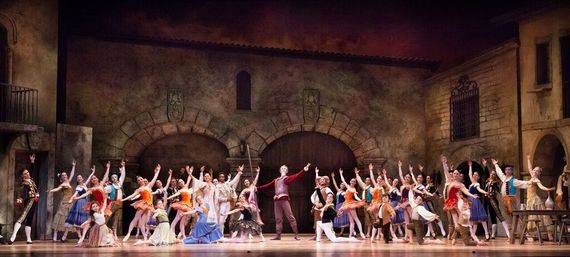 Pennsylvania Ballet cast of Angel Corella's Don Quixote (photo Alexander Iziliaev)
Philly is dance central for the first two weeks in March with a slate of troupes representing a wide spectrum of dance companies in performance all over town. It starts with Pennsylvania Ballet's new production of Don Quixote at the Academy of Music and across town with the always dynamic ballet fusion of Dance Theatre of Harlem at Annenberg Center.
DonQ is standard repertoire for many ballet companies, but this is the first time Pennsylvania Ballet is mounting it. The production is choreographed by artistic director Angel Corella and based on the Marius Petipa's 19th century original at the Bolshoi Theater, with Ludwig Minkus's score. Corella famously performed the lead danseur role of Basilio at age 19 in American Ballet Theater's production and reprised his performance on dance stages all over the world throughout his career.

Corella's choreography will lace the impeccable old world classicism with Spanish folkloric dance and authentic flamenco. The production will showcase Corella's artistic imprimatur and ballet forward approach he has made on the company.
In re-imagining the ballet, Corella is attending to every aspect of his production including shopping for authentic clothing. "I was in Barcelona this summer and I found this shop with Spanish traditional articles to make it authentic," he said in an interview last month "If we're talking creating a new look for the company, this couldn't be better, out of the expected repertoire," Corella said.
The story depicts one of Don Quixote's adventures with Sancho on his quest for love and truth. These characters are so well known that "you also have to be careful that it doesn't become caricature. It has to look real, technically sharp and sensual, without going too far," he noted.
Corella arranged for the most lavish sets- on loan from the San Diego Opera- that feature fully constructed Spanish villas and battlements. Because of the ballet's size, this is the first time PB has mounted this ballet and all the full company will be on stage, with rotating leads. Star guest dancers include choreographer Matthew Neenan (former PAB principal) and Charles Askegard from New York City Ballet as DonQ and Colby Damon (BalletX) as Sancho. Neenan commented that Corella has, among other things, has the large ensemble cast is not decorous, they are "in motion" in character pantomime at all times.
Aside from Quixote's quest, the main love story is a beautiful and comic romp between Basilo and Kitri, a part that has been danced by prima ballerinas worldwide for generations. Audiences got a preview of their chemistry in the electrifying central duet danced by new PAB principals Mayara Pineiro and Arian Molina Soca that left the audience panting for more.

Pennsylvania Ballet's Don Quixote runs March 3-13 - go tohttp://www.paballet.org for more information
The Dance Theatre of Harlem returns to Philly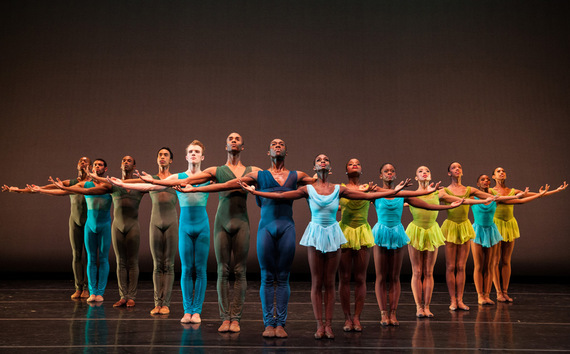 Dance Theatre of Harlem on tour (photo courtesy of DTH)
After a company shut-down in the 2000sThe Dance Theatre of Harlem re-emerged in 2012 and started rebuilding their presence on the international dance scene. The company was founded in the late 60s by the legendary New York City Ballet principal dancer Arthur Mitchell, who broke racial barriers on the dance stage in the 50s. In recent years, Virginia Johnson, former DTH principal has brought to bring company back to the same artistic and technical standard that Mitchell established.
They return to the Annenberg Center with their program African Roots, American Voices with three dynamically different ballets- . Christopher Huggins ballet "In The Mirror Of Her Mind" and Ulysses Dove's "Dancing on the Front Porch of Heaven: Odes to Love and Loss" and Robert Garland's "Return"
In a phone interview from New York this week, choreographer Robert Garland said that working with Johnson and re-establishing the company has been "wonderful and truly inspiring."
"Virginia has taken up that baton and carried it forward with these dancers...in a very short amount of time recreated a cohesive group that would be able to work together as a new Dance Theatre of Harlem company, but to be able to integrate the artistic level and specificity of the past company," Garland said. The new generation of DTH dancers has been performing the full range of previous repertoire of ballets- from George Balanchine's signature classic like "The Four Temperaments" to works by many of today most cutting edge choreographers.
"Return" mixes ballet vocabulary with the women on point with "vernacular dances, African American social dances" scored in part to the iconic music by James Brown and Aretha Franklin. The choreographer wanted also to return to "to the incredible artistry of this music."
Garland grew up in the Mount Airy section of Philadelphia, is a graduate of the Juilliard School of Dance and a former dancer for both Philadanco and DTH. Garland has choreographed works for Britain's Royal Ballet, Alvin Ailey American Dance Theater, New York City Ballet and ABT, as well as many pieces for Dance Theatre of Harlem. He has created solo works for dance superstar Misty Copeland, the first African American principal dancer at American Ballet Theater.
REAL LIFE. REAL NEWS. REAL VOICES.
Help us tell more of the stories that matter from voices that too often remain unheard.