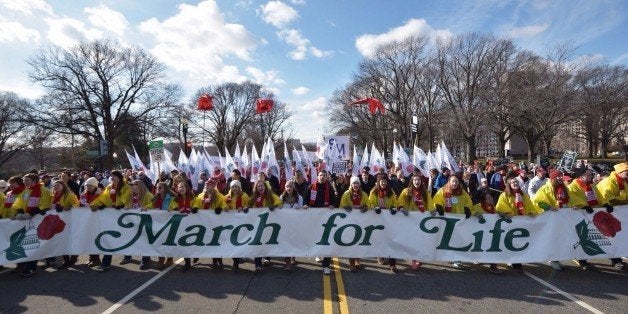 Much media attention focused on the annual March for Life, when tens of thousands of anti-abortion protesters converged Thursday on the National Mall. But a small related conference the day before, held at a hotel one mile north, revealed significantly more about how the movement plans to overturn the 1973 Roe v. Wade decision and eliminate abortion across the country. Advocates gathered at the Law of Life Summit discussed how their organizations can leverage law and the media to advance their cause.
Several themes emerged at the conference.
Co-Opt Feminism's Messaging
Speaker after speaker talked about reclaiming the language and co-opting the label of feminism for their efforts. In doing that, they emphasized the need to reach out to younger Americans.
"How many people know what a 'meme' is?" Destiny Herndon-De La Rosa, a founder of New Wave Feminists, asked the audience of about 100 people.
"We're going to make the new feminism, the feminism of the future, pro-life feminism," said Kristen Walker Hatten, also of New Wave Feminists. "We're meeting the culture where they are -- we're using the humor, language and look of the culture and we're infiltrating the culture of death. And we're making pro-life feminism mainstream and real. We're letting people know, hey, this exists."
The two speakers also nodded to an idea that isn't frequently acknowledged in anti-abortion circles.
"Even if abortion is made illegal tomorrow, they're still going to be happening, so we really have to make abortion unthinkable," Herndon-De La Rosa said.
Demonstrate Concern For Women
Another point made repeatedly was that the movement has to fight back against the charge that it cares only about fetuses.
"We show the pro-life movement cares more about women -- and their babies -- than the abortion rights movement does, which doesn't care about them," said O. Carter Snead, a law professor and director of the Center for Ethics and Culture at Notre Dame University. "It cares about an abstract sexual license. It cares about securing the goods of the sexual revolution through lethal violence."
Signing on to specific causes beyond restricting abortion access -- like paid maternity leave, which the Obama administration has been pushing -- wasn't mentioned during the summit. But the rise of crisis pregnancy centers, which attempt to dissuade women from getting abortions, was heralded as a positive development. Many of these centers even receive government funding.
Dr. Pat Castle, CEO of the Vitae Foundation, argued that the decrease in the number of health care clinics performing abortions and the concurrent increase in the number of crisis pregnancy centers proves that the movement is showing compassion for those considering the procedure.
"That didn't just happen itself. It happened with organizations that we've led and encouraged and inspired," Castle said. "It's good to see that contrast -- in just over 20 years we've gone from a 4-to-1 ratio to the opposite. We now have them surrounded; we have a plan."
Create An Alternative Media Universe
To counter perceived bias within the mainstream media, conservative websites like LifeSiteNews.com, which was founded in 1997, cover issues of interest to the anti-abortion community. But advocates at the summit said the movement needs to encourage greater and more savvy media engagement.
"Young pro-lifers need to go into journalism -- it's so hostile right now," Snead said.
Better use of social media was also emphasized. The March for Life Foundation's leadership urged those who descended upon Washington to use the hashtag #WhyWeMarch in their social posts. And one speaker drew a contrast between the resources available to the abolitionists and the options for activists today.
"Let us be reminded that when our country was born, we lived for the first 87 years with something that was legal but certainly not just," Patrick Kelly, chairman of the March for Life Foundation, said, referring to slavery. "If you studied the history of how slavery was overturned, there was underground media and it was slow and laborious, but we have much more power today," he added, pointing to social media and outlets like LifeSiteNews.

"The hope in all that is that it's not going to take 87 years," he said. "We're at year 42."
"We are slowly making gains -- yes, it's taken 40 years, but I think in the mid-1970s, people of our mindset were probably dejected," he said. "What we're seeing is that things are changing quite a bit."
Use Research To Change Minds
Lindsey Bachman, an attorney and vice chairman of the Vitae Foundation's board, said that research by her organization had demonstrated that the movement's traditional intimidation tactics didn't achieve its ends.
"The Vitae Foundation has spent over $2.5 million researching what we call the right brain, or what is an abortion-minded woman thinking about when she walks into that clinic, what is going through her mind," Bachman said. "We used to hold up signs and pictures of dead babies outside the clinic, gruesome pictures, and we've now learned that if you do that, she's not only going to walk into the Planned Parenthood, she's going to run. It's absolutely ineffective."
That research is backed up by the experience of those who stand outside clinics and try to dissuade patients not to obtain abortions, according to Lauren Muzyka, founder of Sidewalk Advocates for Life.
"The sidewalk is the greatest crossroads of life and death in our communities," she said. "Peaceful sidewalk counseling gets results."
Before You Go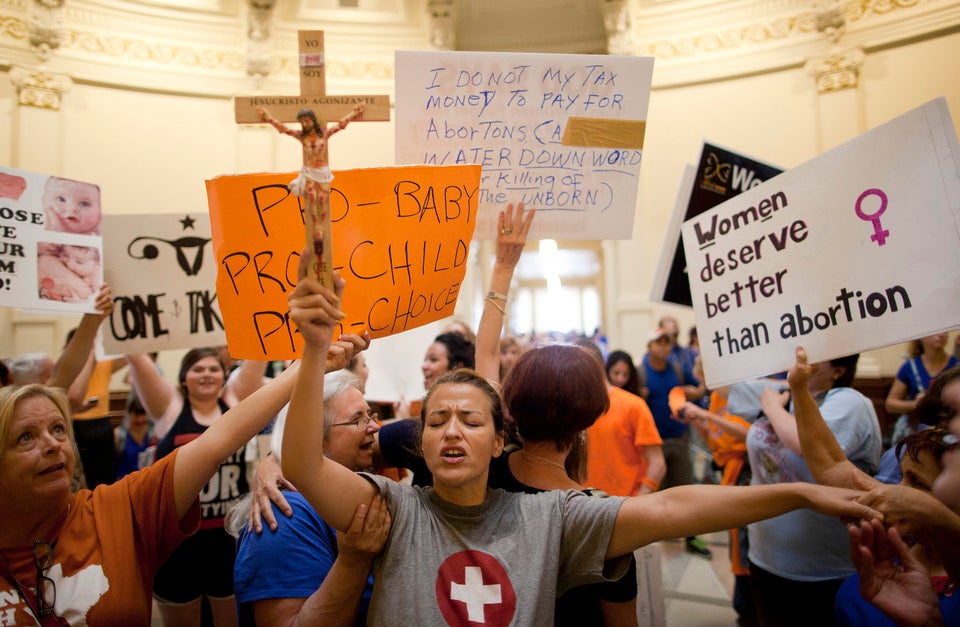 Abortion Protests Around The Nation
Popular in the Community