WASHINGTON ― Abortion opponents descended on the National Mall Friday for the annual "March for Life," with many women saying they struggled to reconcile their strong views on abortion with their distaste for President Donald Trump. 
The crowd at the anti-abortion rally was far smaller than last weekend's Women's March on Washington, which may have been the largest protest in American history.
"I almost didn't want to come, because I knew I would be continuing to group myself with some people that I'm not proud to be grouped with," said Miranda Malone, a 21-year old senior at University of Dayton in Ohio.  
"I don't like the way he acts," Mary Ryback, 52, of Milwaukee, said of Trump. "I do like that he is a pro-life president, and I did vote for him because of life, but it was very difficult."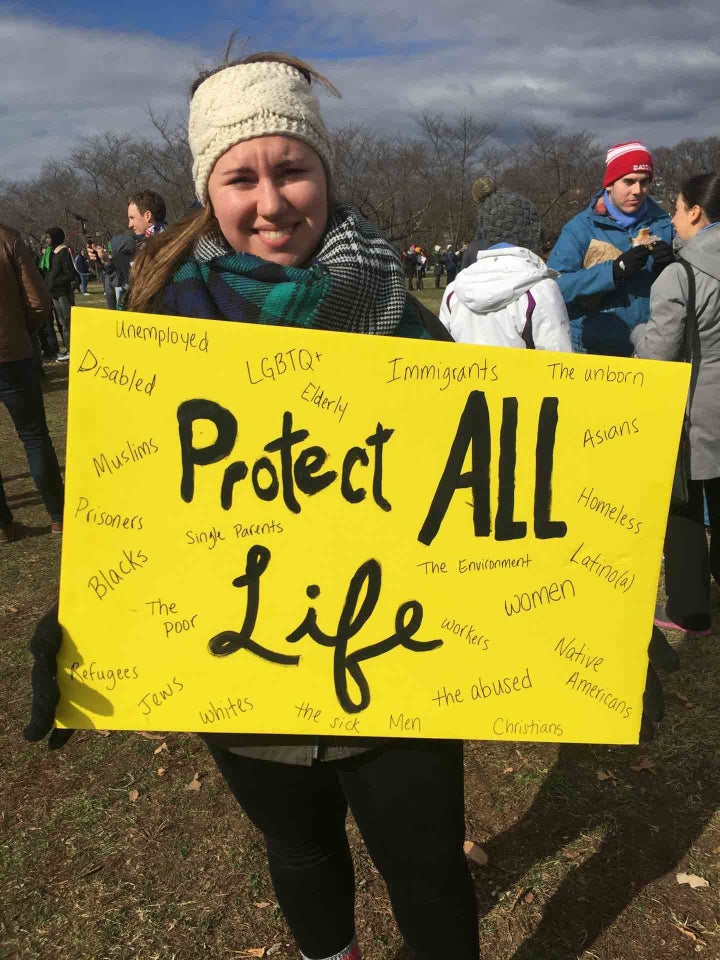 For many women at the march, the issue of "life" is not just about abortion. Malone held a sign that said "Protect ALL Life," including immigrants, LGBTQ+ individuals, refugees, the poor and unemployed, Latinos, the environment, and "the unborn." A self-described "pro-life Democrat," she voted for Hillary Clinton and traveled to the March for Life to ensure people like her have a voice in the anti-abortion movement, too. 
"I think that if were talking about eliminating abortion and protecting life, we need to provide more resources, like education and contraceptives for women," Malone said. "I feel that a lot of people in this movement focus on shaming women for decisions they make, and I don't agree with that way of thinking." 
Maddy Buschur, a young Republican who attends Ohio State University, described herself as a "pro-life feminist" and "reluctant" Trump voter. She opposes some of his cabinet selections and was offended by many of comments he's made about women, including his recorded boast that he can "grab them by the pussy" because he's a celebrity.
"It breaks my heart that that's the point we're at in society, that this is our leader, and that people are finding ways to defend his comments," Buscher said. "I wasn't sure if I should vote or not on the president, because I wasn't sure I believe in the whole concept of 'vote for the lesser of two evils.' But at the end of the day, I think Hillary would have done more damage to women as feminists." 
Buscher said she believes abortion rights are counterproductive to women's equality. "It's completely illogical to tell a woman that in order to succeed in our society, she needs to become more like a man by taking away her pregnancy," she said. 
In the weeks leading up to his election, Trump went out of his way to appease social conservatives on the issue, notably choosing anti-abortion warrior Mike Pence as his running mate. Pence led the fight against reproductive rights in Congress, and as governor of Indiana, throughout Barack Obama's presidency.
One of Trump's first moves as president was to reinstate the so-called global gag rule implemented by President Ronald Reagan, which bans recipients of U.S. foreign aid money from referring patients to abortion providers or giving women information about abortions.  
Anti-abortion activists on Friday still seemed skeptical of Trump's sincerity.
"Do I trust him?" asked Ryback. "I trust in God, and I pray that God will use [Trump] and our representatives to make abortion illegal." 
"I was a big fan of the [global gag rule], because I don't think that's where our funding should be going," said Buschur. "As for the rest, I've just been holding my breath to see where it goes."
Other attendees were more vehemently opposed to the president. One woman from Fargo, North Dakota, stood on a bench on the National Mall holding a banner that said, "Pro-Life/Pro-Environment." She said she cannot accept Trump's policies on climate change or his approval of the controversial Dakota Access Pipeline threatening Native American lands. She said the president cannot be "pro-life" without also protecting the earth. 
"I'm horrified and frightened and terrified," she said of Trump. "He needs to be impeached immediately."
REAL LIFE. REAL NEWS. REAL VOICES.
Help us tell more of the stories that matter from voices that too often remain unheard.
BEFORE YOU GO