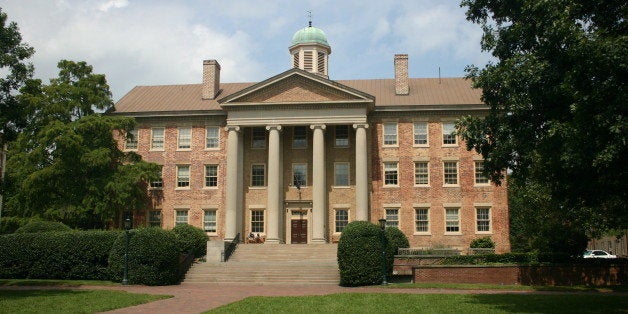 In a small, buzzing, vibrant North Carolina town, the day is here. That perfect moment -- the one when all comes together, when the dissonant gray winter days finally have concluded, when the long hours of darkness have faded -- is here; that moment when tranquility and peace dance delicately with the energy of new beginnings, with the warm setting sun of a new season.
It is spring in Chapel Hill.
And that means that the greens of campus are greening happily, the blossoms blossoming. And eager mutterings of dogwoods and azaleas circulate through the air, the first sightings of the stunningly white and pink petals that bleed through the brick walkways of a forthcoming graduation season.
And that means that children -- proudly sporting their new Carolina blue decorum, their baggy jerseys with the all-too-familiar argyle patterns and their t-shirts and their caps -- dance merrily through the city streets, dreaming of the day when they will walk these streets as members of our family, initiated into a precious, indescribably beautiful club. The day when they will pass through brilliant McCorkle Place and the great white Old Well on a crisp dewy morning walk to class. They are here. And so is everything else.
The buzz of Franklin Street bars. The benches of He's Not on lazy afternoons with nothing to do and nowhere to be and the bittersweet realization among a group of seniors that this fleeting instant is one of pure happiness. And that, like everything in this world, it is in motion, a springboard from a world full of moments like this with a leap of faith into the great unknown.
The blushing sunset gracing pints of Blueberry Wheats and Old Well Whites on the Topo patio. The motley colors of Weaver Street Market. The last crisp gust of wind before the night falls. They are here, too.
And, as the cycle of seasons, inevitably so, transitions from winter to spring, discussions twist and turn to those of Cinderella stories and of Final Fours and of Roy and of the mighty dreams and spirits of yet another lovable Tar Heel team, one with just enough tenacity and heart to put together six magical games. The tournament is here.
And if I could promise myself one memory at the end of my life, one moment when all was truly good in the world, when I was so happy that it brought me close to tears, maybe it would be just that. Sitting in the warm spring sun, in a place of comfort, surrounded by those who matter, dreaming of one last shot to jump over the flaming couches in Franklin Street on Championship night. Watching children carry the edges of their over-sized jerseys as they pass. Maybe one last Blue Cup in my hand. Taking solace in the fact that, at that very moment, I could think of no other thing that I could have ever wanted or needed.
It is time -- today is that day. It is March Madness. Let us start dreaming again.
Calling all HuffPost superfans!
Sign up for membership to become a founding member and help shape HuffPost's next chapter