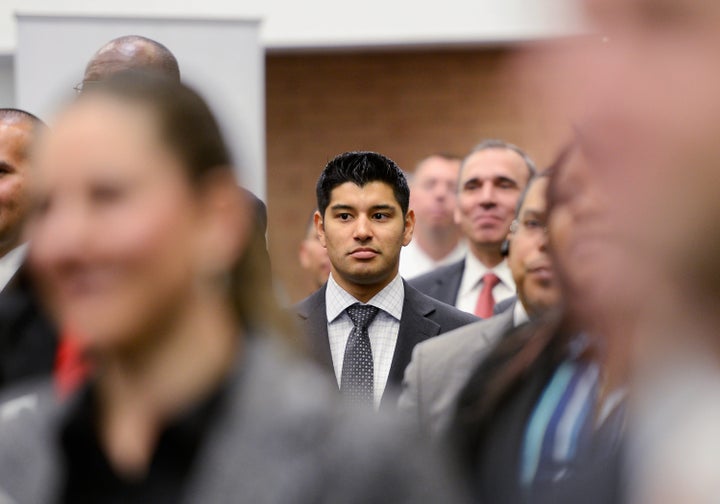 Austerity may be starting to squeeze the life out of the job market.
U.S. employers hired at the slowest pace in nearly a year in March, adding only 88,000 jobs to non-farm payrolls, with steep job cuts in the retail and government sectors, including 12,000 at the U.S. Postal Service, according to a Labor Department report released Friday.
"This is a punch to the gut," Austan Goolsbee, former Chairman of the Council of Economic Advisors under President Obama, said on CNBC. "This is not a good number."
Unemployment fell to 7.6 percent in March from 7.7 percent in February, the Bureau of Labor Statistics said. But that was mainly due to 496,000 people leaving the labor force completely. The labor-force participation rate -- the percentage of people eligible to be working or looking for work -- fell to 63.3 percent, the lowest since 1979. Had that number simply held stable, the unemployment rate might have been higher.
Stocks, which have recently climbed to fresh record highs, sold off after the report. The Dow Jones Industrial Average fell about 150 points, or 1 percent, shortly after the market opened, while the S&P 500 was down 1.1 percent. Yields on 10-year Treasury notes tumbled below 1.7 percent, their lowest levels of the year, as investors rushed for safety. Treasury yields fall as their prices rise.
Non-farm payrolls have grown by 504,000 jobs in the first three months of the year, or 168,000 per month, just enough to keep up with the natural growth of the labor force and keep unemployment from rising. February's top-line number was revised up to 268,000. Together, revisions to January and February added 61,000 jobs -- the one thin silver lining in an otherwise dismal report.
March's jobs numbers did not yet reflect much of the "sequester," the across-the-board federal budget cuts that will slowly take effect throughout the year, resulting in less hiring and fewer hours worked by government employees. Nevertheless, austerity is already pinching job growth in other ways. The federal government shed 14,000 jobs in March, almost all of which were accounted for by the U.S. Postal Service.
Meanwhile, the retail sector shed 24,000 jobs, possibly an effect of the payroll-tax hike that was part of the "fiscal cliff" settlement at the beginning of the year.
A weak labor market meant that average hourly earnings for private-sector workers rose by just a penny in March, to $23.82 from $23.81. Worker earnings have gained just 1.8 percent in the past year, not enough to keep up with inflation -- even as corporate profits and the stock market have soared to record highs.
With Congress focused on cutting the federal budget deficit, the Federal Reserve has been doing much of the heavy lifting in trying to stimulate the economy, buying $85 billion in bonds per month to keep longer-term interest rates low. It has promised to keep doing that until it sees substantial improvement in the labor market.
The economy has added nearly 5.9 million jobs in total since the job market bottomed in February 2010, but it is still about 2.9 million jobs away from its peak level of non-farm employment in January 2008. This grinding recovery has been the slowest since World War II.
One reason for the drag has been austerity in federal, state and local governments, which have cut 605,000 jobs since February 2010, a drag on the job market's growth, even as private-sector employers have added nearly 6.5 million jobs.
"Sharp cuts in government spending implemented March 1 are only beginning to show their ugly consequences," Heather Boushey, an economist with the liberal think-tank Center for American Progress, said in an email. "While it's too early to know what the full impact will be on the unemployment rate, government spending cuts are stealing wind from the sails of the recovery."
Calling all HuffPost superfans!
Sign up for membership to become a founding member and help shape HuffPost's next chapter