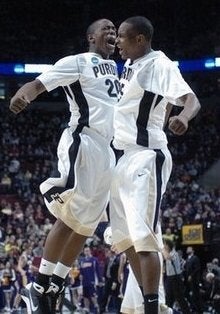 Guess who had Wake Forest upset in her first round bracket? ME! Thanks to the Diane Chambers Law that states that a set of Vikings would defeat a group of clerics that have gone morally astray. Now it's time for Round Two.
As a reminder for the folks playing at home, this bracket is based on an infamous episode of Cheers. Diane Chambers placed her bets for the football pool based on which animal/creature would win a fight in real life. (For example, clearly a (Chicago) Bear would beat a (St. Louis) Ram.) The result? She mopped the floor with everyone. I shall attempt the same feat for this March Madness season and see how it goes. The rules are simple. Five on five, who would win in a fight? No consideration to ranking, team performance through the year, star players or any other reasonable measure of play. Strictly speaking I am theoretically matching five of x species with five of y species and surmising the result.
Round One Recap: Following the DCL led to a whopping 16 of 32 accurate predictions. That's slightly worse than President Obama, who went 19 for 32, but better than one of those monkeys trained to serve beer. Top headlines filed squarely in the "I Got It Wrong" category were the Saints shaking off the poison of the Buckeyes in double overtime and that apparently it is in fact too much to ask Eagles to take out Cardinals when the Eagles are a sixteen seed and the Cardinals are from Louisville. Click here to view my picks for Round One.
South - Second Round
North Carolina Tar Heels vs. LSU Tigers - In my opinion Tigers are one of those animals that should incite tremendous fear. But fear is not a word in the Tar Heels' dictionary and their Civil War weaponry will take care of those pesky felines. Victory Tar Heels.
West Kentucky Hilltoppers vs. Gonzaga Bulldogs - Red Grimace (my new name for the Hilltoppers mascot) has got a bit of game. But is it enough to lessen the bite of those Bulldogs? It's hard to create a scenario where a pack of dogs fight the top of a hill (or top of a hill resident maybe?) so I'll let the fact that "Gonzaga" is a cool word to say over and over dictate the pick and hope that the Hilltoppers get bounced so they stop throwing a wrench in my game.
Arizona St. Sun Devils vs. Syracuse Orange - Brightest. Game. Ever. Devils that come directly from the sun and men whose mission it is to wear orange. Look for the Sun Devils to take out those Orange Men without a second look. They come from the sun Syracuse and your bright colors don't scare them.
Michigan Wolverines vs. Oklahoma Sooners - Well the Wolverines have got to be a bit beaten up after their run-in with a pack of Tigers. And I'm also seeing an eery life-imitates-art kind of pattern emerging when man faces beast in this tournament. The wilderness settlers will emerge victorious.
West - Second Round
Connecticut Huskies vs. Texas A&M Aggies - It's a cruel world we live in, but at least in this instance man stays at the top of the food chain. This is not the fight I had picked originally, but I've picked the Aggies to best the Huskies in the fight that will erupt.
Purdue Boilermakers vs. Washington Huskies - See above. (Anyone else find it strange how aggressive Huskies have revealed themselves to be?? I'm glad I have a nice friendly Labrador...)
Marquette Golden Eagles vs. Missouri Tigers - "ginormous" (jy-nor-mus) = bigger than freakin' huge; see also A Tiger from the perspective of an Eagle.
Maryland Terrapins vs. Memphis Tigers - And Tigers are not only big they are crafty. They will use whatever means necessary to get those Terrapins out the safety of their shells. The turtles don't have a chance.
Midwest - Second Round
Louisville Cardinals vs. Siena Saints - Though their tummies may still be aching from the toxicity of those Buckeyes, the clergymen will not allow a few red birds to best them.
Arizona Wildcats vs. Cleveland St. Vikings - These Vikings are tough and Wildcat bites will only slow them down slightly on their road to the Sweet Sixteen.
Dayton Flyers vs. Kansas Jayhawks - It seems that those Flyers had a little something tucked in their scarves after all. Unfortunately for them their tanks have got to be running low on gas by now and the Jayhawks will escape relatively unscathed.
USC Trojans vs. Michigan St. Spartans - Now is as good of a time as any to disclose the fact that I have the Spartans going all the way. If you've seen the movie 300 you know why. They don't play and they aren't going to be fooled by your wooden horse.
East - Second Round
Pittsburgh Panthers vs. Oklahoma St. Cowboys - Those Cowboys don't carry their six-shooters around for giggles. They'll show up to this fight holstered and ready, daring those Panthers to even look at them funny.
Wisconsin Badgers vs. Xavier Musketeers - For shame on the shoddy research! It turns out that the Badgers are not harmless little mammals but rather lead miners of the 1820's that had to "live like badgers" by tunneling in the hillside to survive harsh winters. (Again, thank you Wikipedia.) If only I could have warned my poor Seminoles. But the trickery is short-lived and now the word is out. The Musketeers will serve Chief Osceola's revenge. Mwah ha ha ha...
UCLA Bruins vs. Villanova Wildcats - A wimpy bear is still a bear (see my Round One to get that joke). These dangerous Bruins will make quick work of the Wildcats and still find time to steal a few pic-a-nic baskets from the ranger.
Texas Longhorns vs. Duke Blue Devils - I doubt that horns would intimidate Devils too much. I mean, with Lucifer as their boss they've probably seen it all by now. The Blue Devils will take down the Longhorns without breaking a sweat.
Okay you heard it here first everyone. Go change your bets before the windows close!