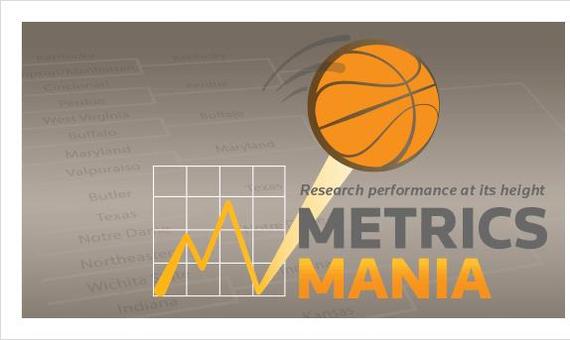 For three consecutive years, inspired by the National Collegiate Athletic Association's March Madness -- the edge-of-your-seat and ever-the-unpredictable men's basketball championship tournament -- Thomson Reuters has hosted "Metrics Mania" a competition that takes these teams off the court for a faceoff on the strength of their scholarly research programs. The company's analysts utilize the esteemed research analytics platform, InCitesTM to measure each institution's research output and global impact and benchmark their work against their peers to determine the winners in each round of Metrics Mania.
This year, as in the NCAA tournament, 68 selected schools were matched in initial, regional competition, with the winners advancing toward a deciding round between two finalists. Advancement is determined by the array of Incites metrics that include, in successive rounds, each school's overall H-index (a gauge of both output and citation impact), the percentage of a school's papers that reflect international collaboration, the percentage of papers that rank in the top 10 percent most cited (based on citations by category, year, and document type), and more.
Previous Metrics Mania winners Stanford (2014) and the University of California (UC) Berkeley (2013) which dominated the scholarly court did not qualify for the 2015 NCAA tournament and thus are out of the running for this year's Research Crown. All eyes are on the respective runners-up from the past tournaments, Duke and Harvard. Last year Duke gave Stanford a run for their money and in 2013's nail-biter UC Berkeley knocked out Harvard by one-hundredth of a point in the final showdown.
As the tournament heads toward the final faceoff, with their large and accomplished research programs, both Duke and Harvard have been counted as favorites throughout the competition, but every Metrics Mania has had its Cinderella stories. Just as on the court, underdogs have pulled off upsets in each year's tournament, such as UC Irvine, which is among the final four contenders.
Following roughly the same schedule as the basketball competition, Metrics Mania's ultimate winner will be revealed on Tuesday, April 7.
REAL LIFE. REAL NEWS. REAL VOICES.
Help us tell more of the stories that matter from voices that too often remain unheard.