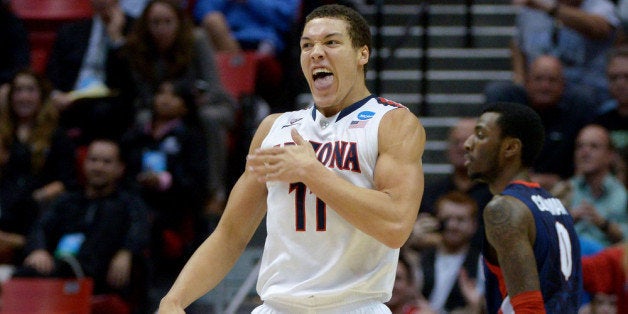 The first weekend of March Madness provided three 12-5 upsets, a 1-seed losing its first game of the season and the fall of powerhouses Duke and Kansas. (Congratulations if your bracket remains even remotely intact.) Contests are set up quite nicely for the regionals. Who has impressed and who hasn't?
The Wichita State senior forward was absolutely tremendous against Kentucky, amassing a game-high 31 points on 12-17 shooting. We all knew that Early could score, but it was how he scored that proved most impressive. Displaying a superb first step, he was able to get into the paint and finish amid contact while also showing off his range and ability to make tough shots. Against the stiffest competition the Shockers faced all year long, Early showed off all the skills that scouts want to see.
Aaron Gordon/Rondae Hollis-Jefferson
Gordon has played second fiddle to other freshmen like Jabari Parker, Joel Embiid, Andrew Wiggins and Julius Randle, but he was magnificent throughout Arizona's first two tournament games. Gordon is still raw and unrefined from a skill standpoint, but his unrelenting aggressiveness and eagerness to defend are huge pluses in terms of his draft stock. Hollis-Jefferson, also a freshman, is a legitimate lockdown defender who plays with a nonstop motor. Defensively speaking, Sean Miller's club has been terrific thus far, totaling 19 steals and 20 blocks in the first two games, driven primarily by the freshmen duo (Hollis-Jefferson with 3 steals and 6 blocks and Gordon with 4 and 5).
Cory Jefferson and Isaiah Austin
Baylor's uber-talented frontcourt dominated Nebraska and then manhandled Doug McDermott (15 points) with their length and quickness. Jefferson played proficient offense from the block and Austin showed off his range out to three. Coach Scott Drew has somehow got Baylor peaking at the perfect time. Remember, the Bears endured an 11-game stretch earlier in the season when they went 2-9.
During a recent HuffPost Live interview, Michigan State coach Tom Izzo talked about how lethal Payne can become in the paint. It's been an injury-riddled season for the senior center, but Payne nevertheless dropped 41 on Delaware last Thursday. His combination of size and athleticism is quite the commodity, and he'll get a new test against a brutally physical Virginia team this Friday at Madison Square Garden.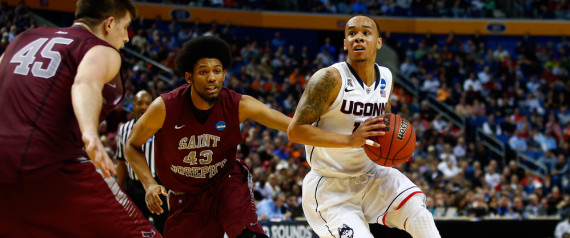 Guard play tends to rule March Madness, and UConn's Napier proved why he's an All-American by torching Villanova for 25 in the round of 32. Napier isn't quite Kemba Walker, but his senior leadership and clutch shot-making ability fuels an otherwise underwhelming team. There may be no better guard in America.
It's an interesting thing to consider: This was supposed to be the year of the freshman, and yet most of our remaining 16 teams can thank their upperclassmen for their tournament success. We've seen UConn (Napier), Tennessee (Josh Richardson, Jordan McRae, Jarnell Stokes), Michigan State (Payne, Keith Appling), Stanford (Dwight Powell, Josh Huestis, Chasson Randle), Dayton (Jordan Sibert), Virginia (Joe Harris), Baylor (Jefferson), Louisville (Russ Smith, Luke Hancock) and Iowa State (DeAndre Kane and Melvin Ejim). This is not to discount the success of a team like Kentucky, but it goes to show that the juniors and seniors still matter.
Speaking of Kentucky, theirs might be the most impressive turnaround in the country. John Calipari's young team was reeling for much of the year and suddenly, in the SEC Tournament final, took Florida down to the wire. Fans wondered if it was merely a one-game fluke, but clearly this team has meshed together. It is playing extremely unselfish basketball on both ends -- making the extra pass offensively and helping defensively. The 78-76 win over previously undefeated Wichita State was its best performance of the season.
Kansas' Wiggins went 1-6 for 4 points and just 4 rebounds against Stanford. He looked completely disinterested in the game, fading out of possessions without the slightest inclination to attack the Cardinal zone. He is a remarkable athlete, but as I've highlighted all season, he has yet to figure out the nuances of how to consistently maximize his robust talent. Unfortunately, right now he's just one more example of an overhyped freshman.
Coach Self's inability to incorporate Wiggins into the high post during Sunday's game was flummoxing. Instead of putting his young playmaker there to attack 2-1 opportunities, he left the inept Jamari Traylor and Perry Ellis there for 40 minutes. Self has a national championship under his belt, yet he was shockingly out-coached by Stanford's Johnny Dawkins. When Self finally employed some late-game full-court pressure, Stanford -- playing without point guard Aaron Bright -- could hardly advance the ball past half-court. But it was too little, too late, and Self cost Kansas the game.
Louisville's Smith is not afraid of the big stage, but he really struggled against both Manhattan and Saint Louis, totaling a mere 32 percent shooting and 13 turnovers. His slight stature will surely become an issue during the pre-draft process, but in the meantime, the senior needs to come up big against Kentucky if Louisville is going to repeat as champs.
Email me at jordan.schultz@huffingtonpost.com or ask me questions about anything sports-related at @Schultz_Report and follow me on Instagram @Schultz_Report. Also, be sure to catch my NBC Sports Radio show "Kup and Schultz," which airs Sunday mornings from 9 to 12 EST, right here.
REAL LIFE. REAL NEWS. REAL VOICES.
Help us tell more of the stories that matter from voices that too often remain unheard.