March Madness is a national phenomenon. Sports fans of all ages join in. It has everything: buzzer beaters; Cinderella stories; heartbreaking last second losses and hysterically happy upset wins. There are triple overtime games that end with young players sobbing on the bench into their towels, while the victors are sobbing in joy on the floor. David can triumph over Goliath. The highs and lows are intense because the players are all such young men and women. The drama is constant and the pain and joy are almost inseparable stories.
I know that I personally may never fully recover from the NCAA Final Four of 1989. My brother P.J. was coaching Seton Hall. In the first game of the Final Four, the Hall came back from 18 down to beat Duke by 17, everyone's pick to win it all. We tied Michigan in the Championship game with a three point shot to go into overtime and then lost in overtime on a foul shot in the final seconds. It was a bitter ending to a Cinderella story for a wonderful group of young men, and of course a great coach. I had decided to leave my two year old twin daughters at the last moment to go out to Seattle, and consequently had one of those four stop plane tickets back to New York. Remember the song Cry Me A River? Well, I must have cried an ocean as I zigzagged back home across the country!
And all of this drama is coupled with the fans' obsession with their brackets! The country is alive with the talk of brackets and the new science of Bracketology. Everyone from the President to your neighbor, son, and daughter filled one out. This year, there were almost 7 million registered at ESPN alone. And what do you have to do while these four weeks of March Madness go on? You have to EAT during the games, of course! And I am here to tell you about some foods to help you through.
Little Miss Muffet Sat on a tuffet
Eating her curds and whey,
Nursery Rhyme.
In Chicago recently, I ate in a new restaurant that specializes in Midwestern artisan beers and food called the Farmhouse Tavern. Chef Eric Mansavage is a truly talented young chef. But to return to March Madness, he makes a heavenly concoction called Wisconsin Cheese Curds that are perfect for watching basketball games with a glass of good beer. Apparently invented in Wisconsin, I can't believe they taste this good anywhere else. Curds are one of the early stages of cheddar cheese and best consumed when just made. Chef Eric dips them in an indescribably delicious secret batter, deep fries them, and serves them with Alder Smoked Catsup. They are little yellow and white balls of cheese bliss. I am working on Chef Eric to see if we can get the recipe.
Cloudy with a Chance of Meatballs
Judi Barrett
Is there anything better than meatballs? But how can you eat them while watching basketball games on TV? Our good friend George Duran, who you may know as host of Ham on the Street on the Food Network, has a great solution for this March Madness problem. This is the perfect pick it up and be able to eat it with your hands food. He starts with a delicious recipe for Meatballs. Then he adds the perfect pasta. It's getting even better but how does this work as finger food? George puts the Meatball on a stick and uses a pasta that you can wrap around the meatball, or put right under it on the stick like a bow-tie. Then George sets a bowl of delicious marinara sauce next to the meatball sticks for dipping. Now does that sound good? His cookbook, Take This Dish and Twist It, is actually full of inventive, easy fun dishes for entertaining.

MEATBALLS WITH PASTA ON A STICK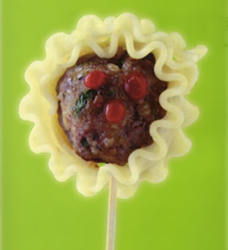 photo Blaine Moats and Scott Little

Ingredients:
1 (35-ounce) can crushed tomatoes
3 sprigs fresh thyme
1 bay leaf
1 tablespoon dried oregano, crushed
2 teaspoons garlic powder
1/8 teaspoon sugar
Kosher salt or table salt and freshly ground black pepper, to taste
1 pound ground beef
1 pound ground pork
½ bunch fresh parsley, snipped
1 cup dry bread crumbs
1 tablespoon ground cumin
1 tablespoon dried oregano, crushed
2 eggs
6 ounces dried farfalle, large rotini and/or mafalda pasta
2 tablespoons extra virgin olive oil
1 unripened melon
80 wooden skewers

Preparation:
For the marinara sauce, in a saucepan over medium heat combine the tomatoes, thyme, bay leaf, oregano, garlic powder, sugar, salt and pepper. Simmer for 10 to 15 minutes. Or you can use your favorite bottle sauce!
Preheat the broiler. In a large bowl mix the beef and pork; add the parsley, bread crumbs, cumin, oregano, and eggs; season with salt and pepper. Mix well to combine. Roll 1 tablespoon of the mixture into a small ball; repeat to make about 80 small meatballs. Put them on a baking sheet; broil about 10-15 minutes or until they are browned and cooked through.
Cook the farfalle according to package directions. Drain and rinse in cold water. Toss with the oil.
On each skewer thread a farfalle and a meatball. To serve, cut an unripened melon in half lengthwise and put it cut side down on a platter. Insert the skewer into the melon. Serve with warm marinara sauce for dipping.
© Pop Cuisine Publishing, Take This Dish and Twist It (Meredith Books, 2008)
This recipe and many other family favorites are available on DishandDine.com. Stop by and become part of this grass roots global food community!
DishandDine - It's All About Food
http://www.dishanddine.com
http://www.facebook.com/DishandDine
http://www.twitter.com/DishandDine

Calling all HuffPost superfans!
Sign up for membership to become a founding member and help shape HuffPost's next chapter