WASHINGTON -- Tens of thousands of people gathered on the National Mall this past Saturday for the 50th anniversary of the March on Washington.
Joined by labor leaders, civil rights luminaries and top political officials, it was a chance to commemorate racial progress in America and rally support for more. For many attendees, however, it was also an opportunity to relive a collective, seminal moment that they took part in half a century ago.
Filtered among the masses on Saturday were some of the 250,000 or so people who attended the initial march in 1963. In interviews with The Huffington Post, roughly a dozen of them shared their stories from that day and discussed what it was like to be present at both bookends of history. Their recollections, as well as those of people whose parents attended the initial march, are captured in the video above.
In addition, several attendees at Saturday's march spoke to Huffington Post reporters off-camera about their memories from 1963. One of those was retired Major General John R. Hawkins, who was 13 years old during the original March on Washington. Against his mother's instructions, he rode a bike from D.C.'s Anacostia neighborhood and climbed a tree alongside the National Mall for a better view.
"I had two of my buddies with me, and we rode our bicycles across the Dulles Bridge from southeast D.C. to here basically because my mother said 'Don't,'" Hawkins said. "My mother said, basically, there's gonna be a riot. 'Don't go over there!' And of course this two-star general said to her, 'Yes, mom,' and immediately got on my bike and rode over here."
"She was mad for about a day or two, but then the gravity of what I saw, she understood. It really made a difference in my life," Hawkins said.
Les Graef was 39 years old when he attended the initial march. Arriving from Baltimore that day, he called it "one of those milestones in my life to remember."
On Saturday, he walked under the shade trees along the Reflecting Pool, holding a sign that read, "If you were here 50 years ago please sign my book."
"So many people showed up, and I think it was a surprise," Graef remembered. "So many blacks and whites took time to have a good day and be arm and arm. I think that was the best part."
Graef later phoned The Huffington Post to reflect on the progress made over the past 50 years.
"Fifty years ago [the tone] was one of anticipation," he said. "I think this time it was more one of optimism, that some things have gotten better and prospectively will continue to get better."
And then there was Rocky Delaplaine, who was all of 10 years old when she attended the 1963 march with her mother. Even so, she remembers the details of that event vividly.
"There were buses and buses and buses kept coming, we could see buses parked, people streaming in," she said. "We could see people from labor unions, auto worker signs, government worker signs and the teacher's ed signs, and there were lots of members of churches, of synagogues, of mosques, of people who were representing the religious community."
She sat on the southern side of the Reflecting Pool that day, envious of those close enough to cool their bodies by dipping their feet in the water. Over the speaker system, she listened to Joan Baez singing "O Freedom" and 'We Shall Overcome" and Peter, Paul and Mary singing "Blowin' In The Wind." The only speech she recalls, however, was Dr. Martin Luther King Jr.'s.
"I remember it was his very sonorous voice, very powerful voice, the fact that he repeats phrases," she said. "His voice filled me with hope. That was my feeling. I don't know how many of the words I understood but his voice filled me with hope and just being there in this sea of humanity filled me with hope."
When the speeches ended, Delaplaine and her brothers walked over to the Reflecting Pool so they could put their feet in the water.
"I remember feeling just a sense of we were making change," she said. "We were making history, and the feeling among the people there was so powerful. To be in such a large group who were all fighting for the same cause, I think everyone -- I certainly did as a 10 year old -- left very certain that important changes were going to be made in this country."
"I would say it got me started, or it helped cement that feeling, that when people come together to fight for social change, great things can happen."
Ryan J. Reilly and Ibrahim Balkhy contributed reporting.
Before You Go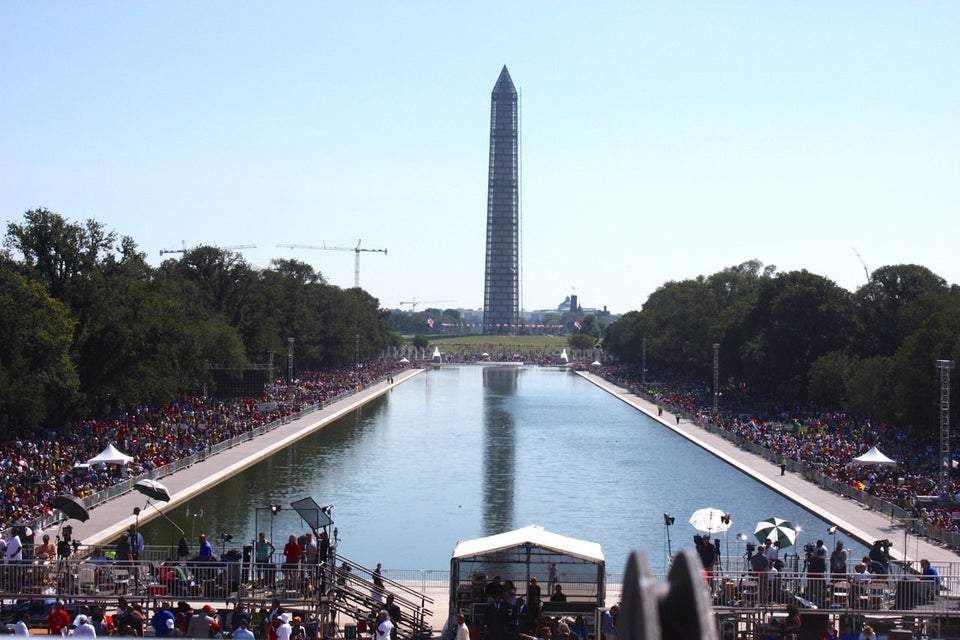 March on Washington 50th Anniversary
Popular in the Community