Women play a primary role in the struggle for climate stability, as well as the viability of future generations. With Mr. Trump and his roster of climate-denying appointees clearly out of step with reality, one way he has made women feel disrespected and marginalized is by his dismissal of their concern and commitment to the future of children's health and the planet.
Globally, climate change is a women's issue...
In developing countries, women are particularly hard hit by the ravages of climate disruption. Women farmers comprise 45 to 80% of those involved in food production. If extreme weather ruins their crop, they lose both food and income. That's why they account for the majority of poverty statistics.
Living off of natural resources doesn't just require the labor of women. It includes the efforts of girls as well. They become responsible for gathering food and water, often at great physical risk (including rape). Decision-making and creating solutions must be shared with women.
"As women who stand on the frontlines of climate change across the U.S. and across the world, we are gravely concerned about the impacts of climate change, and the implications of a U.S. Administration that promotes climate skepticism, advancement of fossil fuels, an extractive economy, environmental racism, bigotry and inequitable treatment of women and girls."
In the United States, climate change is a women's issue...
A recent Gallup Poll showed that 64% of Americans are "worried a great deal/fair amount about global warming." In the U.S., there are different but equally challenging concerns. Frequently, mothers act as a catalyst. Concerned about her child's health, she takes matters into her own hands.
Environmental justice issues are well-known to American communities. "Sacrifice zones," as they are called, extend from the Bronx, New York to Port Arthur, Texas to Standing Rock. Polluting facilities and infrastructure are placed in the middle of low-income residential and school districts causing tremendous harm. The reason is simple. These localities are not perceived as having the "clout" or political capital to push back.
Tenya Steele, the Director of Environmental Health for WE ACT for Environmental Justice, provided her insights on why she believes it's important for women to march on Saturday:
"Women, and particularly women of color, have been on the frontlines in the fight for climate and environmental justice for years. We have seen the impacts of air pollution, lead water crises, toxic products, and climate disasters in our lives and on our families."

The new Trump administration's agenda threatens our fundamental rights to good health and environmental justice by continuing to deny climate change and access to basic healthcare."

Planning on heading to DC this weekend for the Women's March on Washington? Join a coalition of wide-ranging organizations and people to march under the banner of Women for Climate Justice.
We will not tolerate climate denial as a policy.
We will not tolerate fossil fuel interests running the government.
We demand recognition for the rights of underserved and Indigenous communities.
No public land grabbing for extractive activities by the Koch Bros and their friends.
We will meet the morning of the march, Saturday January 21st, meet at 9:00 am outside of the Holiday Inn - Capitol Hill, 550 C Street SW.
The March and Rally begin at 10:00 am, at the intersection of Independence Ave and Third St SW. We will walk together from the Holiday Inn.
Now is the time to show the world that women mean business.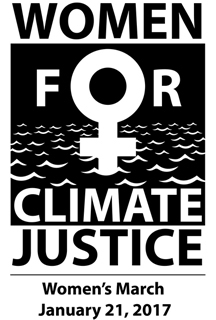 Popular in the Community