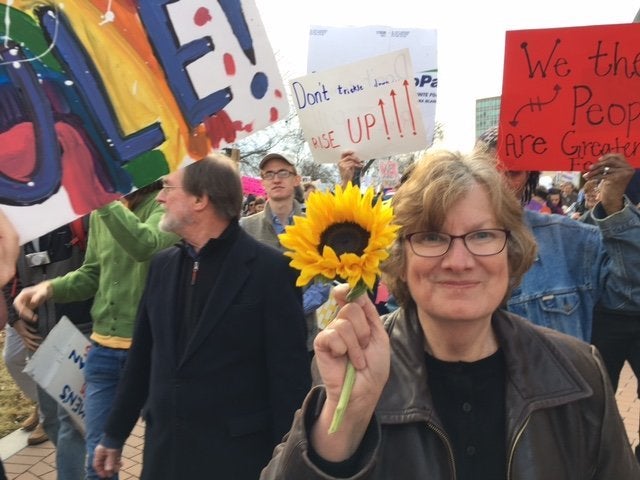 I went to bed past midnight on election night, after witnessing the shocking development that Donald Trump would win the electoral vote. Our college sophomore son texted us at 1:30 a.m. that Trump had indeed bagged the Electoral College.
Sometime in the wee hours I dreamt I was comforting Hillary Clinton, who was, naturally, dressed in a pantsuit. I hugged her and told her how sorry I was that she had lost the election. Then I said, "I love your hair color. Can you tell me who your hair colorist is?"
Maybe my hair colorist question expressed my unconscious wish to normalize the life ahead of us, to convince myself that even in the face of devastating election results, we could all return to life as usual. But I awoke to a grimmer reality. Like many others, I didn't shower that day or leave the house. I cried when Tim Kaine spoke. I cried when Hillary finally conceded to Trump. I skipped the panel I was planning to attend that evening at a public library. And for many days after, I burst into tears unexpectedly, still in shock at the death of my dream that we would have our first female president, a woman vastly qualified and prepared for the office.
In fact, I've remained in shock, dismay and disbelief until the recent Women's March. I knew I didn't want to board a bus for D.C., but when my 34-year-old dancer daughter said she was attending the Topeka march, and that she and her partner and another friend were making signs, I committed to going with them.
In the past, I have preferred to air my political beliefs through writing, not marching. In fact, this women's march was my first march ever. In college, as a student journalist, I covered protests, but did not participate in them. I once did a half-marathon walk/run for the ERA, but I have preferred the pen to the pavement.
The goddesses smiled on the Topeka Women's March, which drew 4,000 participants, young and old, male, female and in-between, to the south side of the State Capitol on a sunny day in the 50s. Against the bluest sky, the crowd was uplifted by a wonderful all-female musical group, The Skirts. My daughter recognized the mandolin player as a kindergarten teacher whose class she visits once a week to teach creative dance. They led us in "Teach Your Children Well," with telling lyrics given the antics of our renegade president. A child in the crowd held a sign: "I'm Listening."
Beryl New, African American principal of Topeka's east-side Highland Park High, who had children in day care with my daughter, served as a dynamic emcee. "We have been blessed so that 4,000 people can come together to celebrate the banner over all of us, the banner of love," she said. Interestingly, the organizers of the march in Topeka were a young University of Kansas professor, who lived down the street from us as a girl, and a History and Spanish teacher at a local private school, the younger sister of a classmate and friend of my daughter from a big Mormon family.
A female Unitarian minister led a prayer that ended with the wish that we come together in "a movement, not a moment."
As we listened to the speakers, a mother tapped me on my shoulder and told me her daughter wanted to give me a sunflower. At the end of two and a half hours of a baker's dozen women speakers, including a construction worker, a transgender woman, an African American legislator, an indigenous speaker, a disabled activist, and more, we marched around the Capitol Building. For the first time since Trump's election, I felt exhilarated. I was joined by my husband and my son, our daughter and several of her friends. I carried my Kansas sunflower proudly.
Fatima Mohammadi, of Iranian/Danish parents, mother of three and an attorney, had ended her remarks by asking the crowd, "What if this darkness is not the darkness of a tomb, but of a womb?"
Across the nation, Gloria Steinem, veteran activist, echoed these sentiments at the Women's March on Washington when she said, surveying the crowd of one million gathered there: "This is the upside of the downside." Her rousing, stirring keynote referenced the 370 marches occurring in all states and on seven continents, marches that in the days after were reported to have drawn 3 to 4 million.
In closing, Steinem observed that after electing a "possible president, we too often go home." But as she said, since "We've elected an impossible president, we're never going home."
The National Women's March organizers have recommended 10 actions in 100 days. This week I was invited to three postcard-writing parties. At the one I attended I asked my Congressional representatives to not tamper with the Affordable Care Act, telling the story of my daughter's duet partner who broke her wrist during a performance, but had insured herself thanks to the ACA two weeks before. I wrote my state legislators asking that they support a bill granting permanent exemption from the Kansas concealed carry laws for public buildings, including universities, saying had I known there would be weapons on campus at the University of Kansas after July, I would have encouraged my son to go out of state to college.
The many airport rallies in opposition to Trump's travel restrictions for those from seven Muslim-majority countries show public protests will continue.
We Kansans may live in a red state, but sizable numbers of us intend to resist the Trump administration when it steps on the rights of those perceived as Other. During the first week alone, those others were non-Christians, Muslims, and people with little means to purchase health insurance.
We are not going home, as Steinem, 82, and still splendid in her galvanizing energy, said. We will keep up the pressure. We will move through loss and grief, toward hopeful and positive action.
REAL LIFE. REAL NEWS. REAL VOICES.
Help us tell more of the stories that matter from voices that too often remain unheard.
BEFORE YOU GO