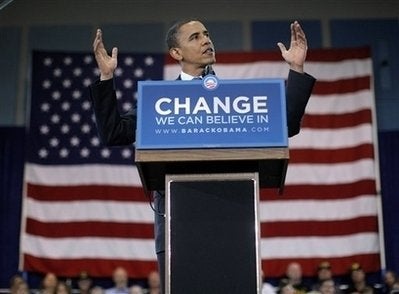 I marched in the inaugural parade yesterday, and there are three moments that will stay with me forever.
The first recollection happened around 3 PM. Someone had just read on her Blackberry that something was wrong with Ted Kennedy. The Peace Corps volunteers, carrying majestic 10-foot flags from 139 countries spontaneously started huddling together - in part because we were freezing, but also because Senator Kennedy's health was heavy on our minds. We stopped complaining about the cold and our thoughts went to thinking the parade would be canceled. Some wanted to know if we would still be on TV. Then, another former volunteer was on the phone with his dad who was watching CNN, and said that Barrack and Michelle Obama were on Twelfth Street. We started getting into position, excited. Next from blocks away we heard cheering that shook the ground - the president and first lady were just minutes away from the viewing station. The first of three moments I will remember from yesterday happened shortly after this. Harris Wofford showed up wearing a Peace Corps cap, with his two grandsons, one of whom was wearing the AmeriCorps red jacket. I looked back and saw some of the older Peace Corps volunteers point at Harris and tear up and it was because decades ago Harris, who was the special director to Africa and personal advisor to President Kennedy, had come to their villages, trained them, shown them the way. And he was here again to show us the way through this cold.
The kids from a middle school marching band in the contingent in front of us, picked up their trombones and started playing a tune I recognized but now can't remember. As the kids played, Harris, who was carrying the Peace Corps banner, began dancing. Not just moving back and forth - he started spinning around and dancing with Peace Corps volunteers. That is the first moment that I'm thinking about today.
The second moment came when we actually started marching. As we turned onto Pennsylvania Avenue, people from all over America were looking at us. I've never quite experienced anything like that. I started waiving back and smiling. You couldn't help it. Then, person after person started raising their fists and cheering, "Peace Corps!!" and "Thank you!!" One person even said, "More Peace Corps. Yes we can." There was a woman jumping up and down crying. The Peace Corps contingent walking in unison, a sea of flags perfectly horizontal in the 20 MPH wind, was hope. Then, three men in yellow jackets and red backpacks came running up to us and added even more hope. I recognized two of them - Mark and Tim Shriver. Tim was wearing black sunglasses. I couldn't believe how much his smile reminded me of Sarge. So positive and bold. They waived to the Peace Corps volunteers with one hand on Harris' shoulder. Their jackets were bumblebee yellow - they were marching with the Special Olympics, which Tim Shriver leads. I wanted to say hello but I felt shy and held on tighter to the Peace Corps banner.
That wasn't the second moment I am thinking about today. The second moment came later when the Shrivers (the third man was Tim's son I think, maybe Mark's son), ran back to take their positions in the Special Olympics contingent. We turned another corner and I saw Mark Shriver, who was now standing with the children in Special Olympics group about 100 meters ahead, looking back at us. The expression on his face was full of so much emotion. Because of my angle, I could see it very clearly. He was overwhelmed by the sea of flags. The Peace Corps was marching again. That look was the second moment I'll remember from yesterday. I think Mark wanted to remember the image of the flags in his mind forever. It was an image of how one person had changed the world and the inner world of all of the marchers - and it was his own father.
The Obamas and Bidens were in a giant heated white cube with a poster on it that said "President of the United States" in cursive letters. It was getting a bit darker, and the crowds were getting bigger and bigger as we approached the viewing station, louder too. Then it happened - the third moment I will never forget from yesterday's parade. This one also has to do with Harris Wofford. As we came closer, I saw the new President and First Lady and the Bidens. They looked so beautiful and happy. When they saw us, they seemed warmed. But then, President Obama saw Harris and he started pointing excitedly and telling Michelle and Joe Biden and then they started pointing too and telling others in the room that Harris was there. The new President looked at Harris Wofford with his characteristic smile, only the look was different, more peaceful and nostalgic. I wonder if he was remembering traveling around the country with Harris during the campaign hearing Peace Corps stories. Whatever he was thinking, the President was emotional. He was completely fixated on Harris. I wish I had seen Senator Wofford's face but I was so focused on the glowing cube and Obama's smile and trying to absorb what it all meant.
Then, they all saw the sea of flags and they leaned forward to see all of us, and I really don't think they were expecting we would have such tall flags. I knew that we were now Obama's kids being ushered in by Kennedy's kids. I knew then that President Obama is going to do something great for the Peace Corps.
I knew because of the look he gave us.
Popular in the Community