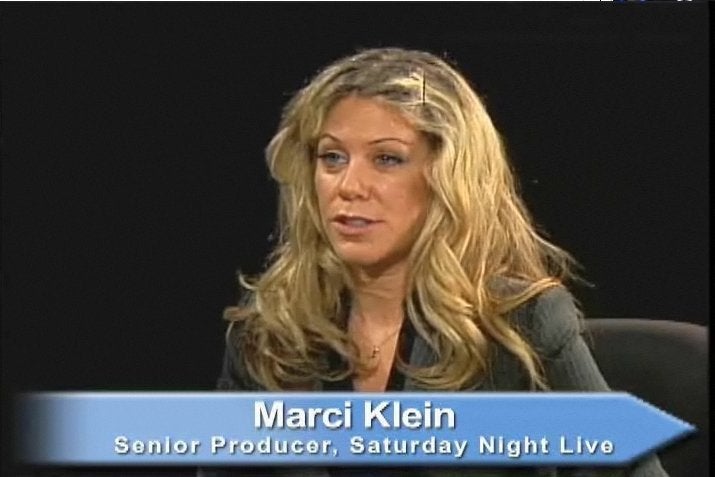 Marci Klein, senior producer of "Saturday Night Live" and executive producer of "30 Rock," recently sat down with host Julie Menin for her NBC New York show "Give and Take." Klein spoke about everything from Sarah Palin's firm handshake to Hillary Clinton's anger over sketches about Chelsea to how she discovered Will Ferrell.
In the wide-ranging interview, which airs on NBC New York as well as streams on JulieMenin.com, Klein — who recently booked her father Calvin for a guest spot on "30 Rock" — also discusses infamous moments in "SNL" history, like Sinead O'Connor ripping up the pope photo and Ashlee Simpson storming off-stage in the middle of her set.
"Give and Take," a new show about current events and women's issues, launched this week and "will provide a unique place for leading women from different disciplines to talk about their lives and the issues important to them and other women," says the host (who is also a Huffington Post blogger). In addition to Klein, upcoming guests include CNBC anchor Maria Bartiromo, Mayor Bloomberg's longtime girlfriend Diana Taylor, Tru TV anchor Jami Floyd, and Caroline Hirsch, owner and founder of the legendary Caroline's comedy club.
The interview with Klein was cut into five clips, rolled out individually this week on JulieMenin.com. Parts III and IV are below. For Part I, in which Klein talks about meeting Lorne Michaels, and Part II, in which she discusses how she knew Will Ferrell would be a star as soon as she saw him, visit JulieMenin.com.
Part III: Klein talks all about the politicians that "SNL" has hosted over the years. She says John McCain has a "great sense of humor" and that Sarah Palin was one of the most confident people she's ever met. "I actually was the first person to meet her," Klein said of Palin. "I was standing there, and I thought, 'Oh my God, she looks just like Tina!'" Klein said Palin had an "incredibly strong handshake" and that she was overwhelmed by her resemblance to Tina Fey. "A lot of people come to our show — actors, musicians — and they're nervous...she was not nervous. I thought, this is the most confident person I've ever met."
Part IV: Klein discusses the influence of "SNL" on "The Daily Show" and "The Colbert Report," and talks about the way the media, and "SNL" specifically, treated Hillary Clinton during the campaign. "Personally, there were moments between dress and air where I'd say, 'Can we be nice to her? Why does everyone hate her so much?'" she said. Klein added that over the years Clinton has weighed in on the show's treatment of her, in particular its treatment of Chelsea.