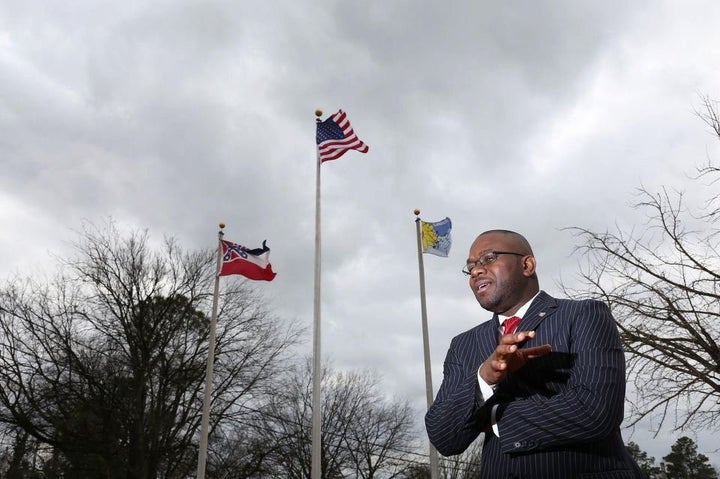 CLARKSDALE, Miss. -- Patricia Unger gripped a relative's arm and walked into a community college gym reconfigured to seat the large, mourning crowd, security and media crews her church could not hold.
At the end of a long center aisle sat a slate blue casket. The swollen, partially charred body of her only son, Marco McMillian, lay inside, obscured by a gauzy white veil. She nearly fainted and did not speak.

Instead, between a gospel choir's offerings, national and local dignitaries drew attention to McMillian's drive, talent and intellect. McMillian's own family, friends and fraternity returned again and again to McMillian's decision to move back to his small Mississippi hometown and run for mayor, his high-wattage smile, his fondness for debate and habit of referring to family and friends as "my love." But not one person spoke into a microphone Saturday about the precedent McMillian had already set before he died.

McMillian-- a 33-year-old black man who died Feb. 26 and was believed to be the first openly gay politician to ever run for office in Mississippi -- came to national attention late last month after his body was discovered beside a levee. The brutal and mysterious death of the political trailblazer has set off so many questions that at least two members of Congress and a black lesbian, gay, bisexual and transgender civil rights organization has asked federal hate crimes investigators to intervene.

"We must ask ourselves some hard questions as a nation, as a region. We need to ask not just what has happened here but why," said Congressman John Lewis, a Democrat from Georgia who is a member of the same fraternity to which McMillan belonged and who attended the funeral. Lewis said Saturday that he supports calls from Mississippi Congressman Bennie Thompson, a Democrat, to bring federal investigators and resources into the McMillian death investigation.

Lewis described McMillian as a "kindred spirit," because much like Lewis, a man known for the violent beatings, arrests and other challenges he endured while engaged in civil rights protests, McMillian was prepared to "get into trouble, good trouble, the kind required to hold the nation to its ideals."

It's difficult to parse what portion of the silence around the precedent-setting nature of McMillian's campaign or even the much-debated cause of his death should be attributed to homophobia in Clarksdale, an overwhelmingly black Delta community of 18,000. In much of the Deep South, mores limit public discussions of sex and sexuality. And almost nowhere in the country would a collection of bereaved family and friends deviate from the standard script of life accomplishments, endearing quirks and good deeds at a funeral.
Marcus Chaney, another one of McMillian's fraternity brothers and an administrator at Jackson State University who had known McMillian since the politician was in high school, said in African-American communities and certainly the Deep South, gay men like McMillian don't face constant discrimination because they simply don't talk about their sexuality.
"Being number 50, the bottom of the list in almost everything in Mississippi, I think there are just so many other things to fight -- namely poverty," he said.
On Saturday, what was clear was just how much McMillian will be missed. Unger had spent the last week crafting a nearly 15-minute slideshow that played while a trio sang.
When it began, an orange-tinted late 1970s, early 1980s-era family photo complete with a smiling baby and parents in wide-collared shirts filled a large screen in the reconfigured community college gymnasium where McMillian's funeral was held. In another photo, McMillian appeared with an eager smile and in a white cap and gown at his kindergarten graduation.
Later, a teenage McMillian, with an angled box-top haircut and an anxious smile, college pictures with some of the men who would become his fraternity brothers and McMillian's mother beaming beside her adult son filled the screen. Then came the pictures of McMillian receiving professional commendations, shaking hands with men like former Sen. Trent Lott, a Mississippi Republican, and Democrats such as President Barack Obama and former President Bill Clinton. Clinton grasped McMillian's hand in one of his famous double grips.
Around the gymnasium, the pictures elicited laughter and, from others, tears. McMillian's godfather, Carter Womack, told the at least 700 people inside the gym that McMillian was a civil rights leader for a "new era," and then offered some emotional guidance:
"Although we are dealing with the tragic loss of a young and great man," said Womack, "it was a life filled with great accomplishment and contributions … So we celebrate him."
Around town, some are gossiping, offering unproven theories as fact and even coming to the funeral to gawk, McMillian's former pastor said during his time at the microphone.
"It don't matter what they say about Marco because ... none of us have a heaven or a hell to put him in," said the Rev. Edward Thomas, pastor of Kings Temple Missionary Baptist Church.
Reporters in Mississippi have published stories indicating that Lawrence Reed, a 22-year-old black man, may have killed the politician in a panic, ignited when McMillian allegedly showed romantic interest in Reed. Reed has been charged with McMillian's murder. But several Clarksdale residents and friends of McMillian's who live in Memphis, Atlanta, Jackson, Miss., and other nearby cities told The Huffington Post on Saturday that McMillian told family and friends in the days leading up to his death that he feared for his life and had been warned to drop out of the mayor's race.
As the service ended, Womack said, "The charge for this community ... is to demand justice, demand justice, demand justice."
Then, Womack and Unger followed McMillian's casket back down the long aisle.
CORRECTION: This article has been changed to attribute comments made the Rev. Edward Thomas to the correct pastor. Thomas was one of several ministers who spoke during the funeral service.
Popular in the Community