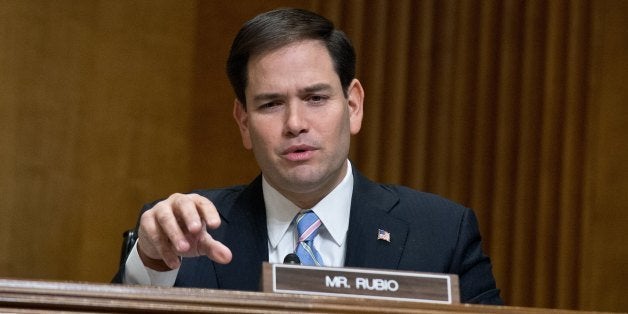 Earlier this week, in an attempt to get everyone to calm down about the far-off 2016 presidential campaign and stop proclaiming non-candidates to be "frontrunners" in a non-existent race, one of the people I wrote up for jumping prematurely into the "presuming a frontrunner" game was Townhall's Conn Carroll, who tweeted "Rubio is the 2016 GOP frontrunner again." I did not use that occasion to explain Carroll's reasoning for saying so, but a new piece from McKay Coppins, which rather insistently alleges that a full-on Rubio "comeback" is underway, has forced my hand.
So, what was the moment that done changed the game for Rubio? It was a speech he gave, in which he totally laid the wood to a retiring liberal senator for being soft on Cuba. See, Rubio was just going to deliver a "straightforward foreign policy speech" on the ongoing crisis in Venezuela, but then he "saw Iowa Democratic Sen. Tom Harkin standing behind a podium, reciting a cheery travelogue of his recent trip to Cuba, where he toured a local block party and marveled at the country's health care system." And what happened next will apparently restore your faith in Rubio 2016:
With that, Rubio made his way into the Senate chamber, stepped up to the podium, and proceeded to deliver a scathing senatorial takedown. Alternating between biting sarcasm and righteous indignation, Rubio spent 14 minutes excoriating his colleague for heaping praise on a country that has aligned itself with corrupt regimes across the globe.
In other words, it was basically an old-school "Florida Republican paint-by-numbers anti-Castro rant." But hey, it got Drudge-linked and "went viral" on the right. It's enough to make you wonder, "Hey, so if this is a 'comeback,' what is it that Rubio is coming back from, exactly?" A memory stirs:
It is painful to watch Marco Rubio's maneuverings on immigration. He is refusing to say whether he will vote "yes" on his own Gang of Eight bill after spending months drafting, defending, and helping shepherd it to the floor. He has supposedly discovered that the enforcement provisions are inadequate, although he has done countless interviews touting that the bill contains the "toughest immigration-enforcement measures in the history of United States" (which is what his website still says). At the same time, Rubio declares the bill 95–96 percent perfect.
That's from the editors of the National Review, circa June of 2013, at a time when they'd gone to great lengths to utterly bury Rubio's ambitions under the bulk weight of accusations that he was an "amnesty" appeaser and chronically wrong on comprehensive immigration reform. (Carroll, in his recent re-assessment of Rubio, says that he had been "very critical" of the Florida senator on that issue, but that it was "a long time ago." Maybe so, but as I follow Carroll's link to his "very critical" criticism, it reveals that his criticism was actually fairly muted and reasonable, compared to the anti-Rubio oeuvre of the National Review, and many others.)
Of course, when it comes to passing the first few low bars you face when you want to be the GOP's nominee for president, a little bit of Castro-punching and Harkin-lambasting is probably sufficient for the task. But let's look down the line at what Rubio's likely to face -- a slew of other GOP contenders who didn't author a comprehensive immigration reform bill with Senator Chuck Schumer. Will a little bit of standard-issue harshing-on-the-Cuban-regime hot talk from Rubio be sufficient to get his competitors to stand down? Not if the past is any guide: In the 2012 GOP primary, Texas Governor Rick Perry's cogent defenses of his own humane immigration policies only inspired his colleagues to kick in his teeth.
The larger, official "GOP establishment" has historically been behind the effort to pass a comprehensive immigration reform bill, but they've not sold the plan to their restless base. As such, the other presumed GOP contenders have taken pains to remain aloof from the immigration bill Rubio backed -- which is something Carroll, for one, is in the position to understand. As he wrote, while "New Jersey Gov. Chris Christie, Wisconsin Gov. Scott Walker, Louisiana Gov. Bobby Jindal, Texas Gov. Rick Perry, former Florida Gov. Jeb Bush and Rep. Paul Ryan, R-Wis., have all voiced support for a path to citizenship at some time in the past," the fact of the matter is that "Christie has not endorsed the actual bill Rubio produced," "Jindal and Perry have both recently come out against it," and Walker took pains to retract reports that he supported it. Heck, even Florida Gov. Jeb Bush -- a one-time Rubio fan who's been closely associated with the GOP establishment's position on immigration reform -- has been doing the triangulation two-step in preparation for a potential 2016 run.
Let's not have any misunderstanding: I do not take the position that one should "count out" Rubio as a potential top-tier contender for 2016. Far from it -- as a member of a largely do-nothing caucus, Rubio's put in the sweat equity on this issue, and he's volunteered to step in front of every cannon-shot of criticism fired at the effort to pass an immigration reform bill. And in addition to his documentable work-ethic and political courage, he's got a pretty good sense of humor as well. It can be fairly said that his speech in response to Tom Harkin is one of the least interesting things about him.
It is fairly typical for these sorts of hype-pieces to include a part that negates the original premise. In the case of this Coppins piece, we get this:
Meanwhile, as Rubio once again enjoys 2016 hype, his senior staff remains clear-eyed about how media narratives can work. One aide said he expected the backlash to the Rubio comeback story to materialize within weeks. Still, his allies contend that the senator's ability to recapture the imagination of the movement with a single impromptu performance illustrates why he's too talented to be written off for good.
I guess it's not altogether surprising that Rubio's senior staff is "clear-eyed about how media narratives can work," given that they are busy crafting this "comeback narrative" in the first place.
But look, you don't get extra points in a GOP primary for briefly being a viral sensation on the Internet. And while the sentiments Rubio expressed on Cuba and Venezuela will play just fine with the primary voters he's trying to win over, it's not going to earn Rubio a pass from his fellow competitors in a hypothetical primary, all of whom will likely be eyeing the ripe target on his back. When Marco Rubio survives those shots, then we can call it a comeback.
REAL LIFE. REAL NEWS. REAL VOICES.
Help us tell more of the stories that matter from voices that too often remain unheard.
BEFORE YOU GO
PHOTO GALLERY
Marco Rubio