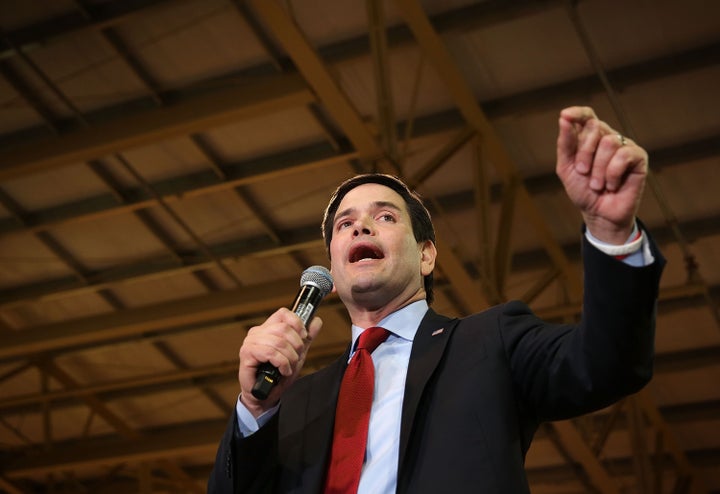 WASHINGTON -- Even hundreds of miles away from Washington, GOP presidential candidate and Sen. Marco Rubio (R-Fla.) is still causing trouble for the Obama administration.
Sen. Tom Udall (D-N.M.) on Thursday tried for the second time to get a Senate vote on the Mexico ambassador nominee, Roberta Jacobson. And for the second time, Rubio helped block that vote, even though he is in Detroit preparing for a Republican debate.
After Udall asked for "unanimous consent" to move forward, Sen. James Risch (R-Idaho) rose to object on behalf of himself and Rubio.
"What is holding up her nomination? It isn't her qualifications, that isn't the problem," Udall said on the Senate floor afterward. "A big part of the problem is presidential politics, and the policy differences with the administration over her work with Cuba."
Rubio has accused Jacobson of failing to prioritize the issue of human rights on the island since the Obama administration re-established diplomatic relations with the Castro government for the first time in more than half a century last year. As the son of Cuban migrants and closely aligned with the exile community of South Florida, Rubio has strongly protested the loosening of travel and trade restrictions against the Communist government.
It's not the first time Rubio has held up a vote on the nomination from afar. Sen. Mike Lee (R-Utah) objected to a vote on Rubio's behalf in February, when the candidate was out of Washington campaigning.
The failure to move forward with Jacobson's nomination is an example of the gridlock that has left spots open for months and even years due to the Senate's refusal to work with President Barack Obama -- on display even more now, as Republicans object to even meeting with a potential nominee for the Supreme Court vacancy left by Justice Antonin Scalia's death.
"This line gets longer and longer of perfectly qualified nominees denied a vote, denied an opportunity to be heard," Udall said on the Senate floor. He said he would continue to try to get a vote on Jacobson's nomination.
Mexico, with whom the United States shares a 2,000-mile border and more than $500 billion in annual trade, has been without an ambassador since July. This makes it much harder for the top levels of the U.S. government to communicate in real time with their counterparts in the Mexican government on a slew of urgent issues ranging from immigration, to fighting organized crime, to economic development.
President Barack Obama nominated Jacobson last June, and the Senate Foreign Relations Committee voted to move forward with the process in November. The previous nominee, Maria Echaveste, withdrew her name from consideration in January 2015 after going months without even a hearing on her nomination.
The nomination has caused fissures in both parties. Sen. Jeff Flake (R-Ariz.), who endorsed Rubio for president, supports Jacobson, and told reporters he has "encouraged him to let it go" -- even participating in a press conference Thursday morning calling for a vote with Udall and Sens. Martin Heinrich (D-N.M.) and Amy Klobuchar (D-Minn.).  
There are some divides within the Democratic caucus as well, although it is more unified in support.
Sen. Bob Menendez (D-N.J.), who is of Cuban descent, voted against Jacobson at the Nov. 10 committee meeting, taking issue with her characterization of the level of threat posed by Venezuela and saying she had not done enough to confront authoritarianism in Latin America. "To say that it was misleading would be polite," Menendez told reporters last week, referring to her testimony on Venezuela. He said it had nothing to do with her work on Cuba.  
Menendez said he would vote against her again, but did not put a hold on her nomination.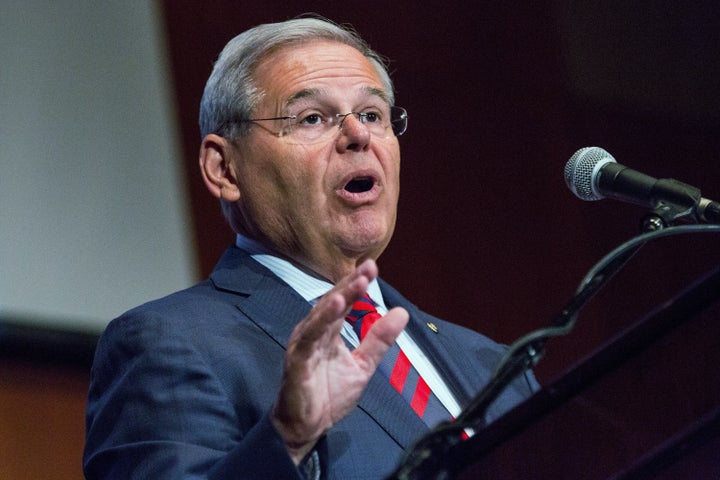 Rubio spokesman Alex Burgos said the senator maintains his opposition "on the basis of her failure to be transparent during the confirmation process, inability to provide straightforward answers, and poor track record on a wide range of issues as the Assistant Secretary of State for Western Hemisphere Affairs."
"It is his belief that Ms. Jacobson is unprepared for this important role and lacks the trustworthiness we need in an ambassador to one of our most important partners," Burgos said.
Jacobson continues to serve in the assistant secretary role, overseeing the implementation of U.S. policy across the Americas.
Many policymakers who focus on Latin America, however, question Rubio's hold-up of a highly regarded nominee who has spent three decades building a career in diplomacy focused almost entirely on Latin America, serving both Democratic and Republican administrations.
Critics of the opposition to Jacobson's nomination also note that few people in Mexico follow the partisan battles in the U.S. Congress closely enough to understand why the top spot at the embassy in Mexico City has been left unfilled. Instead, it comes across as simple neglect.
"For most Mexicans, a lack of an ambassador is a sign of the U.S. government not caring about the relationship," former Mexican ambassador to the U.S. Arturo Sarukhán told The Huffington Post. "It sends the message that the U.S. has no skin in the game."
That could be very damaging to U.S.-Mexico relations, including for business, U.S. Hispanic Chamber of Commerce president and CEO Javier Palomarez said at the press conference with senators Thursday.
"By delaying this vote, the Senate is sending a clear message to Mexico," he said. "We're letting them know that we don't value our relationship. ... Nothing could be further than the truth."
Calling all HuffPost superfans!
Sign up for membership to become a founding member and help shape HuffPost's next chapter