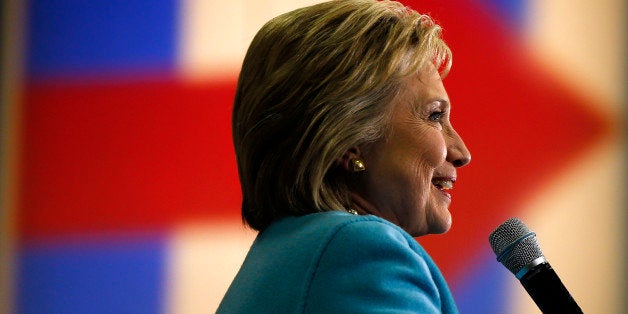 One little-known fact this year is that Hillary Clinton and Marco Rubio have benefited from prison lobbyist money. In fact, they've taken almost the same amount of contributions from major prison lobbyists. Clinton's campaign has received $133,246 while Rubio's campaign accepted $133,450 from the prison lobby.
According to a Vice News piece titled How Private Prisons Are Profiting From Locking Up US Immigrants, Hillary Clinton and Marco Rubio have taken virtually the same amount of donations from the two most influential prison lobbyists in the U.S.:
VICE reviewed federal campaign disclosures and found that lobbying firms linked to GEO and CCA have already contributed more than $288,300 to three of the leading candidates.

Clinton's Ready for Hillary PAC received $133,246 from lobbying firms linked to GEO and CCA. Rubio's PACs and campaign have taken a total of $133,450 from private prison companies or groups that lobby on their behalf. Bush's campaign and his Right to Rise Super PAC have received $21,700 from lobbying groups affiliated with GEO and CCA.

"These companies are investing their money for a reason," said Bob Libal, the executive director of Grassroots Leadership, a group that fights to end for-profit incarceration. "That reason is to maintain policies that benefit them."
Rubio's home state of Florida has recently faced a crisis with its corrections system and has the 11th highest incarceration rate in the nation.
While Hillary Clinton expects to receive the majority of the African American vote among Democrats, mass incarceration has targeted African Americans at a higher rate than any other demographic. Thus, Clinton's willingness to accept money from the prison lobby runs contrary to the interests of a core constituency. According to the NAACP, national statistics show black citizens targeted at alarming rates by the prison system:

African Americans now constitute nearly 1 million of the total 2.3 million incarcerated population

African Americans are incarcerated at nearly six times the rate of whites

Together, African American and Hispanics comprised 58% of all prisoners in 2008, even though African Americans and Hispanics make up approximately one quarter of the US population

According to Unlocking America, if African American and Hispanics were incarcerated at the same rates of whites, today's prison and jail populations would decline by approximately 50%

One in six black men had been incarcerated as of 2001. If current trends continue, one in three black males born today can expect to spend time in prison during his lifetime

1 in 100 African American women are in prison

Nationwide, African-Americans represent 26% of juvenile arrests, 44% of youth who are detained, 46% of the youth who are judicially waived to criminal court, and 58% of the youth admitted to state prisons (Center on Juvenile and Criminal Justice).

5 times as many Whites are using drugs as African Americans, yet African Americans are sent to prison for drug offenses at 10 times the rate of Whites

African Americans represent 12% of the total population of drug users, but 38% of those arrested for drug offenses, and 59% of those in state prison for a drug offense.
What's most startling is that African Americans on average vote around 90% Democrat in presidential elections, yet Hillary Clinton accepted money from major prison lobbyists, even as "African Americans are incarcerated at nearly six times the rate of whites."
As for the reaction from Latino and African American civil rights organizations, these groups pressured Clinton to stop taking the prison lobby's money, as illustrated in a Huffington Post article titled Hillary Clinton Says She'll End Private Prisons, Stop Accepting Their Money:
Lobbying firms that work for two major private prison giants, GEO Group and Corrections Corporation of America, gave $133,246 to the Ready for Hillary PAC,according to Vice. Those companies operate a number of criminal and immigrant detention facilities, some of which have been plagued by allegations of abuse and poor treatment of detainees.

Immigrant and civil rights groups have urged Clinton to stop accepting contributions from donors with ties to GEO and CCA. Earlier Thursday, in announcing its co-founder Cesar Vargas was moving to the campaign of Sen. Bernie Sanders (I-Vt.), the advocacy group Dream Action Coalition singled out Clinton for accepting those contributions.

Sanders recently introduced a bill to ban government contracts for private prisons, including immigrant detention centers.
It's unknown if Clinton would have still accepted prison lobbyist contributions had these groups not pressured the former Secretary of State. What's also surprising is that Jeb Bush actually received less money ($21,700) than Clinton, from the same interests that target a key voter base among Democrats.
In contrast to Clinton, Rubio, and Bush, Senator Bernie Sanders has been outspoken in his desire to ban private prisons, as stated in a USA Today piece titled Bernie Sanders seeks to ban private prisons:
Sen. Bernie Sanders said he hopes to end the "private, for-profit prison racket" with the introduction Thursday of bills to ban private prisons, reinstate the federal parole system and eliminate quotas for the number of immigrants held in detention.

The Vermont independent, who is running for the Democratic presidential nomination, introduced the "Justice is not for Sale Act" with Democratic Reps. Raúl Grijalva of Arizona, Keith Ellison of Minnesota and Bobby Rush of Illinois. It would bar the federal government from contracting with private incarceration companies starting two years after passage.

"The profit motivation of private companies running prisons works at cross purposes with the goals of criminal justice," Sanders said. "Criminal justice and public safety are without a doubt the responsibility of the citizens of our country, not private corporations. They should be carried out by those who answer to voters, not those who answer to investors."
In 2016, Bernie Sanders has been the leading voice among presidential candidates on the issue of banning private prisons.
With the Democratic race heating up and both Bernie Sanders and Hillary Clinton close in the polls, the issue of prison lobbyist donations will factor into the Democratic primaries. Bernie Sanders has never taken money from the prison lobby, while The Intercept wrote last year that Private Prison Lobbyists Are Raising Cash for Hillary Clinton. In addition, Bill Clinton's recent apology for his role in making mass incarceration "worse" will also be a key issue in the 2016 Democratic Primary. The Los Angeles Times writes that "The federal and state prison populations rose more under former President Bill Clinton than under any other president." This year, Hillary Clinton could be linked not only to her acceptance of prison lobbyist money, but also Bill Clinton's role in mass incarceration.
Popular in the Community