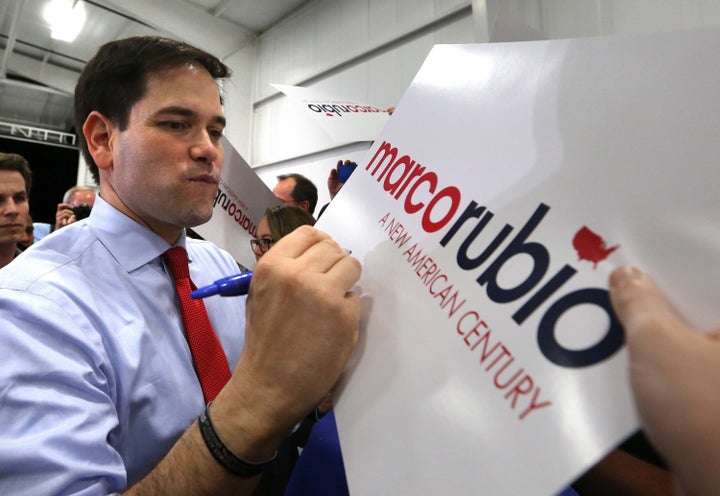 WASHINGTON -- Donald Trump's bigoted statements about Muslims undermine his ability to be the U.S. commander-in-chief, Republican presidential rival Sen. Marco Rubio (R-Fla.) said on Friday.
Rubio said on CNN's "New Day" that holding such a view would make it impossible to effectively manage U.S. national security.
The next president will be in charge of American troops who may be Muslim, Rubio noted. He questioned how Trump could face a Muslim soldier willing to die serving for America and tell her or him that their religion means they must hate this country.
The claim Trump made fundamentally mischaracterizes the problem, Rubio argued. "It doesn't happen to be true: a majority of Muslims do not hate America," he said.
"There is a problem with radical Islam. That is a real threat to Islam and it is a real threat to America, so we are going to have to work with Muslims.
Trump last year called for a ban on Muslims entering the United States. He argues that the U.S. does not understand what's driving radicalization among Muslims, a point he repeated in the comments to Cooper. "There's something there, there's a tremendous hatred there, we have to get to the bottom of it," the real estate mogul said.
I'm not interested in being politically correct. I'm interested in being correct.
The businessman was asked if the U.S. was at war with radical Islam or Islam itself. "It's very hard to separate, because you don't know who is who," he replied.
These kinds of vague statements deflect attention from what experts say are the root causes of radicalization -- alienation, political oppression and other social issues -- back to the religion that some perpetrators of terror claim to reflect.
Rubio's comments on Friday echo his clash with Trump over Islam during the debate.
Trump alleged that politicians are not properly dealing with radical Islam because they are too politically correct.
"I'm not interested in being politically correct. I'm interested in being correct," Rubio said.
But critics note that he has few accomplishments to point to and that his pushback against Islamophobia has been focused on tactical value -- talking about the benefits of respecting Muslims -- rather than the moral imperative to fight prejudice.
REAL LIFE. REAL NEWS. REAL VOICES.
Help us tell more of the stories that matter from voices that too often remain unheard.
BEFORE YOU GO
PHOTO GALLERY
Marco Rubio On The Campaign Trail