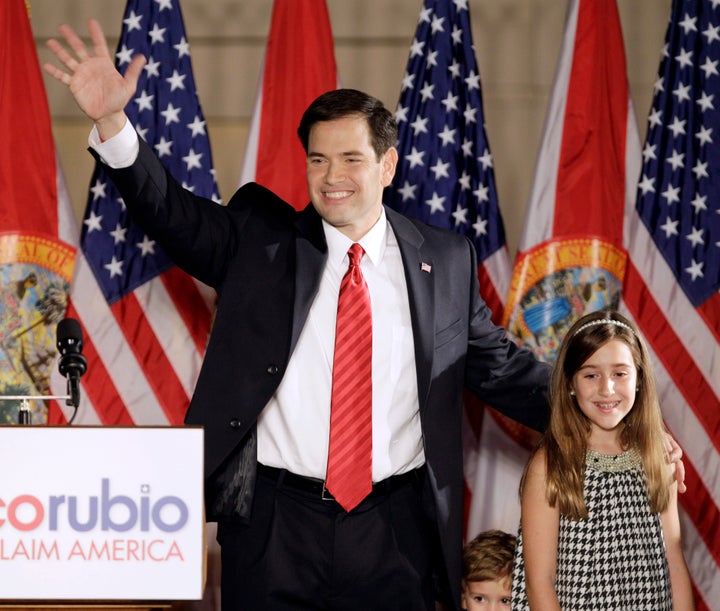 WASHINGTON -- As a 13-year-old, Marco Rubio, now a Republican senator from Florida, strongly supported hotel workers pushing for better treatment -- so much so that he called his father a scab for returning to work during a strike, according to his new autobiography, "An American Son."
"I accused him of selling out and called him a scab," Rubio writes in the book, released today. "It hurt him, and I'm ashamed of it. He had no choice."
The book details Rubio's childhood, family and political career. It's largely, and unsurprisingly, positive, defending his record against claims of ethics concerns and discussing how he changed from an unmotivated student in high school and early in his college years to a successful law school graduate and politician. The major themes are his family's struggles and strong work ethic, his conservative values and his quick ascent to the upper chamber of Congress.
But the book also reveals some quirks, such as a past fondness for nightclub "foam parties," singing and Ted Kennedy, the late Democratic icon.
Below are some highlights:
He once ruined shoes at a foam party.
Rubio writes that one night, his now-wife, Jeanette, told him that if he went out to a nightclub that evening, their relationship would be over. He went anyway to a "foam party," where he writes that he "watched the foam descend from the ceiling ... a sight to behold."
While there, he had revelation when his beeper buzzed with Jeanette's number:
As I contemplated my predicament, I looked down at my shoes. They were perfectly white. They had been black when I arrived. ... Maybe because I took it as a sign the life I was leading was phony and unsustainable or just that I had suddenly found myself wearing white shoes, a South Beach fashion faux pas, I left the club and found the nearest pay phone.
He sang at his own wedding.
Rubio sang two songs by Frank Sinatra at his wedding: "New York, New York" and "My Way," which he writes "seems all too fitting now."
He threw up inside a plane full of political operatives.
While working on the 1996 presidential campaign for Bob Dole, Rubio drank a little too much the evening before getting on a plane. He writes that he and his fellow volunteers held an informal vodka shot competition and he was one of the winners. The next day, things went south.
I realized I wasn't going to make it. I was going to throw up in full view of some of the most prominent Republicans in Florida. Congresswoman Ileana Ros-Lehtinen sat to my right. To my left sat a well-known political operative who had volunteered on the campaign. I could either vomit on a congresswoman or on a fellow volunteer. I chose the latter.
He supported Ted Kennedy in 1980.
Rubio wasn't close to being of voting age in 1980. But if he had been, he would have supported a Democrat, the late Sen. Ted Kennedy (D-Mass.). He writes that he was "crushed" when former President Jimmy Carter won the Democratic nomination instead. His maternal grandfather then converted him to a love of former President Ronald Reagan and the Republican Party in general.
I wrote a paper in fifth grade praising President Reagan for restoring the U.S. military after it had been demoralized and allowed to decay in the years before his presidency. I recently found it in a red suitcase that had belonged to my grandfather, and still contains some of his possessions.
He was a bad student in high school.
Rubio writes that he graduated high school with a 2.1 grade-point average and was popular, but disruptive. "One teacher wanted me out of class so badly, he promised to give me a C-minus if I didn't come to class, and threatened to give me an F if I showed up again," Rubio writes.
He teared up when Barack Obama won the presidency -- and not for the reason you think.
Rubio has plenty of negative things to say about President Obama in his book, but he writes that he was openly moved the evening that the president won his election as he thought about the significance of having the nation's first African American leader.
I was so proud to be an American, and so moved by the powerful symbolism of the moment, I couldn't stop myself from tearing up. ... [Some] thought they were tears of regret for the election of a Democratic president. But they weren't. There would be plenty of time to oppose the new president's misguided policies. That night was a night to be proud of our country.
He asked his family to leave the Mormon church.
As a child, Rubio's parents began to practice Mormonism after moving to Las Vegas, where some of his family was involved in the Church of Jesus Christ of Latter-day Saints. But in 1983, he developed a renewed interest in Catholicism, the religion of his earlier childhood. "It had really just been my decision," he writes of his family leaving the Mormon faith, though he adds that he had "nothing but admiration" for the religion.
He considered quitting his 2010 Senate campaign, but his wife and the Associated Press convinced him not to.
Rubio writes that as his fundraising numbers trailed then-Gov. Charlie Crist's, he considered dropping out of the race and running for state attorney general instead, which many believed was a more obtainable position. His wife, even though she "disdained politics," said switching would be going for a title instead of a job that could make a difference, he writes.
Eventually, he vowed not to quit when Brendan Farrington, an Associated Press reporter, asked him about rumors, which Rubio believed were planted by the Crist campaign, that he was planning to step aside.
I'd had enough of their disrespect. I told Brendan I wasn't going to drop out of the Senate race. I was going to shock the world in August 2010 when I won the Republican Party nomination for the U.S. Senate.
Popular in the Community