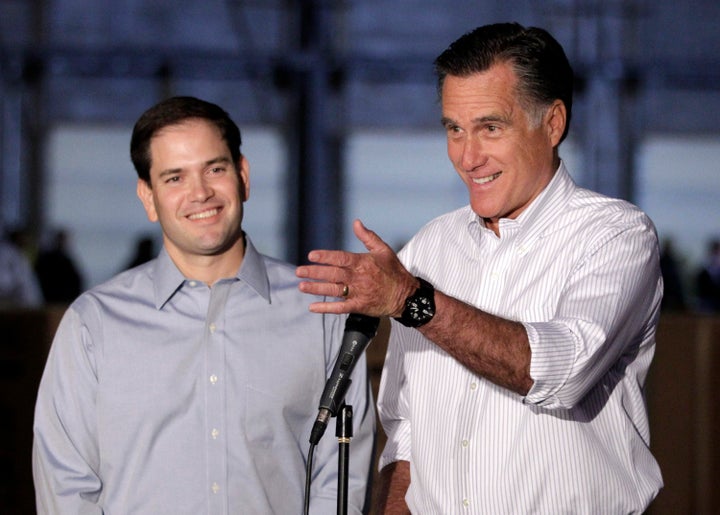 A unauthorized biography, "The Rise of Marco Rubio," examines the life of what the book describes as a sometimes thin-skinned but preternaturally charming politician with impeccable instincts and a penchant for hip-hop music. The book's major revelations -– that Rubio's grandfather lived for a time in the U.S. as an undocumented immigrant and that Rubio himself has been less than honest, if not ill-informed, about the timing and reasons for his parents' move to the U.S. -– were made public long before the book went on sale. But the book includes other findings that suggest Rubio is capable of shifting his political values and positions.
Publication of the books come one day after Rubio, in an ABC News interview, accused President Barack Obama of stoking social divisions for political gain.
He is deliberately divid[ing] Americans against each other for purposes of political gain. ... If you look at this White House they never pass up an opportunity to pit one group of Americans against another for purposes of improving his electoral chances.
Washington Post reporter Manuel Roig-Franzia, who wrote the biography, unearthed evidence of Rubio's religious commute between Mormon, Catholic and Protestant churches and his early support for targeted immigration policy reforms. While a state representative, Rubio sponsored a failed bill that offered in-state tuition to young undocumented immigrants and a second that, had it passed, would have barred farmers from forcing their mostly undocumented immigrant workers to pay for their own equipment and transportation.
Rubio, who served as Florida House speaker from 2007 to 2009, blocked bills that would have created immigration enforcement policies, lest they feed anti-immigrant sentiment, according to the biography. A year after leaving the House and announcing plans to run for a U.S. Senate seat, Rubio endorsed an Arizona bill that requires police officers to ask people to prove citizenship and to detain those who can't. The Supreme Court is set to rule on the constitutionality of the Arizona law this summer.
Throughout his career, Rubio made his parents' immigration story, or the version he now says he believed is true, a central theme of his speeches and a frequent explanation for his policy positions. Rubio has repeatedly described himself as the son of Cuban exiles who struggled to build a new life in America after being forced to flee the communist regime. Rubio has gone so far as to say that political exiles are far different that economic migrants.
Although Rubio has explained the differences between his version of the extended Rubio family's migration story and that found in public records as ordinary failure to closely examine family lore, Roig-Franzia provides examples of early interviews in which Rubio indicated that he was aware that his parents arrived in Miami several years before the Cuban revolution.
Connecting to the Cuban political exile experience helped Rubio win support and votes needed early in his career, Roig-Franzia contends. Now that Rubio is operating on a national stage -– one in which Cubans make up just 3 percent of the Latino electorate and Mexican-Americans and their descendants are nearly 70 percent of that group -- it may also be helpful for Rubio to connect to the economic migrant story, according to the biography.

BEFORE YOU GO
PHOTO GALLERY
Leading Latino Politicians