WASHINGTON -- President Barack Obama will get no money for his Cuba policy, no ambassador will be confirmed and the embargo will never be lifted, Sen. Marco Rubio (R-Fla.) vowed in a blistering press conference on Wednesday.
In a historic move earlier in the day, Obama announced that the United States will begin talks with Cuba to normalize full diplomatic relations, marking the most significant shift in U.S. policy towards Cuba in 50 years. The president's remarks followed the release on Wednesday morning of American Alan Gross, who had been held in a Cuban prison for five years. Gross was freed on humanitarian grounds after the U.S. released three Cuban spies who had been jailed for 15 years and Cuba released a U.S. spy jailed for two decades.
"This entire policy shift announced today is based on an illusion, based on a lie," Rubio, who is the son of Cuban immigrants, told reporters on Capitol Hill. "The White House has conceded everything and gained little."
"I'm committed to doing everything I can to unravel as many of these changes as possible," he added.
The Florida senator's powers in that regard will be considerable. Soon-to-be Senate Majority Leader Mitch McConnell (R-Ky.) deferred to Rubio when asked for comment on the issue. And when the new, Republican-led Senate comes into session on Jan. 6, Rubio will be the chairman of the Foreign Relations Committee's subcommittee on the Western hemisphere, which has oversight responsibility for U.S. dealings in the region.
"This Congress is not going to lift the embargo," Rubio declared at the end of his news conference.
Rubio, a potential presidential candidate in 2016, has been a longtime critic of the regime in Cuba and of Obama's foreign policy -- which he dubbed on Wednesday as "not just naive, but willfully ignorant of the way the world truly works."
"This president is the single worst negotiator we have had in the White House in my lifetime," Rubio said.
House Speaker John Boehner (R-Ohio) also slammed the change in policy, saying it "emboldens all state sponsors of terrorism."
"Relations with the Castro regime should not be revisited, let alone normalized, until the Cuban people enjoy freedom -– and not one second sooner," Boehner said in a statement. "There is no 'new course' here, only another in a long line of mindless concessions to a dictatorship that brutalizes its people and schemes with our enemies."
Sen. Lindsey Graham (S.C.), one of the most outspoken Republicans in Congress on matters of foreign policy, threatened to do everything in his power to block funding from being used to set up a U.S. embassy in Cuba. "Normalizing relations with Cuba is bad idea at a bad time," Graham said on Twitter.
But Sen. Jeff Flake (R-Ariz.), who traveled back from Cuba with Gross, praised Obama.
"I happen to think that the president did the right thing," Flake told reporters on Wednesday after his own news conference, in which he hailed the deal. "I think people will come around to it, and let's move forward."
Flake, who is also a member of the Foreign Relations Committee and is active on Cuba policy, said he would sit down with Rubio. Ultimately, he added, he and Rubio shared the same goals of winning freedom for Cubans.
The senator admitted, though, that getting Congress to see it his way and lift the embargo would be unlikely, especially since Congress passed laws in the '90s that codified the blockade.
"That's a tough task," said Flake, acknowledging that fellow Republicans might be angry. "There'll be some animus, I'm sure, of saying the president is moving beyond where he should," he said, referring to the restrictions enacted by Congress. But he insisted, "They all gave the president authority to move within that."
Rep. Jason Chaffetz (R-Utah), who has traveled to Havana with Flake, said he was supportive of easing restrictions on travel to Cuba, which he blasted as "ridiculous."
"To me it's a freedom issue ... I think if you, as an American, you want to go there, you should be able to go there," Chaffetz, the incoming chairman of the House Oversight Committee, said in an interview with KSL radio's Doug Wright Show. "There are other provisions that I really need to study and look at, but the idea of allowing Americans their free choice to make their own decision about going to Cuba -- I applaud that and support it."
White House Press Secretary Josh Earnest appeared to address Rubio's and Graham's threats on Wednesday, saying: "It's not clear to me that additional appropriations will be necessary to establish an embassy in Cuba."
CORRECTION: This article was corrected to note that Gross was freed on humanitarian grounds, and not in exchange for the freedom of three Cuban spies.
Before You Go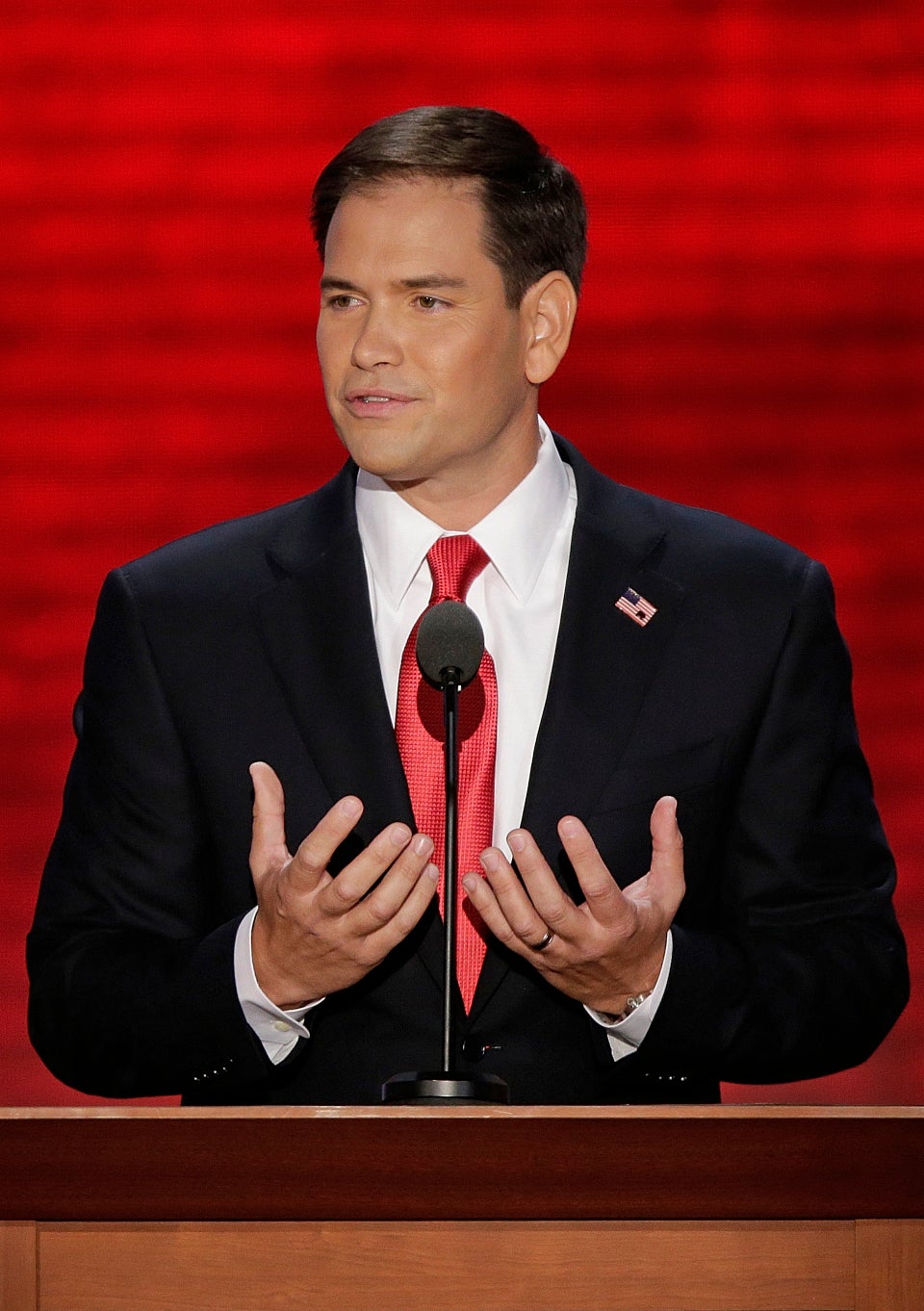 Sen. Marco Rubio
Popular in the Community