Compared to his disastrous performance in New Hampshire, Sen. Marco Rubio (R-Fla.) was a new man during the 10th Republican presidential debate on Thursday, unleashing a searing barrage of attacks against real estate mogul and current GOP front-runner Donald Trump.
Joining forces with rival Sen. Ted Cruz (Texas), the Florida Republican succeeded in halting the quickly crystallizing narrative that his campaign was flailing, and gave the GOP establishment new hope for blocking Trump's path to the nomination later this summer. Time and time again, Rubio brutally peppered Trump with questions over his policy record, occasionally sounding more like an opposition research operative than a presidential candidate.
While Trump held his own, there was no question Rubio had his best debate yet on Thursday. The only question, however, is why the senator waited so long before attacking Trump at a time when Trump, buoyed by his resounding victory in South Carolina, stands a good chance of steamrolling through coming contests across the South --including in Rubio's home state of Florida.
Rubio brought up Trump's comments in support of the individual mandate in Obamacare, and said Trump had no real plan to replace it. He referenced the fraud charges against Trump University, the now-defunct for-profit college. And as he called for Trump to release his tax returns -- something the mogul said he would love to do but couldn't because he was being audited -- Rubio upped the ante by saying he'll release his own tax returns within days.
The senator made his toughest attacks over immigration, which made up a significant portion of the debate. His main focus was on Trump hiring foreign workers, including undocumented immigrants.
"If he builds the wall the way he built Trump Towers, he'll be using illegal immigrant labor to do it," Rubio said of Trump, referring to Trump's proposal to build a border wall along the border with Mexico.
Rubio was referring to a 1983 lawsuit over Trump's use of undocumented immigrant workers from Poland to build Trump Towers. Trump claimed he didn't know they were unauthorized to work, which lawyers from the other side disputed.
It seemed to get under Trump's skin that Rubio continued bringing up the matter.
"Such a cute soundbite," Trump said.
He later explained the incident took place decades ago.
"I guess there's a statute of limitation on lies," Rubio quipped, to applause from the audience.
Cruz, who has gone after Trump in the past but who has recently focused his attacks more on Rubio, also piled on against the GOP businessman.
"Marco is exactly right that a federal court found Donald guilty of being part of a conspiracy to hire people illegally and entered a $1 million judgment against him," Cruz said.
Cruz also attacked Trump for donating to Democrats who went on to push for immigration reform. One of them, Sen. Chuck Schumer (D-N.Y.), was a member of the so-called "gang of eight" -- with Rubio -- that drafted a comprehensive immigration reform bill in 2013.
"Donald funded the gang of eight," Cruz said.
Rubio had more ammunition when it came to foreign workers and Trump. A New York Times report on Thursday said Trump's Mar-a-Lago Club in Palm Beach, Florida, employed hundreds of foreign guest workers, and had hired only 17 U.S. residents out of almost 300 who applied for jobs there since 2010.
"Even today, we saw a report in one of the newspapers that Donald, you've hired a significant number of people from other countries to take jobs that Americans could have filled," Rubio said. "My mom was a maid at a hotel, and instead of hiring an American like her, you have brought in over 1,000 people from all over the world to fill those jobs instead."
Trump defended his hiring of foreign workers, saying "people didn't want to have part-time jobs" and "you couldn't get help in those hot, hot sections of Florida."
On the issue of foreign policy, Rubio reprised an attack he levied against Trump earlier this week regarding the Israeli-Palestinian conflict. Trump said last month in an interview that he would not broach the subject in hopes of being an "honest broker" in negotiating a deal between the two sides.
Rubio, however, used the comment to whack Trump for his failure to stand up for Israel.
"The Palestinians are not a real estate deal, Donald," the senator said. "They're not a real estate deal. A deal is not a deal when you're negotiating with terrorists."
But it was an exchange on Obamacare in which Rubio had the best moment of the night, nimbly pivoting from a position of weakness into strength on the debate stage. As Trump attempted to explain his vague plan to replace the health care law, Rubio interrupted by invoking the line that led to his downfall during the New Hampshire debate.
"Now he's repeating himself," said Rubio, the very same criticism he faced from New Jersey Gov. Chris Christie that contributed to his fifth-place finish in the Granite State.
"No, no, no. I don't repeat myself," Trump insisted, before immediately repeating himself by stating, "I don't repeat myself."
"You don't repeat yourself?" Rubio asked in a bewildered tone. "He says five things: everyone's dumb, he's going to make America great again. Win, win, win, he's winning in the polls. And the lines around the states. Every night. Same thing," Rubio said, winning laughter from the debate audience.
Eventually, Trump lashed out at both Rubio and Cruz.
"This guy's a choke artist," he said, gesturing to Rubio and then turning to Cruz, "and this guy's a liar."
Before You Go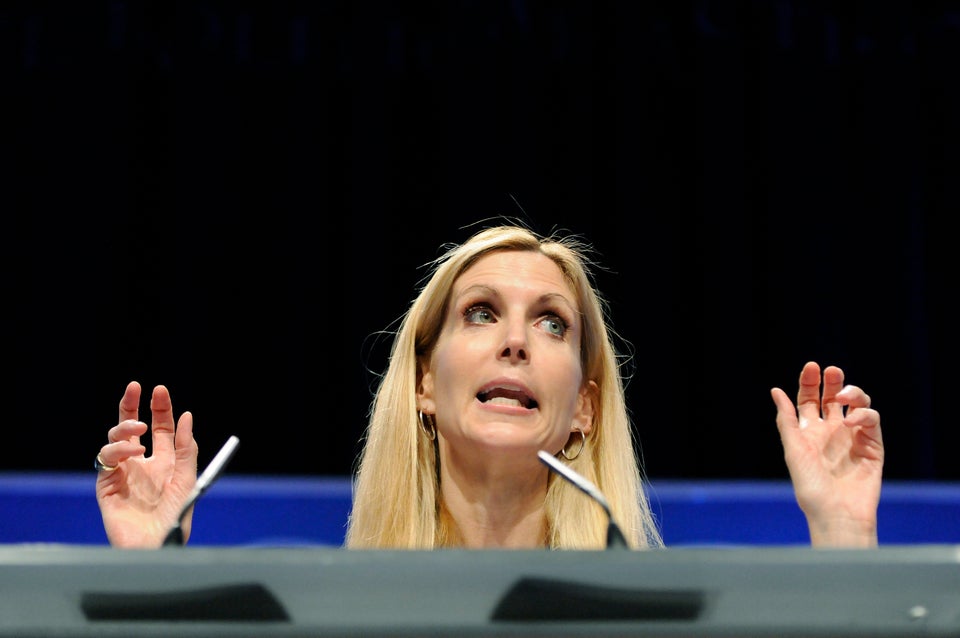 Celebrities Who Have Endorsed Trump
Popular in the Community