WASHINGTON -- Sen. Marco Rubio (R-Fla.) said Friday that he's not sorry he's made political editors and reporters across the country have to write about the size of Donald Trump's dick.
For all the insults that Trump has brought into the presidential race, it was Rubio who last week commented on the GOP front-runner's hands being small -- and hinted it meant he had small junk, too. Trump opened Thursday night's Republican debate by guaranteeing there's "no problem" down there.
In an interview on NBC's "Today" show, the Florida senator said he didn't feel bad about introducing penis jokes into the presidential race.
"Oh, no. Please," Rubio said. "I mean, Donald Trump has now spent a year doing this on a regular basis. In fact, there was not a speech or debate that Donald Trump does that he doesn't personally offend or try to offend somebody."
Besides, he said, he only made the comment "one time, to a guy who needs to be stood up to." And because it was in response to another attack from Trump, it was fair to defend himself.
It's just the latest example of GOP candidates behaving like immature middle school boys. Rubio has suggested that Trump requested a full-length mirror ahead of a debate to make sure "his pants weren't wet," and that Trump doesn't sweat because his "pores are clogged from the spray tan." Trump has called Rubio "little Marco" several times, and at one point imitated him desperately drinking a bottle of water.
Before You Go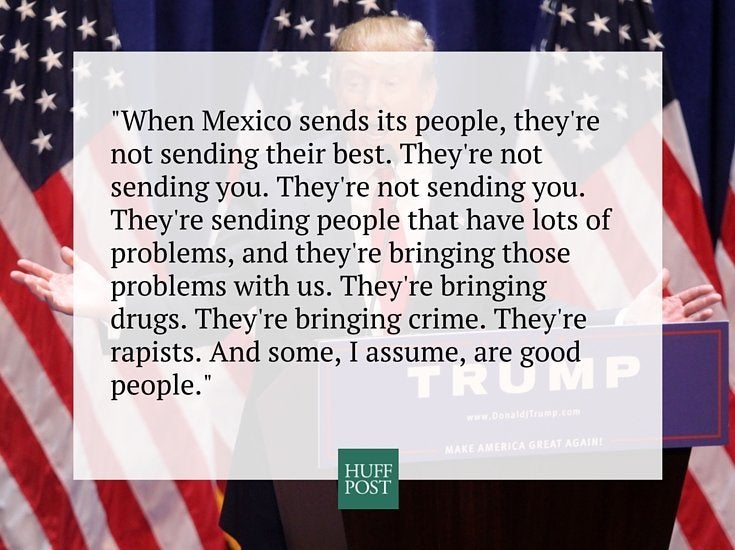 9 Outrageous Things Donald Trump Has Said About Latinos
Popular in the Community