WASHINGTON -- Sen. Marco Rubio (R-Fla.) on Thursday called on the Obama administration to "wind down" a policy that has helped more than 550,000 undocumented immigrants who came to the U.S. as children, an action that would restart deportations of young people who have lived here for years.
Rubio's demand came in a statement outlining suggestions for addressing the crisis of more than 57,000 unaccompanied minors who have crossed the U.S. border illegally since October.
New immigrants aren't eligible for Deferred Action for Childhood Arrivals, or DACA, the Obama administration policy that allows young undocumented immigrants, often called Dreamers, who entered the country as children before June 15, 2007, to apply for temporary authorization to stay and work legally. But Rubio and other Republicans have blamed the policy in part for the current border crisis, and argued it must be disbanded.
"Because the recent wave from Central America spiked after DACA was announced, it is in our interest to wind down this program," Rubio said in the statement. "If you are not currently in it, you should not be eligible for it."
Most Republicans have opposed DACA since President Barack Obama announced the policy in 2012. But GOP rhetoric against it has intensified, and calls to end it are growing louder. Sen. Ted Cruz (R-Texas) has introduced a bill that would require the president to stop granting administrative relief in the form of DACA or future actions. So far, Sens. Jeff Sessions (R-Ala.), David Vitter (R-La.) and Jim Inhofe (R-Okla.) have signed on. Rep. Marsha Blackburn (R-Tenn.) introduced a companion bill in the House.
In announcing his support for the Cruz measure on Thursday, Inhofe said DACA "is enticing families to send their young children on the dangerous journey to the U.S-Mexico border, exposing them to treacherous and often times deadly conditions.
"Without President Obama's campaign promise of amnesty we would not have the tens of thousands of unaccompanied alien children crossing our southern border, and we would have one less crisis for the country to confront," Inhofe said in a statement.
All 24 Republican House members and both senators in the Texas congressional delegation sent a letter to Obama on Thursday that called on him to suspend efforts to expand deportation relief.
"Your Deferred Action for Childhood Arrivals (DACA) Executive Order has shielded over half a million illegal immigrants from current law," the letter reads. "And it has sent the regrettable message that illegal immigration will not be punished in the United States."
Last month, Rep. Darrell Issa (R-Calif.) was joined by 32 House Republicans in calling on Obama to end DACA. Issa's letter accuses Obama of selectively enforcing the law, and says "DACA rewards families and individuals who have broken our laws, further encouraging others to seek similar benefits."
Lawmakers have been vague on what should happen to the undocumented young people who are eligible for DACA. Cruz's bill would apply to future relief. Rubio said relief should not be given out in the future, meaning current DACA recipients could keep their temporary status.
But in essence, ending DACA would mean that undocumented young people risk deportation. Even those who have reprieve under the policy would eventually have to reapply.
Rep. Bob Goodlatte (R-Va.) explained earlier this month what he believes should happen if the administration ends DACA and similar policies that protect Dreamers from deportation.
"They should not be under a process created that the president doesn't have the authority to do, and they would be in the status that they were in prior to this program being established," Goodlatte said.
Kasey Varner contributed reporting.
Before You Go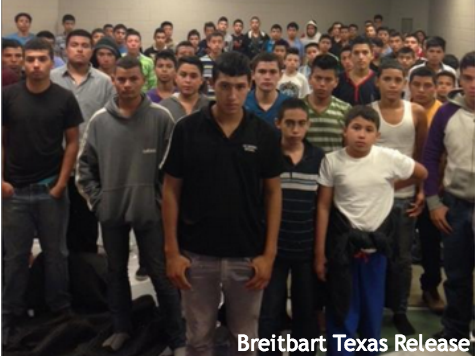 Overwhelmed Border Patrol
Popular in the Community