Marco Rubio promised on Thursday to end protections for young undocumented immigrants on day one -- not just eventually, as he has said before.
The Florida senator made the comments to CNN's Jake Tapper on Thursday, after repeated attacks from opponent and Texas Sen. Ted Cruz over his past statements on deportation relief for so-called Dreamers.
Cruz contends that Rubio said one thing in Spanish and another in English about the Deferred Action for Childhood Arrivals program, or DACA, which has helped hundreds of thousands of undocumented young people who came to the U.S. as children gain temporary work status.
Cruz promised to kill the program on the first day of his presidency; Rubio had previously said he would end the program -- including in an oft-referenced interview on Univision -- but had not offered a timetable.
Rubio smirked as Tapper played a clip of Cruz criticizing him, and shook his head repeatedly.
"Right after that interview, Univision reported that I said that DACA has to go away and that it will," Rubio said. "I will on my first day of office get rid of it because it's unconstitutional."
He added that "it cannot be permanent policy, and I've said that repeatedly," and that he has opposed it from the beginning.
That's true -- he has criticized DACA from the beginning, and has said it could not continue. But the question of when the program should end is a crucial one. The program currently grants two-year work permits, so Dreamers could be immediately stripped of their status or unable to renew it if a president revoked the permits on day one.
That's doubly concerning for undocumented immigrants because Rubio has backed away from the comprehensive immigration reform he pushed in 2013, and now says any measures to address the undocumented population can't happen until after border security is increased and enforcement legislation is enacted. In other words, DACA would be taken away and Dreamers could be waiting years for any sort of relief.
Here's how he put it to Univision's Jorge Ramos in a Spanish-language interview in April of last year, according to a translation and transcript from the network:
Jorge Ramos: As you know, it has always been hard for Republicans to get the Hispanic vote. I wanted to talk with you about very concrete issues that affect Hispanics directly. I would like to start with the issue of deferred action and DACA. If you made it to the White House, would you keep the DACA program; that is, Deferred Action for the Dreamers, and would you keep President Barack Obama's executive action, which would benefit more than four million undocumented people?

Marco Rubio: Well, DACA is going to have to end at some point. I wouldn't undo it immediately. The reason is that there are already people who have that permission, who are working, who are studying, and I don't think it would be fair to cancel it suddenly. But I do think it is going to have to end. And, God willing, it's going to end because immigration reform is going to pass. DAPA hasn't yet taken effect, and I think it has impeded progress on immigration, on immigration reform. And since that program hasn't taken effect yet, I would cancel it. But DACA, I think it is important; it can't be cancelled suddenly because there are already people who are benefitting from it. But it is going to have to end. It cannot be the permanent policy of the United States. And I don't think that's what they're asking for, either. I think that everyone prefers immigration reform.

Ramos: But then, to clarify, you would end DACA once immigration reform is approved. But what happens, Senator, if there is no immigration reform? Would you cancel DACA anyway?

Rubio: At some point it's going to have to end. That is, it cannot continue to be the permanent policy of the United States. I do think that if I wind up being president, it will be possible to achieve new immigration reform. It won't be possible for it to be comprehensive; that is, they are not going to be able to do everything in one massive bill. We already tried that a couple of years ago. We have seen that the political support isn't there, and I think we've spent a lot of time on this process when we could have started moving forward through the three steps that I advocated. Unfortunately, a lot of time has been wasted on that. It has become an even more controversial issue; harder to move forward on that issue. But I still say that it's important to modernize our system, and that means improving the way we enforce it in the future, to modernize the immigration system so that it's not so costly and bureaucratic. And we have to deal with 12 million human beings who are already here. And nobody, nobody is advocating a plan to deport 12 million human beings. So that issue has to be dealt with, as well.
He made similar comments to Ramos in an English-language interview on Fusion that month.
"I don't think we can immediately revoke that," Rubio said on Fusion. "I think it will have to end at some point and I hope it will end because of some reforms to the immigration laws. It cannot be the permanent policy of the United States. But I'm not calling for it to be revoked tomorrow or this week or right away."
He told MSNBC in April that DACA would have to end, but ideally it would be replaced by some sort of congressional action. He said taking away DACA immediately "would be very disruptive."
"Ultimately, there will come a point where it will have to end," Rubio said then. "Maybe not in six months, but at some point it will have to end, and that's why there should be urgency about moving forward on immigration reform beginning with immigration enforcement."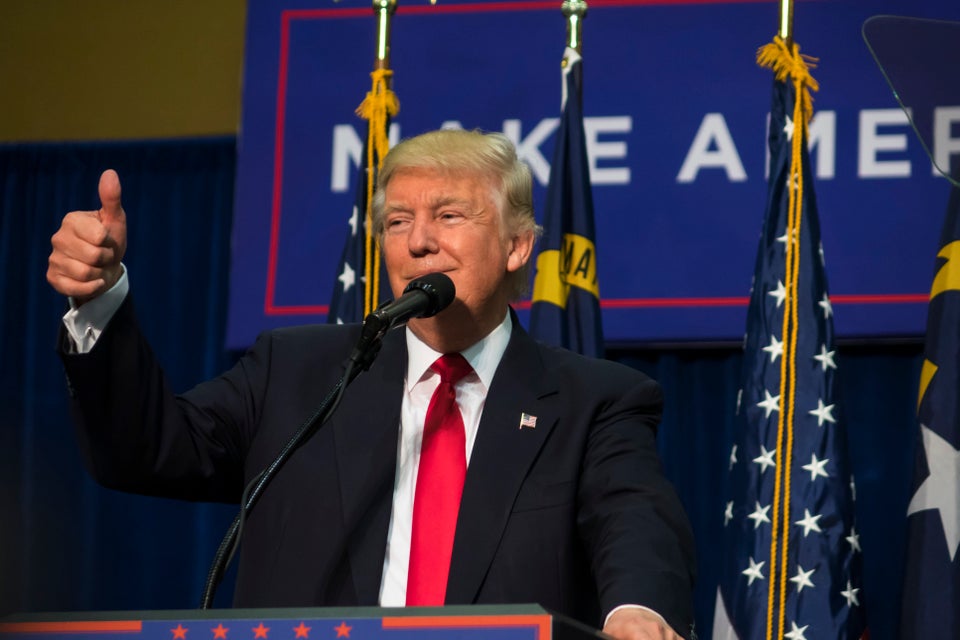 GOP Candidates On Immigrants
Popular in the Community