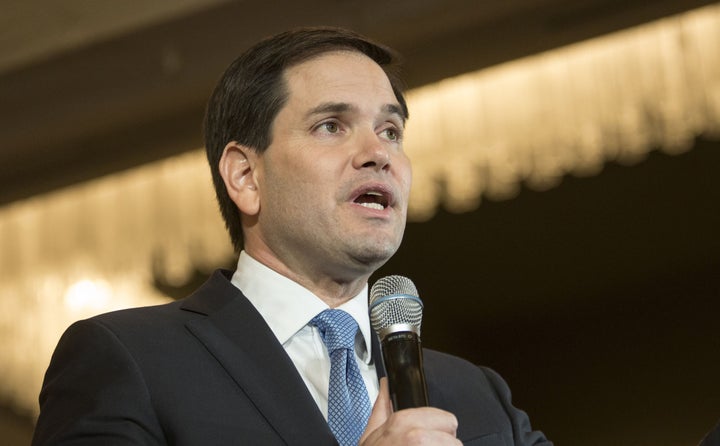 Marco Rubio's presidential campaign announced Tuesday that 35 Iowa business leaders had endorsed the Florida senator's bid for the White House. Somewhat awkwardly, however, none of them are women.
The campaign issued a press release with the full list, saying that "leaders of all backgrounds are uniting behind" the senator:
Steve Boal, CFO, Accumold
Tom Bush, Executive, McCarthy-Bush
Pete Bush, Vice President, McCarthy-Bush Corporation
Brad Canfield, President/Co-Owner, CCB Packaging, Premier Staffing & Timberland Promotions
Dale Decker, Vice President, Decker Truck Line
Don Decker, President, Decker Truck Line
Craig Faber, President, Hansen Company
Matt Giese, Co-Owner, Giese Manufacturing
John Gleeson, President, Klinger Companies, Inc.
Paul Gregoire, Chairman, Iowa Association of Business & Industry - Vice President, Emerson/Fisher
Mark Hanawalt, President, United Equipment Accessories - Former Chairman, Iowa Association of Business & Industry
Ric Jurgens, Former CEO, Hy-Vee
Jon Kallen, Partner, Jennings-Kallen Advisors
Gage Kent, Chairman & CEO, Kent Corporation
Bill Kimberly, President, Kimberly Development Corporation
Rick Kimberly, President, Kimberly Farms Inc.
Kyle Krause, CEO, Kum & Go
Steve Lacy, Chairman & CEO, Meredith Corporation
Dr. Michael Lee, Co-Founder, Capital Orthopedics and Sports Medicine 
Doug Lewis, Founder, Holbrook Development
Mike McCoy, Former President, Wells Fargo Credit Cards
Mike Miller, President, Unified Financial Services
Seth Moulton, Owner, Classic Builders
Josh Moulton, Owner, Classic Builders
Trent Murphy, President, CJM Financial
Taylor Parker, President/Co-Owner, Concept by Iowa Hearing Aid Centers
Doug Reichardt, Former Chairman, Holmes Murphy & Associates
Scott Schneidermann, President and CEO, Frontier Bank
Adam Schweers, Owner, Computer Concepts of Iowa
Cameron Sutton, Former President & CEO, ARAG (Rubio's previously announced Iowa campaign co-chair)
Jim Tansey, COO, Hawkeye Real Estate Investment
Roger Underwood, Co-Founder, Becker-Underwood
Peter Vorhees, Current President of Standard Golf Company
Darren Wood, Founder, Strategic Product Partners
Joel Worsfold, Senior Financial Advisor, Wells Fargo
Many women have endorsed Rubio for president, including Reps. Mia Love (R-Utah), Kristi Noem (R-S.D.) and, most recently, Barbara Comstock (R-Va.). But it's a little odd that only men appear on Tuesday's list, considering that women also own businesses in Iowa, according to the membership directory of the National Association of Women Business Owners.
Rubio's team did not immediately respond to a request for comment.
Rubio isn't the only GOP candidate on whom the female business leaders of Iowa, a key early nominating state, have been largely silent. Former Florida Gov. Jeb Bush's list of 33 business leaders who endorsed his campaign contains just two women. And New Jersey Gov. Chris Christie has netted six business leader endorsements in the state, all of which came from men.
PHOTO GALLERY
Declared 2016 Presidential Candidates
REAL LIFE. REAL NEWS. REAL VOICES.
Help us tell more of the stories that matter from voices that too often remain unheard.