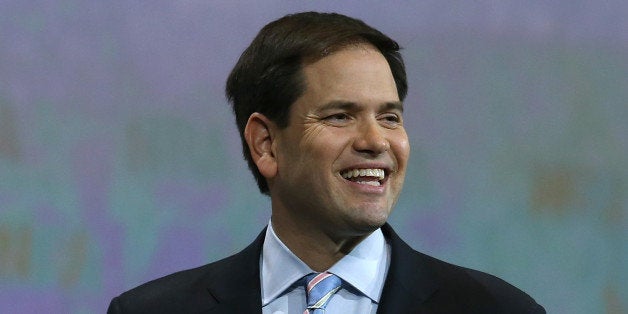 (RNS) Sen. Marco Rubio (R-Fla,), who launched his presidential campaign Monday (April 13),often talks about faith, and went into depth about his religious convictions in his 2012 book, "An American Son: A Memoir."
Here are five faith facts about this Catholic son of Cuban immigrants who has also found comfort in Mormonism and a Southern Baptist church:
1. He was once a serious, young Mormon
Rubio's parents baptized him Catholic and he is now a practicing Catholic, but when he was 8, his family moved from South Florida to Las Vegas, where his mother attributed the wholesomeness of the neighborhood to the influence of the Mormon Church. Young Rubio was baptized again, this time in the Church of Jesus Christ of Latter-day Saints. He spent three years as a Mormon, upheld its teachings more enthusiastically than his parents, and chided his father for working as a bartender, a no-no for Mormons who abstain from alcohol.
2. He frequents a Southern Baptist megachurch
Rubio and his wife Jeannette often visit Miami's Christ Fellowship, a Southern Baptist congregation the couple appreciates for its strong preaching and children's programs. Rubio has donated at least $50,000 to the church, which he attended almost exclusively from 2000 to 2004. But he now finds his religious home in Catholic churches in Washington, D.C. and Florida. In his memoir, Rubio writes that he will go with his family to Christ Fellowship on Saturday nights, and Mass on Sundays at St. Louis Catholic Church. His children have received First Holy Communion.
3. He punted on the Creationism question, then sided with science
In 2012, when asked by GQ magazine "how old do you think the earth is?" Rubio dodged. "I'm not a scientist, man," he said. "I don't think I'm qualified to answer a question like that. At the end of the day, I think there are multiple theories out there on how the universe was created and I think this is a country where people should have the opportunity to teach them all." After much criticism, Rubio said that he knows the earth is 4.5 billion years old and that the fact is consistent with his belief that "in the beginning, out of nothing, God created the Heavens and Earth."
4. He draws the ire of atheists
Rubio talks about faith in a way that has many atheists convinced he considers them less American than their religious neighbors. "We're bound together by common values," he said, introducing presidential candidate Mitt Romney at the 2012 Republican National Convention. And "faith in our Creator is the most important American value of all." At the time, pundit Andrew Sullivan, a Catholic, blogged: "Rubio just ruled atheists out of being Americans."
5. He craves Holy Communion
Rubio wrote that Christ Fellowship deepened his relationship with Jesus, but that he missed Roman Catholicism. "I craved, literally, the Most Blessed Sacrament, Holy Communion, the sacramental point of contact between the Catholic and the liturgy of heaven," he wrote. "I wondered why there couldn't be a church that offered both a powerful, contemporary gospel message and the actual body and blood of Jesus." Starting in late 2004, he began to delve deeper into his Roman Catholic roots, reading the whole catechism, and concluding that "every sacrament, every symbol and tradition of the Catholic faith is intended to convey, above everything else, the revelation that God yearns, too, for a relationship with you."
Related
Before You Go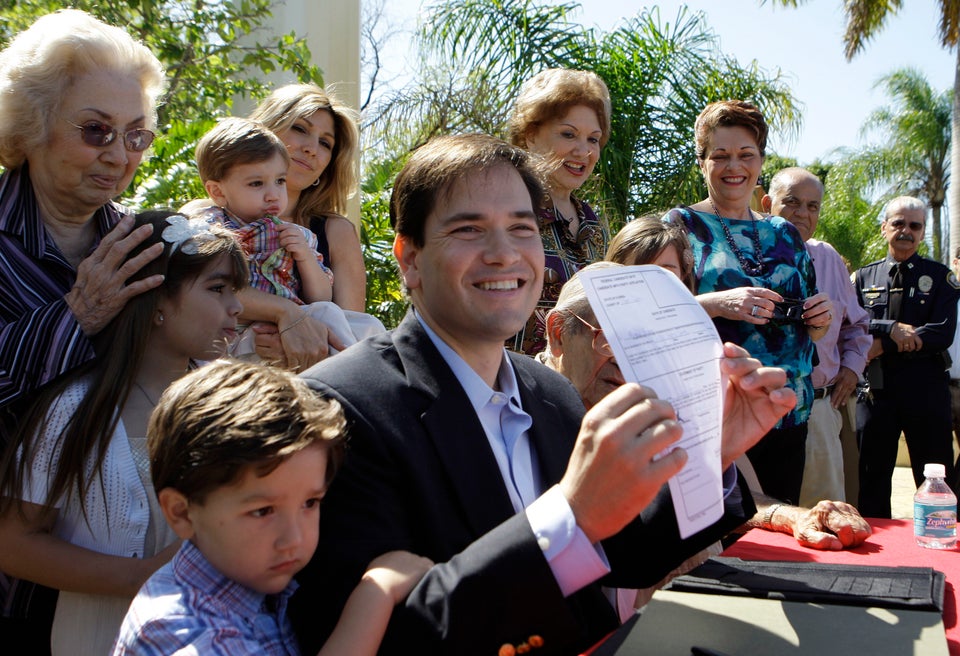 Marco Rubio
Popular in the Community