WASHINGTON -- Addressing the nation on Tuesday night, Florida Republican Sen. Marco Rubio came with a simple message.
"More government isn't going to create more opportunities. It's going to limit them. And more government isn't going to inspire new ideas, new businesses and new private sector jobs," Rubio said. "More government isn't going to help you get ahead. It's going to hold you back."
That might be true for you. But it's not true for Marco Rubio.
For Rubio, a rising star in the Republican Party, more government did indeed create more opportunities. As the Tampa Bay Times reported during his U.S. Senate run in 2010, it's hard to determine with Rubio where politics stops and the private begins:
As Rubio climbed the ranks, he began to use little-noticed political committees to fund his travel and other expenses and later had a Republican Party of Florida credit card.

What emerged, records show, is a pattern of blending personal and political spending. Over and over again Rubio proved sloppy, at best, in complying with disclosure requirements.

Virtually broke, the 31-year-old lawmaker began campaigning to be House speaker in 2003 and created a political committee -- Floridians for Conservative Leadership -- to help elect other Republican candidates and curry their support.

With his wife serving as treasurer, Rubio did not wait for the state to authorize the committee before accepting campaign donations.

The committee listed its address as Rubio's home, a modest place he and his wife bought in West Miami in 2002, but reported spending nearly $85,000 in office and operating costs and $65,000 for administrative costs.

Over 18 months, nearly $90,000 went for political consultants, $51,000 went for credit card payments and $4,000 went to other candidates. That's less than the $5,700 that went to his wife, Jeanette, much of it for "gas and meals.'' (Mrs. Rubio does not work and the couple file joint tax returns.)
The Florida House allows its members to hold private jobs, even with companies that receive payments from the House itself. Rubio's salary as an attorney skyrocketed as he rose to the top of the ranks in the House, while his employers were getting state money even as budgets were being slashed. The Tampa Bay Times reported:
As he accumulated power, Rubio's income also grew. The $72,000 he made as a lawyer in 2000 climbed to $92,000 in 2003, then rose dramatically to $270,000 a year later, when he locked down the race to become House speaker. During the time, he was employed by three separate law firms.

In 2005, Rubio got a $300,000 job with Broad and Cassel, a large Miami firm that had done millions of dollars of legal work for the Florida House.
Rubio also spent lavishly on his own staff and his office furnishings. Christian Ulvert, a Florida-based Democratic consultant and the former communications director for the Democratic Caucus while Marco was speaker, told HuffPost, "This is a guy who spent a lot of money on his staff and spent close to half a million dollars renovating the speaker's office." He added, "I would venture to guess those are not in line with what he spoke about yesterday ... His record at least here in Florida does not match his newfound conservative principles."
HuffPost has previously noted the extent to which the government and private sector overlap for Rubio:
Rubio earmarked money to Florida International University and later got an unadvertised job as a part-time professor at the school. The former school president, Mitch Maidique, said Rubio was "worth every penny."
After appropriating millions of dollars to Miami Children's and Jackson Memorial Hospitals, Rubio formed a lobby shop and got contracts with the hospitals.
Annette Taddeo, chair of the Miami-Dade Democratic Party and the vice-chair of the Florida Democratic Party, says Rubio has "made a lot of money off politics."
She tells HuffPost that she is skeptical of Rubio's Tuesday speech. "The story of his parents is a wonderful story," she told HuffPost. "As a Hispanic myself who also comes from humbling beginnings and who has made it as a business woman, I respect the story of his parents. However, I do know that he definitely was a wheeler and dealer in Tallahassee ... The story that he tries to portray is not the real story of Marco Rubio."
State Sen. Dwight Bullard (D) says Rubio is being "disingenuous" in his attack on government programs. "It's difficult to understand why Sen. Rubio has chosen to take this approach, all things considered," Ballard told HuffPost, adding that Rubio represents communities with deep needs. "The idea that he's all the sudden turning a blind eye to conditions people are suffering from is unnerving when you look at his personal story."
A request to Rubio's office for comment was not returned.
In his speech Tuesday, Rubio spoke about the desire to defend his neighbors from Obama's tax-and-spend policies. "Mr. President, I still live in the same working class neighborhood I grew up in. My neighbors aren't millionaires," he said.
Rubio recently put his house up for sale for un-working-class price $675,000. His spokesman told The Daily Caller that he hopes to use the money to buy a house in Washington.
Before You Go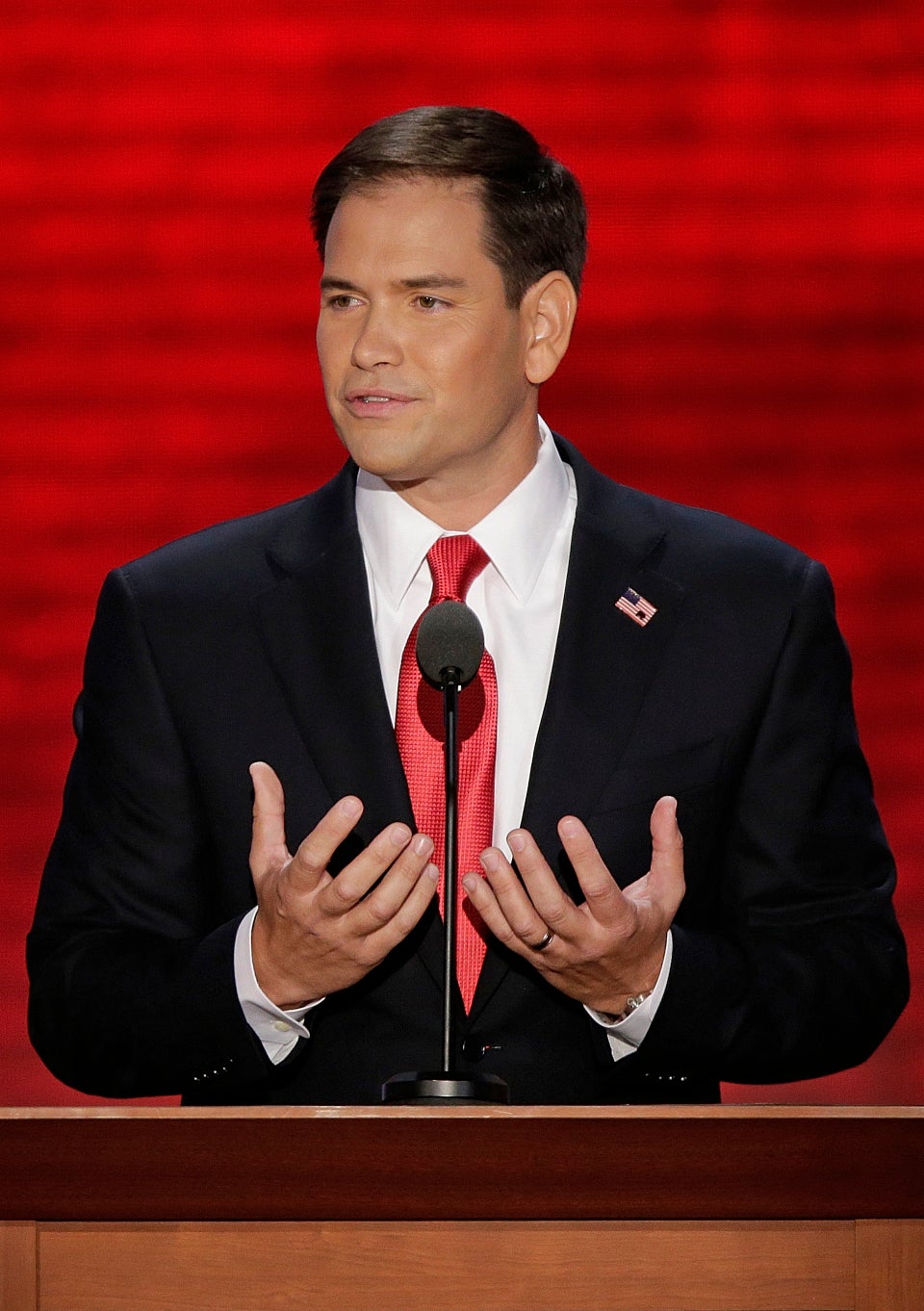 Sen. Marco Rubio
Popular in the Community