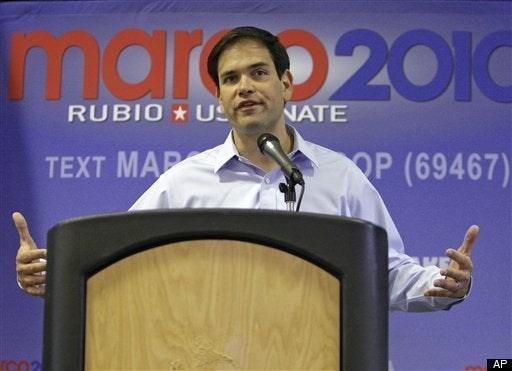 From what I have read in news reports, I do have concerns about this legislation," Rubio said. "While I don't believe Arizona's policy was based on anything other than trying to get a handle on our broken borders, I think aspects of the law, especially that dealing with 'reasonable suspicion,' are going to put our law enforcement officers in an incredibly difficult position. It could also unreasonably single out people who are here legally, including many American citizens."
He went on to say, "Throughout American history and throughout this administration we have seen that when government is given an inch it takes a mile." While I don't know what the Obama administration has to do with a decision made by state officials in Arizona, the argument against government overreach is canonical conservatism.
JM: If you were in the Arizona state legislature, would you have voted for the law?

MR: The second one that passed hit the right note. Yes.

JM: The first time around, would you have?

MR: Well, I would have wanted to see changes like the ones that were made because I know that that's not the intent of the bill. We're always concerned. I mean no one is in favor of a bill that would force American citizens to have to interact with law enforcement in a way that wasn't appropriate. And the first bill I thought held that door open. Since then, the changes that have been made to the bill I think greatly improve it.
A lot has been said about these changes, and one aspect that has just gone straight up under-reported is the fact that one of the changes vastly expands the scope of circumstances that allow Arizona police to ask for proof of legal citizenship. Per Andrea Nill at WonkRoom:
However, the legislature also implemented a third change that some call "frightening." As part of the amended bill, a police officer responding to city ordinance violations would also be required to determine the immigration status of an individual they have reasonable suspicion of being an undocumented immigrant.
As Nill documents, the inspiration for this change comes from Kris Kobach at the Immigration Reform Law Institute, who helpfully cited "cars on blocks in the yard" and rental occupancy violations as circumstances in which the anti-immigration dragnet could be applied. Nill says that these examples, "suggest that net will mostly end up being cast over the poor," but if we're being honest here, I'd suggest the the implication here is pretty much that the only "illegal" immigrant is a Hispanic one. And I'd wager that if you were here illegally from Calgary, you could put your car on blocks on your front yard in Tucson without any fear of repercussions.
Anyway, Rubio is okay with all of this now, despite the fact that his "when government is given an inch it takes a mile" prediction basically came true.
Calling all HuffPost superfans!
Sign up for membership to become a founding member and help shape HuffPost's next chapter