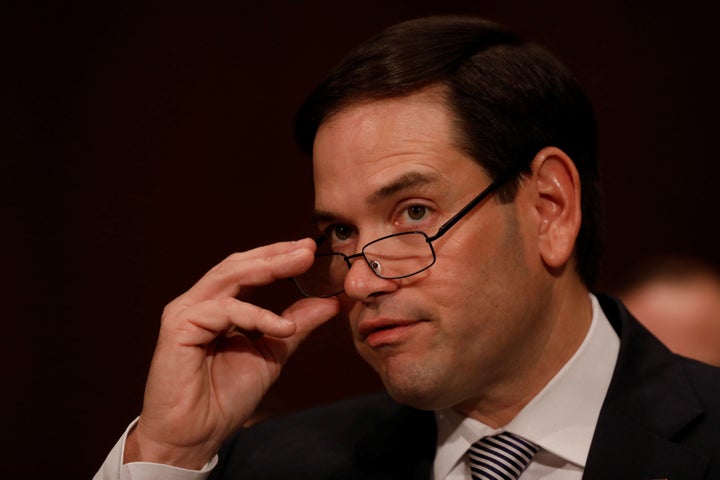 Sen. Marco Rubio (R-Fla.) pushed back against a Fox News report that implied Sen. Mark Warner (D-Va.) had engaged in misconduct by texting with a lobbyist associated with a Russian billionaire last year. But his efforts to defend his colleague were thwarted when President Donald Trump shared the Fox News claims on Twitter hours later.
Fox's "exclusive" Thursday report said Warner, the top Democrat on the Senate Intelligence Committee, had "extensive contact last year" with lobbyist Adam Waldman to set up a meeting with Christopher Steele, the former British spy who wrote a dossier on then-presidential candidate Donald Trump. Waldman runs the Endeavor Group, a Washington lobbying firm that worked with a Russian oligarch named Oleg Deripaska in 2009 and 2010.
Waldman offered last March to connect Warner with Steele to discuss the infamous dossier. The article states that "secrecy seemed very important to Warner" and that the senator "seemed particularly intent on connecting directly with Steele without anyone else on the Senate Intelligence Committee being in the loop ― at least initially."
But as the Fox News story eventually acknowledges, Waldman informed the intelligence committee about the messages months ago, and the communication appears to fall in line with Warner's duties on the intelligence committee.
Rubio pointed this out in his tweet Thursday.
"Sen. Warner fully disclosed this to the committee four months ago," he wrote on Twitter, with a link to the article. He continued to note that the text messages have had "zero impact on our work."
But then Trump addressed the report late Thursday on Twitter. He did not note that the committee had been informed about the contact months ago.
Warner and Sen. Richard Burr (R-N.C.), chairman of the intelligence committee, told Fox News in a joint statement that the pair had been working together "in a bipartisan way" from the beginning of the investigation and slammed the release of "incomplete information" as unacceptable.
Rubio has also been one of a handful of congressional Republicans to defend special counsel Robert Mueller as many of his colleagues have launched blistering attacks about Mueller's Russia investigation, including the president. In a December interview with Florida's News-Press, Rubio defended Mueller's reputation and said he believed the "best thing" would be for the investigation to be completed "as thoroughly and as completely as possible."
"From his reputation and everything I know about him, I remain convinced that when this is all said and done, Mueller is going to only pursue things that are true, and he will do it in a fair and balanced way," Rubio said.
Popular in the Community