WASHINGTON -- Sen. Marco Rubio (R-Fla.) has withdrawn his support from a federal judicial nominee that he previously recommended -- William Thomas, a gay black judge from Miami -- and, to the anger and puzzlement of many, is preventing the nomination from moving forward at all.
Thomas would have made history, if confirmed, as the first openly gay black man to serve as a federal judge. Rubio initially recommended Thomas to President Barack Obama late last year as a nominee for the U.S. District Court for the Southern District of Florida. There's a particular urgency to filling the judgeship, vacant for 18 months. The court backlog is so bad that the Administrative Office of U.S. Courts has deemed it a "judicial emergency."
But something changed in recent months. Rubio withheld his consent for the Senate Judiciary Committee to hold a hearing on Thomas' nomination. It takes both home-state senators to sign off on a confirmation hearing, so without Rubio's approval, Thomas has been stuck in limbo. Florida's other senator, Bill Nelson (D), gave his backing to Thomas months ago.
It wasn't clear until this week that Rubio doesn't plan to let Thomas move at all. A Rubio spokeswoman told The Huffington Post on Wednesday that the senator decided to pull his support after "a thorough review" of Thomas' record, including two cases that Thomas handled as a Miami-Dade circuit judge. One involves a hit-and-run case with a bicyclist, another involves a death penalty sentence.
Rubio's spokeswoman described Thomas' handling of those cases as "troubling."
A review of materials provided to HuffPost by Rubio's office, used by Rubio to justify sinking Thomas's nomination, suggests nothing egregious in either case. Instead, it appears Rubio is criticizing Thomas for being too lenient in one case and too emotional in the other.
In the hit-and-run case, Thomas sentenced Michele Traverso to 22 months in prison for a crash that killed the cyclist. Rubio's office highlighted the sentence as the minimum, and said the victim's family had pressed for the maximum. But, as The New York Times reported this week, both the lead prosecutor in the case and the administrative judge wrote letters to Rubio saying Thomas acted fairly and within the law.
The other case involved the 2002 rape and murder of 18-year-old Ana Maria Angel and resulted in Thomas throwing out a murder confession because two of five defendants either had not been read their Miranda rights or didn't understand them. Rubio appears to be criticizing Thomas for deciding to keep the confession out of the case. All five men were ultimately convicted or pleaded guilty. Rubio's office highlighted that Thomas "broke down in tears" as he handed down a death sentence for one of the defendants. However, as reported by the Miami Herald, Thomas wept not for the defendant, but as he finished describing the brutality of the murder.
Sen. Nelson didn't respond to HuffPost's inquiry about his thoughts.
Other Florida lawmakers and judicial groups speculated that Rubio's opposition may be fueled by politics. The senator may be trying to win back love from his tea party base after angering them by backing immigration reform this year. Rubio's name has been floated as a 2016 presidential contender, and he's recently been aligning himself with tea party conservatives in the Senate.
"Judge Thomas is a well-qualified jurist," said Rep. Alcee Hastings (D-Fla.) "There is a serious underrepresentation of minorities on the bench and partisan obstructionism isn't making it any better."
Hastings is a member of the Congressional Black Caucus, which went after Rubio in July for stalling action on Thomas and another black judicial nominee.
"A mere 12 percent of federal judgeships are held by black judges," said Hastings. "This is an issue of great concern to me."
Michelle Schwartz of Alliance for Justice, a left-leaning association of more than 100 organizations focused on the federal judiciary, noted that Thomas has broad support from law enforcement groups in his home state. The League of Prosecutors, for one, sent Rubio a glowing review of Thomas in December.
"Judge William Thomas has been a fair and thoughtful jurist in Florida; that's why he's won support from police organizations and prosecutors alike," Schwartz said. "Senator Rubio's withdrawal of support from such a talented nominee has no valid basis and is nothing more than a political effort to pander to conservatives."
Civil rights groups said they're somewhere between puzzled and furious about Rubio's change of heart.
"There's something bigger at work here, but it's hard to figure out why he would be opposed," said Fred Sainz of the Human Rights Campaign. "Judge Thomas is a well-qualified jurist."
Sharon Lettman-Hicks, executive director and CEO of the National Black Justice Coalition, suggested homophobia and racism may be in play.
"As a Floridian for more than 25 years, I am aghast by Senator Rubio's withdrawal of support for the nomination of Judge William Thomas," said Lettman-Hicks. "Senator Rubio's newfound opposition seems only to serve as a thinly-veiled mask for the racism and homophobia that permeates his tea party politics. This brand of political theatrics is unfit for the U.S. Senate, and is beneath the dignity of Judge Thomas."
Back in Florida, Thomas' supporters have launched an online petition urging Rubio to let the confirmation process move forward. "The time to act is now and therefore we request that Senator Rubio put politics aside and immediately issue a 'blue slip' allowing for Judge Thomas nomination process to move forward," it reads.
Asked for a response to criticisms that Rubio's actions are purely political, Rubio's spokeswoman simply reiterated that the senator is troubled by Thomas' record.
Thomas' record "raised serious concerns about his fitness for a lifetime federal appointment," said the spokeswoman.
Before You Go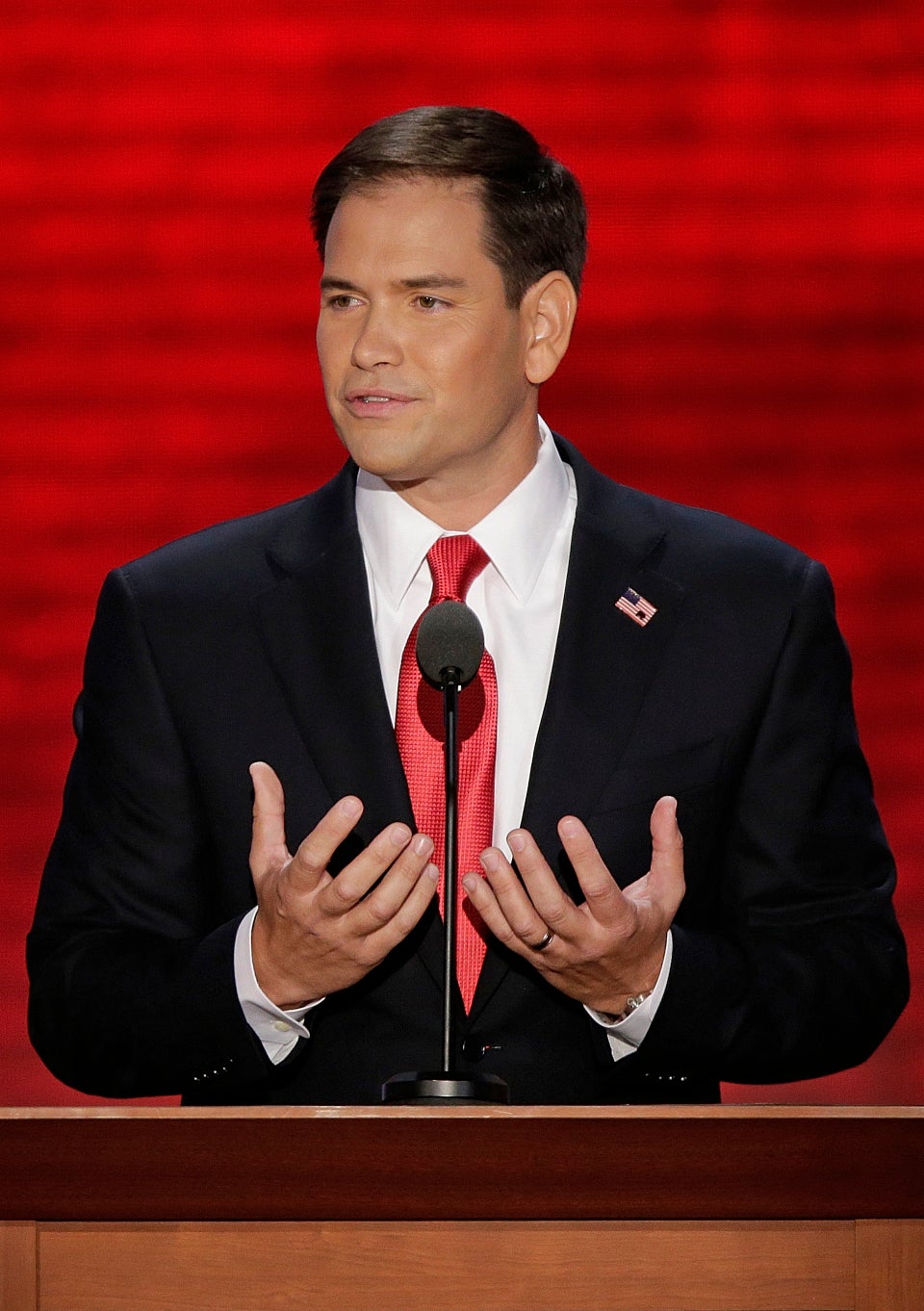 Sen. Marco Rubio
Popular in the Community