WASHINGTON -- The next occupant of the White House must have serious foreign policy experience, Sen. Marco Rubio (R-Fla.) argued Wednesday, a qualification he seems to believe some of his potential presidential rivals may lack.
"The next president of the United States needs to be someone that has a clear view of what's happening in the world, a clear strategic vision of America's role in it, and a clear tactical plan for how to engage America in global affairs," the Florida Republican told reporters at a Christian Science Monitor breakfast in Washington. "And I think for governors, that's going to be a challenge initially because they don't deal with foreign policy on a daily basis."
Rubio has positioned himself as a foreign policy hawk -- on Cuba, Russia and Iran, among other countries -- ahead of a possible run for president in 2016. His work on behalf of the Senate Foreign Relations Committee would allow him to draw a sharp contrast to other candidates as he makes his pitch to GOP primary voters. Perhaps cognizant of those concerns, some of the governors who may challenge him for president are already moving to burnish their credentials abroad.
New Jersey Gov. Chris Christie (R) is hitting the road next month for a trade mission to London. The three-day outing will allow him to establish business connections between the U.K. and New Jersey, his office said. Christie also made stops in Mexico and Canada last year, where he focused on trade and boosting domestic energy production.
Last fall, following Russia's annexation of Crimea, then-Texas Gov. Rick Perry (R) scheduled a grand tour of Europe, including stops in the United Kingdom, Poland, Germany and Ukraine. His trip was cut short by the outbreak of the Ebola virus in Texas, however, and he returned home soon after delivering a speech in London.
Earlier this week, Louisiana Gov. Bobby Jindal's (R) outing across the sea caused some waves. In a speech before a think tank in London, the possible presidential contender gave credence to the existence of European "no-go zones," or certain areas in Western cities that are regulated by faith-based laws and where non-Muslims are not welcome. The theory drew condemnation from British Prime Minister David Cameron, and even elicited an on-air apology from Fox News, which had given airtime to a guest who claimed the same.
Former Fla. Gov. Jeb Bush (R) has spoken critically of President Barack Obama's policy toward the Islamic State. He has also attempted to tie potential Democratic challenger Hillary Clinton to Obama's record. Yet his thin foreign policy resume raises the question of whether he will be able to move beyond his brother's legacy in Iraq and Afghanistan.
Speaking on Wednesday about Bush, who is a mentor and friend, Rubio had nothing but praises to sing. He called the governor "a very credible candidate," and said that "he's going to raise a lot of money" should he decide to enter the race.
Before You Go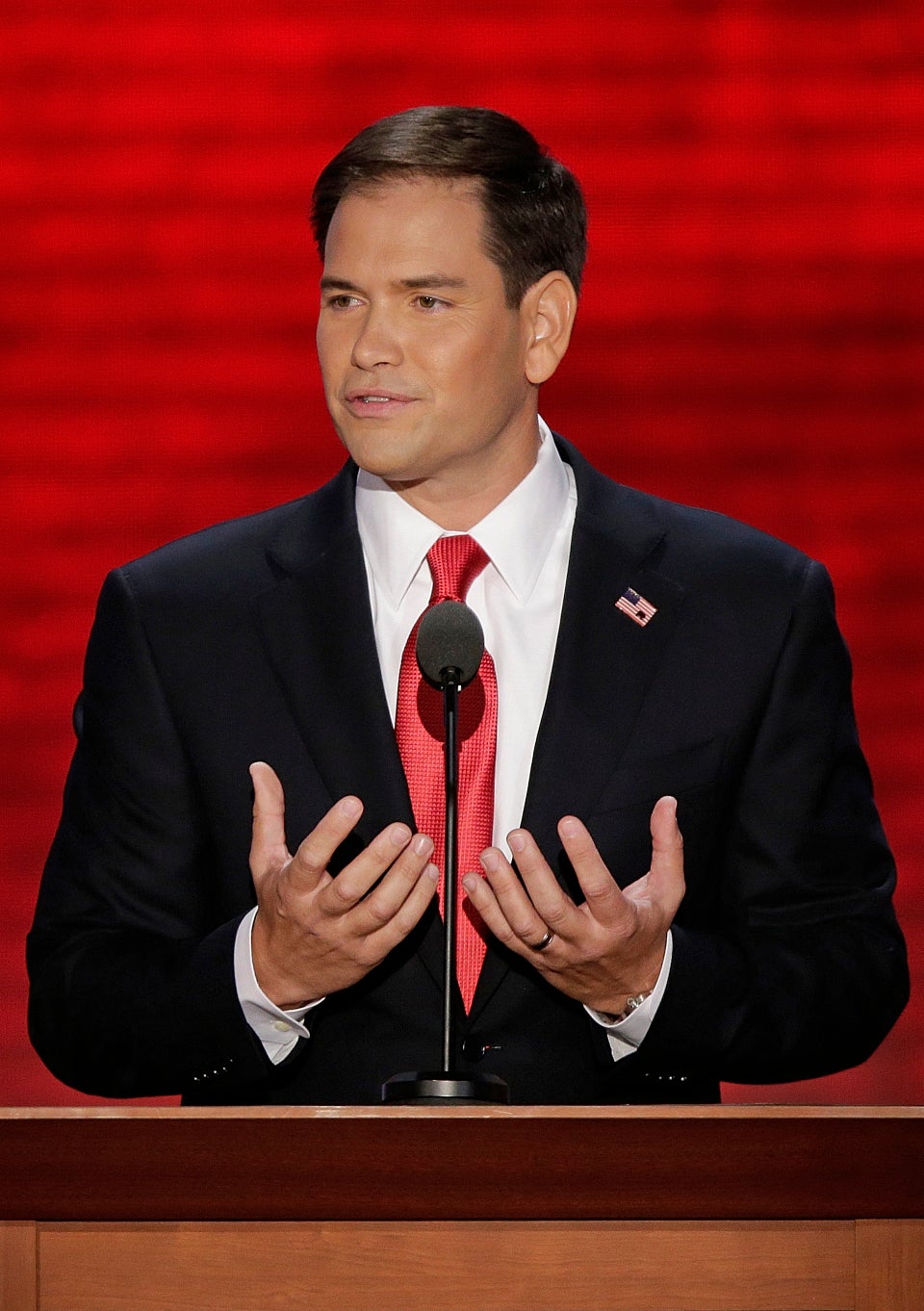 Sen. Marco Rubio
Popular in the Community