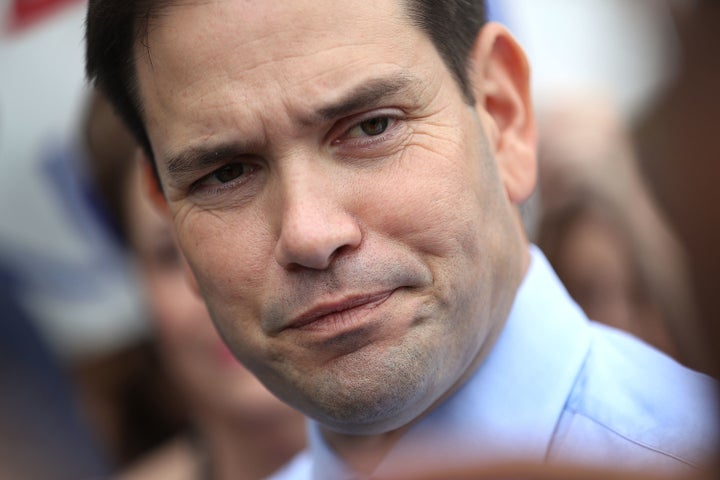 WASHINGTON -- A top aide to Sen. Marco Rubio (R-Fla.) directed staff not to let a prominent gun control advocate get on the phone with the senator to discuss a bill that would bar suspected terrorists from buying guns -- less than two weeks after the worst mass shooting in U.S. history took place in the senator's state.
Emails went back and forth Thursday between Rubio's office and Americans for Responsible Solutions, the gun violence prevention group led by former Rep. Gabby Giffords (D-Ariz.) and her husband Mark Kelly, a retired astronaut and U.S. Navy captain. Kelly was interested in talking to Rubio about the prospect of the senator supporting the legislation.
Rubio's shop declined the call and offered to have a staffer talk to Kelly. An Americans for Responsible Solutions associate said no and suggested a staff-to-staff level conversation.
Then, J.R. Sanchez, Rubio's senior policy adviser and director of outreach, weighed in, apparently not realizing that the gun control group was still on the thread: "Then let it be staff. I would not expose SMR to this type of call or meeting."
Here's a copy of the exchange obtained by The Huffington Post:
The exchange comes in the midst of a heated Capitol Hill debate about gun violence, driven by anger and sorrow over the massacre at a gay club in Orlando, Florida. On Monday, the Senate took up -- and promptly rejected -- four bills that would have tightened the background check system and barred guns for people on terrorist watch lists. Midweek, Sen. Susan Collins (R-Maine) put forward a bipartisan bill that would bar a smaller set of people on terrorist watch lists from buying guns. That bill needs a few more GOP supporters to pass the Senate, which is why Kelly reached out to Rubio.
Asked why the senator wouldn't take a call from Kelly, Rubio spokeswoman Olivia Perez-Cubas said the emails presented "only a partial and incomplete picture of the routine and private discussions" among staff about other people's requests for Rubio's time. She suggested that the senator is game to talk to Kelly.
"Our office is still in the process of setting up a call between Senator Rubio and Captain Kelly," Perez-Cubas said in an emailed statement. "While they share different views on how to best confront the real issue of gun violence in America, Senator Rubio respects Captain Kelly and Rep. Giffords' commitment to public service. Senator Rubio welcomes the opportunity to talk to Captain Kelly, as he's done with constituents and advocates on both sides of the Second Amendment debate throughout his time in office."
She added, "Feel free to use this response on the record, and please note that we disagree with the premise of your question since it is inaccurate."
An Americans for Responsible Solutions spokeswoman declined comment.
Backers of Collins' bill see Rubio as a prime target in their efforts to whip up more support. He has called the mass shooting in his home state "the new face of the war on terror" because the gunman, Omar Mateen, pledged his allegiance to ISIS right before killing 49 people and injuring dozens of others. Mateen was also on the FBI's terrorist watch list in 2014, although his name came off later.
Intelligence officials, however, are "increasingly convinced" that the motive for the shooting had little, if anything, to do with ISIS, according to NPR. It may have had more to do with Mateen's struggles with his own sexuality.
Before You Go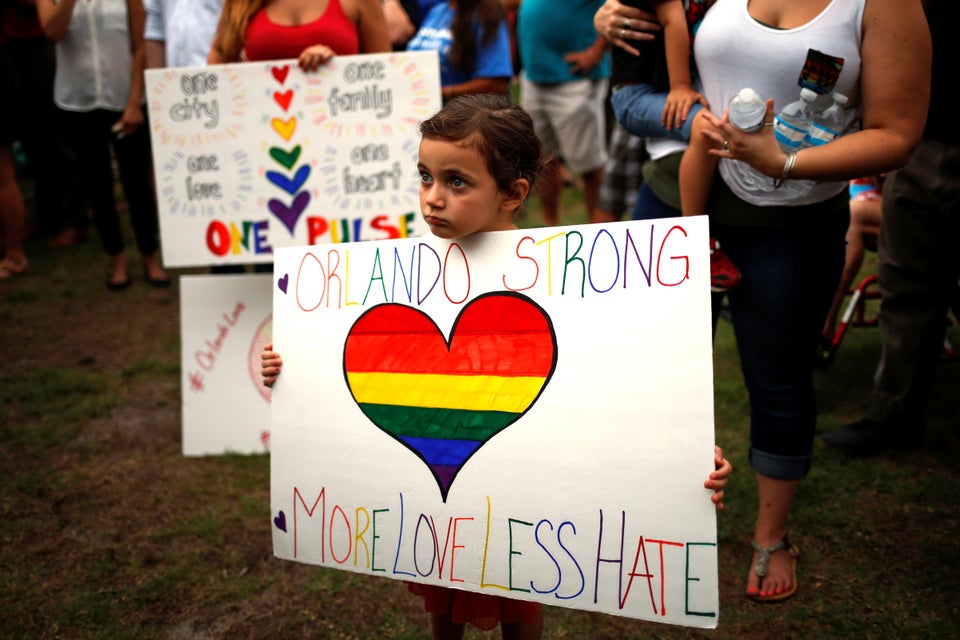 Kids At Orlando Vigils Around The World
Popular in the Community