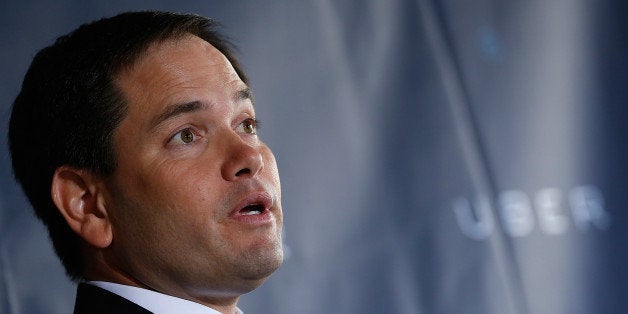 Sen. Marco Rubio (R-Fla.) thinks former Secretary of State Hillary Clinton is out of touch with a new generation of voters -- and that he's got what they're looking for.
"I just think she's a 20th century candidate," Rubio said in an interview with NPR's "Morning Edition." "I think she does not offer an agenda for moving America forward in the 21st century, at least not up till now."
Rubio made the jab after telling host Steve Inskeep that he believes the nation is at a "generational, transformational crossroads." It's this belief, he said, that inspires his public service.
What role Rubio eventually wants to serve in remains unclear. Though he is often discussed as a potential contender for the Republican presidential nomination in 2016, the senator said he will not decide whether he wants to run until early next year.
At 43, Rubio is one of a younger generation of Republican politicians that the party hopes will prove more appealing to millennial voters, who tend to be more liberal. In 2012, only 36 percent of voters under 30 opted for Republican nominee Mitt Romney. Almost double that, 60 percent, voted for President Barack Obama.
Rubio took a step toward courting younger voters last week, when he, along with Sen. Mark Warner (D-Va.), introduced a Senate bill on student loan debt. Their proposal is meant to reduce the risk that borrowers will have to default on college loans by consolidating repayment for all federal loans into an income-based program. It serves as a bipartisan alternative to the plan drafted by Sen. Elizabeth Warren (D-Mass.), who has made student debt a signature issue.
The Senate voted not to move forward on Warren's bill last month, but Democrats have vowed to bring it back in an attempt to shore up millennial support ahead of the midterm elections.
Clinton, now 66, did struggle with younger voters in 2008. That constituency helped Obama claim victory in the Democratic presidential primary.
But an unofficial arm of Clinton's operation is working to prove Rubio wrong this time around. Ready for Hillary, the super PAC hoping to smooth her path to the White House, is focusing on the youth vote. Rachel Schneider, who worked on attracting and mobilizing young voters for Obama in 2012, joined the group last year to direct its youth outreach. This year, she's been traveling to campuses nationwide to set up chapters of the PAC and, according to Mother Jones, win "all of the best student organizers to Clinton's side before any other Democrat launches a presidential campaign."
BEFORE YOU GO
PHOTO GALLERY
Hillary And Bill Through The Years