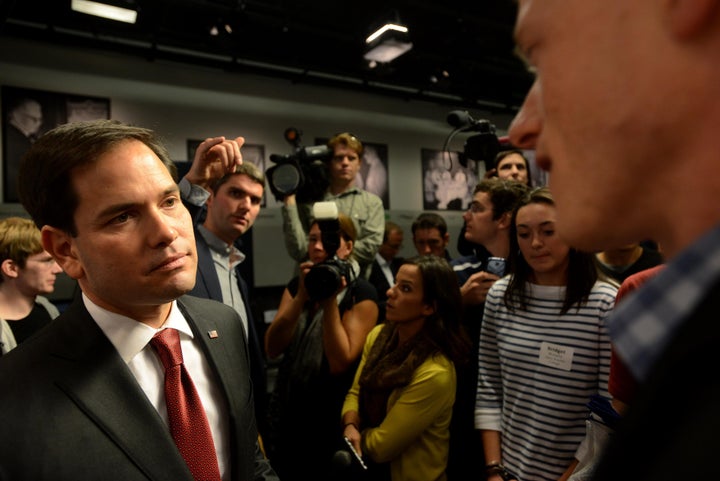 Republican rivals of Sen. Marco Rubio (R-Fla.) criticized him Sunday for his history of support for immigration reform, highlighting an area of significant vulnerability for the presidential candidate as he rises in the polls.
"He was not only totally committed -- he was in that room with us, four Democrats, four Republicans," Schumer said "His fingerprints are all over that bill. It has a lot of Rubio imprints."
Asked on CNN's State of the Union whether that history would pose problems for Rubio, Sen. Rand Paul (R-Ky.) predicted it would.
"He was a co-author of the bill.  It was a Rubio bill.  It was a Rubio-Schumer bill," Paul said.  "So, he does have to explain it. I think it will be a big part of things."
Paul used a question about Hillary Clinton's foreign policies to take another jab at Rubio. 
"I see her and Rubio as being the same person," he said. "They both want a no-fly zone.  They both have supported activity in Libya, the war in Libya that toppled Gadhafi, an intervention that made us less safe.  They both have supported pouring arms into the Syrian civil war, a mistake that I think allowed ISIS to grow stronger.  And they both have supported the Iraq War."
Another rival, New Jersey Gov. Chris Christie (R), also keyed off on Rubio.
Speaking on Fox News Sunday, Christie criticized Rubio's shift on legal protections for so-called Dreamers, undocumented immigrants who came to the U.S. as children. Rubio, who had previously said he would continue the executive program until Congress passed immigration reform, now says that it "cannot be the permanent policy of the United States."
"I just want people to be consistent," Christie said in reference to Rubio's position. "The president of the United States has signed what I consider to be illegal executive orders. Whether you agree with the underlying nature of the order or not, I don't think we should be allowing presidents to have illegal executive orders...I understand now Marco has changed his answer to say he agrees with me, so that's good."
Calling all HuffPost superfans!
Sign up for membership to become a founding member and help shape HuffPost's next chapter