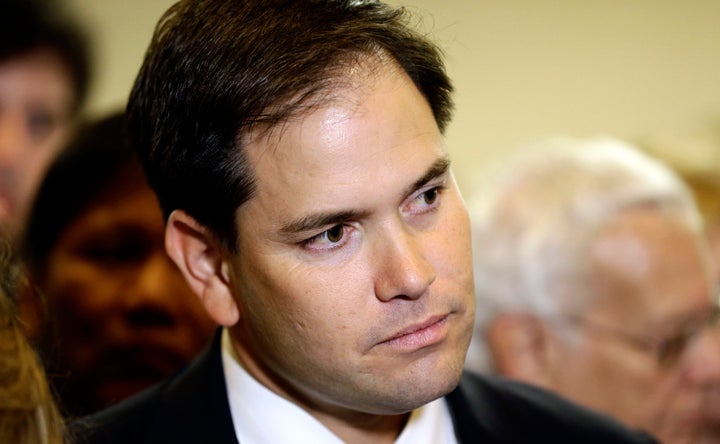 WASHINGTON -- Sen. Marco Rubio (R-Fla.) has been a long-time advocate for a humane approach and softer rhetoric on immigration reform. He's warned fellow Republicans for more than a year that they are hurting themselves with Latino voters.
His tone hasn't changed. But now, after his party suffered a crushing defeat among Latino voters in the 2012 election, others are catching up. And as the Cuban-American senator raises his profile and more speculation about a 2016 presidential bid, his message on immigration will likely be the one to follow for the GOP.
Rubio gave a prime example of his message on immigration at The Atlantic's Washington Ideas Forum on Thursday, saying as he has before that, "it's really hard to get people to listen to you on economic growth, on tax rates, on health care, if they think you want to deport their grandmother."
"Policy matters too, but rhetoric is important," he said. "You need to understand that we're speaking about human beings," he added later.
Ten months ago at the Hispanic Leadership Network conference in Miami, Rubio called on his party to stop demonizing immigrants, even as he campaigned for then-GOP presidential candidate Mitt Romney, who had called for "self-deportation" just a few days before.
"For those of us who come from the conservative movement, we must admit that there are those among us who have used rhetoric that is harsh and intolerable, inexcusable," Rubio said then. "We must admit, myself included, that sometimes we've been too slow in condemning that rhetoric."
After Romney lost, Rubio quickly put out a statement again calling for Republicans "to work harder than ever to communicate our beliefs" to minority and immigrant communities.
There are other Republicans who have similarly warned their party about its immigration tone, including one, former Florida Gov. Jeb Bush, who is also hearing calls to run in 2016. Bush especially has been a high-profile advocate for immigration reform and has repeatedly called for the party to soften its rhetoric. Grover Norquist, the American Tax Reform president behind the no-tax pledge, has also spoken out in support of reform. Even hyper-conservative evangelical groups like Focus on the Family have called for a more humane approach to policy for undocumented immigrants.
But while all are high-profile, none have succeeded in setting the tone on immigration for the Republican Party. Romney went out of the gate last year by disparaging fellow candidate Texas Gov. Rick Perry for signing a bill to give some young undocumented immigrants in-state tuition. Romney also said he would veto the Dream Act -- which is enormously popular among Latino voters -- and that undocumented immigration could be solved by "self-deportation."
The party has also been haunted by some of its lower-profile members who are most vocal on immigration, such as Arizona Gov. Jan Brewer, Rep. Steve King (R-Iowa) and others whose speech and policy proposals on immigration are deemed by many to be extreme and offensive.
Now, those voices seem likely to be drowned out as congressional leaders look ahead to a debate next year over immigration reform, after House Speaker John Boehner (R-Ohio), Senate Majority Leader Harry Reid (D-Nev.) and President Barack Obama all have said it will be a priority for 2013.
Rubio did not go into detail on Thursday about his specific policy desires for immigration reform, other than to urge swift action on a Dream Act-style bill to help undocumented young people who entered the United States as children. He had planned earlier this year to release a form of that bill that would not allow a path to citizenship, unlike the decade-old Dream Act.
"The issue of these kids that are in this country undocumented is not an immigration issue, it's a humanitarian one," he said. "They are more like refugees in that sense than they are like illegal immigration folks, because they're here through no fault of their own, they've been raised their entire life here and they want to go on with their future."
Mostly, his statements emphasized the importance of looking at the issue with compassion rather than demagoguing undocumented immigrants, which has been the interpretation by many of laws such as Arizona's SB 1070 and statements that paint unauthorized immigrants as common criminals.
"[Some undocumented immigrants] quite frankly came here because there was a job on the other side and their family was starving, and they're going to do anything they can to feed and provide for their families," he said, explaining some of the many reasons people are here without authorization.
He made a similar remark in his book, An American Son, released in June. "Many people who came here illegally are doing exactly what we would do if we lived in a country where we couldn't feed our families," he writes in the book.
Rubio also said policy on undocumented immigrants won't necessarily be the most difficult aspect of finding an agreement on reform. Visa reform is more likely to cause issues, he said, but he promised to defend family reunification visas as well as employment-based visas.
"The legalization of people that are here today is politically charged, but you either do it or you don't, and then you can argue about how to do it," Rubio said. "The more complicated one is how do you fix future immigration."
Support HuffPost
The Stakes Have Never Been Higher
Before You Go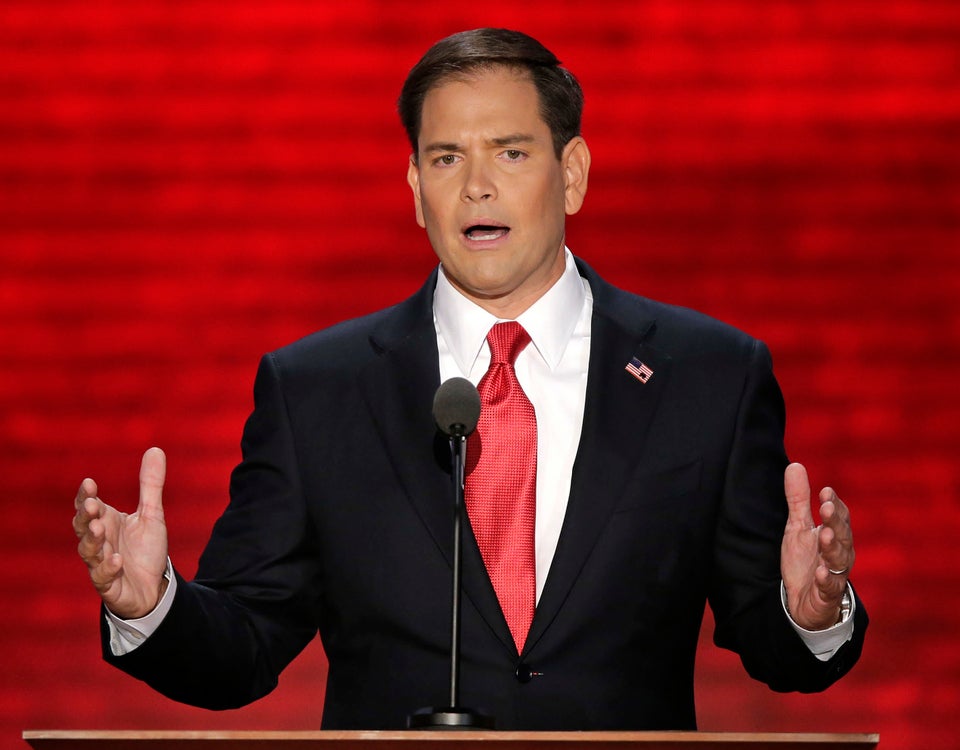 Now We Want Immigration Reform!
Popular in the Community