DAVENPORT, Iowa -- It was standing room only at Republican presidential contender Marco Rubio's Iowa town hall on Thursday evening, as hundreds of supporters squeezed into the Budweiser Champions Club inside the Quad Cities' minor league baseball park.
"As candidates bow out of the race, voters are consolidating around other candidates," said state Sen. Jack Whitver, who chairs Rubio's Iowa campaign. "This crowd is symbolic of what we've seen in our office all week," he said before introducing Rubio.
The audience was the largest turnout so far in Iowa for the Florida senator, who hasn't spent as much time in the state as some of his GOP competitors. About 30 people snagged the only chairs in the room, and the rest were forced to stand.
Nearly two months earlier, the same room was arranged completely differently as Wisconsin Gov. Scott Walker kicked off his Iowa campaign shortly after his presidential announcement. Rubio's rival suspended his White House bid on Monday.
But in July, when Walker's hopes were higher, voters entering the ballpark that muggy day were greeted by a statue of an elephant that read "Vote Republican." The room had been meticulously decorated hours earlier with campaign posters and flags. A large stage was set up, from which Walker delivered his first stump speech as an official presidential candidate. The governor was perfectly lit, thanks to several spotlights placed around the room. Iowans enjoyed hors d'oeuvres, as a scoreboard flashed the words, "Iowa loves Scott Walker."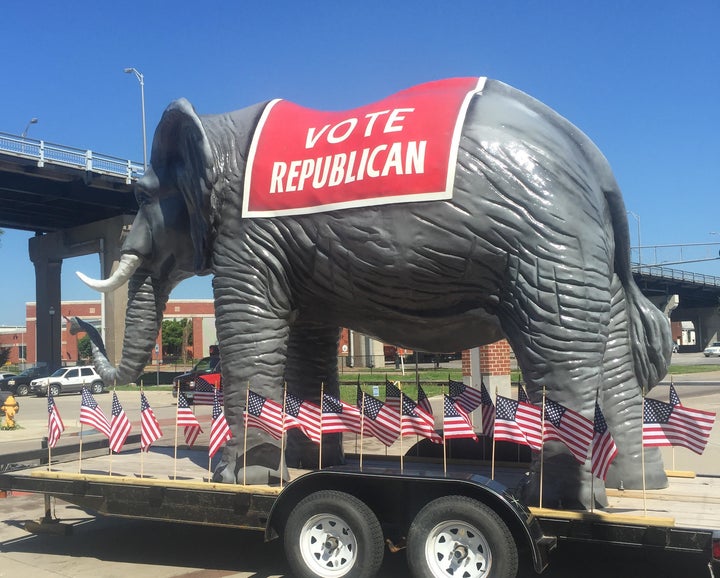 Rubio's event on Thursday was bare bones by comparison, characteristic of his low-key campaign. No fancy appetizers, no lit-up scoreboards, just a basic stage and small media riser. Thirty minutes before the event was set to begin, staffers were still arranging a few chairs and a curtain with a Rubio poster in the center of the room.
Still, the simplicity of the set-up likely didn't even cross the minds of voters crammed into the room, who were buzzing with excitement over the senator's second trip to Scott County.
In the aftermath of Walker's short campaign, it's become clear that his camp had a spending problem, with expensive political consultants, a full-time photographer and extravagant events that would have been better suited for an actual party nominee.
By contrast, Rubio has run a frugal campaign. The senator has rarely held his own events in Iowa; instead, he's appeared as a guest speaker at other organizations' functions. His campaign doesn't hand out bumper stickers or apparel; instead, it directs voters to a website where the goods can be purchased. According to National Review, Rubio flies commercial 95 percent of the time to save money.
Since Walker dropped out of the race this week, Rubio has gained support in key early-voting states. In a CNN poll released Thursday, he had risen to 11 percent among New Hampshire voters who said they voted in the last two presidential elections. Rubio has also been endorsed by several key Walker activists in Iowa.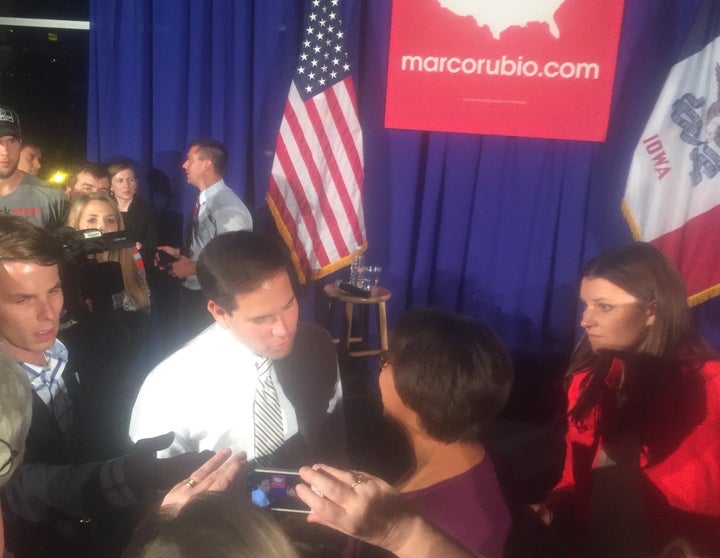 The audience in Davenport was receptive to him on Thursday evening, applauding and cheering as the 44-year-old reflected on his family and his "debt to America" that he can never repay.
Following Rubio's event, Gerald Small of Davenport said that the senator now makes his top four list of candidates.
"He's now at number three for me," the 74-year-old said. "He just needs to come to Iowa, and I think they need bigger places to hold their events."
In next year's Iowa caucuses, Scott County will be a crucial area for more establishment Republican candidates like Rubio, former Florida Gov. Jeb Bush and former Hewlett-Packard executive Carly Fiorina. The social conservatives will battle it out in northwest Iowa. But in the past, Mitt Romney did well in the eastern part of the state: He carried Scott County in the last two caucuses. 
"Tonight I was very impressed," said Chris Saladin, a junior at Augustana College. "I think he's a great speaker, someone who can really inspire."
Saladin said that while Rubio has been on his radar for a while, something struck him about the candidate's performance on Thursday: "Hearing him speak tonight was the first time I thought to myself, he could really win it all."
PHOTO GALLERY
Declared 2016 Presidential Candidates
Calling all HuffPost superfans!
Sign up for membership to become a founding member and help shape HuffPost's next chapter