With his poll numbers foundering, his campaign in downsizing mode and questions about whether he might drop out of the race before the voting even begins no longer sounding so absurd, Jeb Bush needed to stand out at Wednesday night's debate.
And in a way, he did. But for all the wrong reasons.
In a memorable exchange with Sen. Marco Rubio (R-Fla.), Bush's onetime protégé showed why he has become an existential threat to the former Florida governor's White House hopes.
The moment arose after Rubio was questioned by the CNBC moderators about his poor attendance record at recent Senate votes -- an issue that the Sun Sentinel newspaper's editorial board raised this week in calling on him to resign his seat.
"I'm a constituent of the senator and I helped him and expected that he would do constituent service, which means he'd show up to work," Bush chimed in. "He's a gifted politician. But Marco, when you signed up for this, this was a six-year term, and you should be showing up to work."
Like a predator waiting patiently in the tall grass, Rubio allowed Bush -- who has long vowed not to attack his GOP rivals and to campaign "joyfully" -- to ramp up his criticism.
"I mean literally, the Senate, what is it, like a French work week?" Bush scoffed. "You get like three days where you have to show up? You can campaign or just resign and let someone else take the job."
"Well, it's interesting," he said, noting that Bush has recently praised Arizona Sen. John McCain's 2008 presidential campaign comeback as a model for his own White House bid. "You know how many votes John McCain missed when he was carrying out that furious comeback that you're modeling after? Jeb, I don't remember you ever complaining about John McCain's vote record. The only reason you're doing it now is because we're running for the same position and somebody has convinced you that attacking me is going to help you."
It was a devastating charge. And the only thing that Bush could offer in return was stunned silence.
"Here's the bottom line," Rubio continued, sticking the rhetorical knife in even deeper. "My campaign is going to be about the future of America. It's not going to be about attacking anyone else on this stage."
Rubio's response was so effective -- and the impact in putting Bush on his heels so immediate -- that the senator's spokesman triumphantly tweeted it out a full hour before the debate's conclusion. And, in the moment, it was hard not to feel sympathy for Bush, his once promising campaign appearing to hit a new low in front of a live audience assumed to be in the tens of millions.
Wednesday night's debate was a mess of a forum, with candidates talking over moderators, moderators stumbling over questions, and little rhythm to the discussion. But if it will be remembered for one thing, it will likely be as the moment when the hierarchy for the campaign's two Florida Republicans was rearranged.
Dan Pfeiffer, President Barack Obama's former top adviser, may have best described the changing power dynamic by comparing Bush, once more, to Cutty, the fictional drug dealer in HBO's "The Wire," who, after years behind bars, can't adapt to the modern game. Later during the debate, Pfeiffer added to the analogy. "Rubio is Marlo tonight," he emailed, referencing the young upstart who rose to the top of Baltimore's drug trade in a power vacuum.
When he wasn't stumbling on Wednesday evening, Bush often seemed like an afterthought. For long intervals, he all but disappeared from the stage, waiting patiently for his limited time to answer questions, while being overshadowed by more assertive candidates. When it ended, one count showed that Bush had received the second-least amount of time of any candidate to speak. (Other tallies put him in the middle of the pack.)
In was a performance that could charitably be scored as a dud. A less-generous reading would be to call it a disaster -- and one that Bush will have a hard time recovering from, as GOP establishment donors may now conclude en masse that Rubio is clearly a far better bet.
"One of the biggest tests for candidates is whether they can answer in the affirmative the voter's question of, 'Does this candidate understand the problems of people like me?'... Rubio truly does answer that question better than anyone in this field," said Kevin Madden, a longtime GOP operative and top aide on Mitt Romney's two presidential campaigns. "Bush seems to still be having a hard time acclimating himself to the freak-show nature of today's campaign environment."
Indeed, the most glaring weakness plaguing Bush at this juncture is his lack of political dexterity. The attack he levied on Rubio's absenteeism could have been more effective, had it not been so clearly, loudly, advertised. Two weeks ago, Bush called on Rubio to show up and vote. And the day of the debate, Bush's super PAC created a Twitter account mocking Rubio for dereliction of his senatorial duties.
"Never set up an ambush with flashing signs. Marco was utterly prepared for any variation of that question, and Jeb got talked into a terrible attack that Rubio was more than ready for," said Rick Wilson, a longtime Republican operative based in Florida.
Still bleeding from the misfire on Rubio, Bush later in the debate tried to rescue himself by reverting back to the positive message that he has long vowed to stick to throughout the campaign.
"A great majority of Republicans and Americans believe in a hopeful future," Bush said. "They don't believe in building walls and a pessimistic view of the future."
In another time -- with Republican primary voters in a more genteel and accommodating mood than they are today -- that kind of approach might have worked for a candidate of Bush's pedigree.
But not Wednesday night. And not in this race.
As the debate dragged on, Rubio continued to own the stage with a surgeon's precision, demonstrating time and again why many Republicans consider him to be the party's best messenger. He skillfully attacked the slowest-moving targets in any GOP debate -- Democrats and the media -- while laying out a positive vision of his own that sounded as clear and modern as Bush's did nebulous and stale.
Bush, meanwhile, continued to look like a guy who's time is almost up.
For the latest updates on

tonight's

debate, visit our liveblog.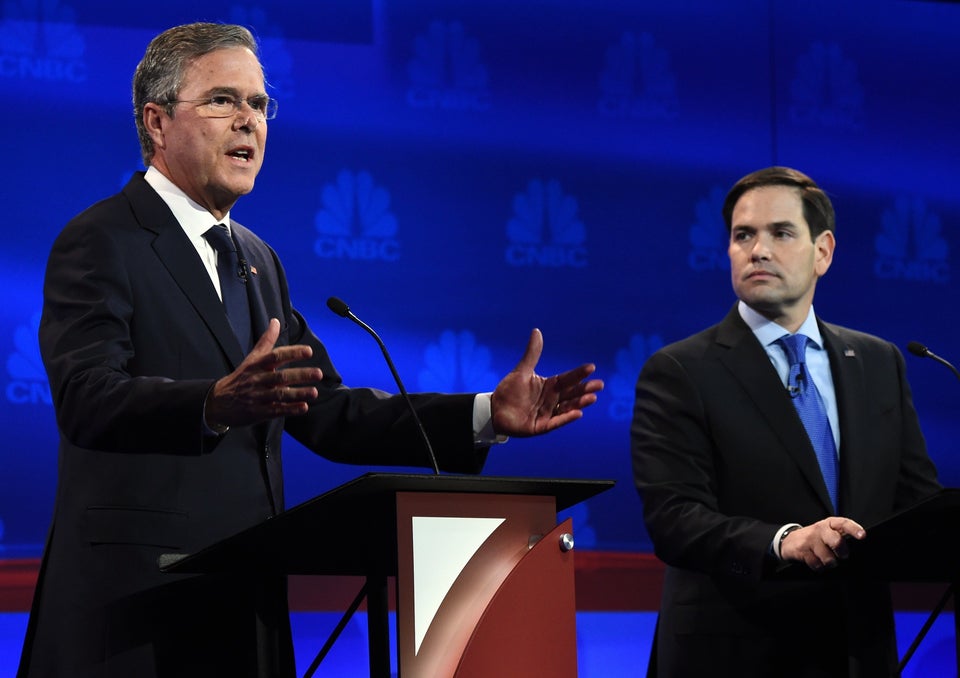 Moments From The CNBC Republican Debate
Popular in the Community