Having been dinged repeatedly for his spotty voting record in the U.S. Senate as he runs for president, Sen. Marco Rubio (R-Fla.) came to Wednesday's GOP presidential debate prepared for questions about his absenteeism.
Rubio defended his attendance record on grounds that the country's problems were too significant for him to wait around, finish his term, and run for president in the future. Then, after he was read from an editorial in the Florida Sun-Sentinel calling on him to resign, he lashed out at the mainstream media
"I read that editorial today with great amusement," Rubio said. "It is actually evidence of the bias of the American media today."
Waiting for him to finish his answer was former Florida Gov. Jeb Bush (R), who has made Rubio's voting record an issue on the campaign trail.
"This was a six-year term and you should be showing up to work," Bush said.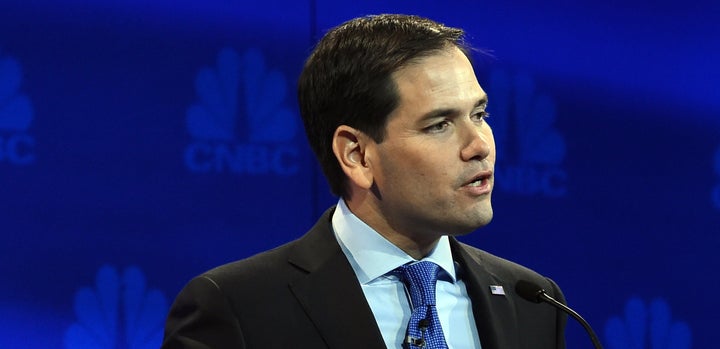 "The Senate, what is it, like a French work week?" Bush asked.
He suggested it wouldn't be too much of a burden for Rubio to check in three days a week for votes. "Or just resign."
Rubio ended up coming out on the better half of the exchange, however, noting that other candidates who ran for the White House had missed votes like he had, including Sen. John McCain (R-Ariz.) whose bootstraps campaign Bush is now trying to emulate.
"I don't remember you ever complaining about John McCain's voting record," Rubio said. "Someone has convinced you that attacking me is going to help you."
For the latest updates on tonight's debate, visit our liveblog.
PHOTO GALLERY
Moments From The CNBC Republican Debate
Calling all HuffPost superfans!
Sign up for membership to become a founding member and help shape HuffPost's next chapter