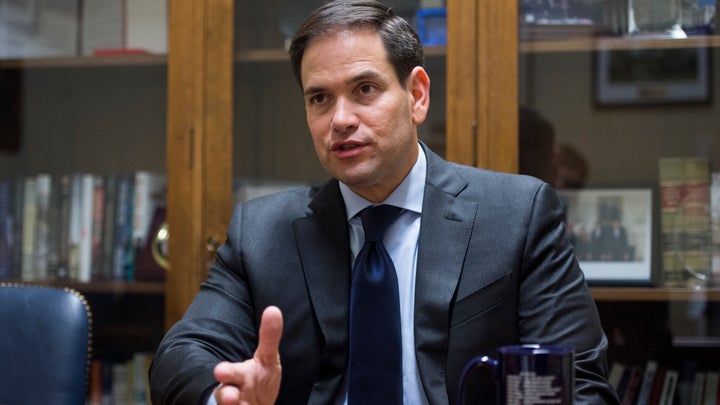 Sen. Marco Rubio (R-Fla.) picked up the endorsement this week of a conservative leader who has opposed equality for lesbian, gay, bisexual and transgender individuals and railed against the influence of "homosexual-rights activists."
John Stemberger, president of the Florida Family Policy Council, announced Monday that he was endorsing Rubio's re-election bid. 
"Rubio is solid on our issues," Stemberger said in a statement. "Florida faith leaders that I have spoken to in every corner of the state are elated by Marco's decision to seek reelection. Throughout his time in the US Senate he has been a consistent and steadfast voice for all Floridians who believe in the sanctity of human life, the institution of marriage, and the constitutional principle of freedom of religion."
Rubio also touted the endorsement on his Facebook page: 
Rubio's affiliation with FFPC isn't new, but it's notable in light of the shooting at an gay nightclub in Orlando. In 2013, the senator spoke at a fundraiser for the group after he had voted against legislation that would have outlawed workplace discrimination on the basis of sexual orientation and gender identity.
Stemberger said Rubio called him Sunday morning about the shooting at Pulse nightclub. 
"Right after church, I spoke with Senator Marco Rubio who had called my cell phone and briefed me on what facts were known at that time by government officials," Stemberger wrote on FFPC's website. "He also asked me to encourage our supporters, pastors and other church leaders around the state to please pray for the families of those killed and for the City of Orlando." 
A Rubio adviser noted that the senator called several people in Orlando, including the mayor and Sen. Bill Nelson (D-Fla.). 
"He called Stemberger to encourage him to ask the pastors and churches he was in contact with to pray for the victims and their families, and to ask them to consider asking members of their churches to donate blood," said the adviser.
Stemberger later issued a statement calling the 49 people who died in the massacre "precious souls" and asked people "to pray for the families of those murdered and injured."
"I am fairly certain that the LGBT community doesn't want a drop of your crocodile tears," wrote George Diaz, an Orlando Sentinel columnist who called Stemberger a "gay-basher." "They see what you do as hate crimes. Killing certainly rises to a despicable level, full of blood. But tears are shed, too, when people are cast as lepers in society because of their lifestyle."
"Honestly, I am really tired of seeing special interest rainbow flags and wish we could see more American flags, as we stand together in unity against our greatest mutual enemy, radical Islamic jihadists!" he wrote in a blog post. 
In the wake of the June 12 nightclub shooting, Rubio acknowledged the homophobic nature of the incident.
"I don't need investigators to tell me the gay community was targeted in this attack," Rubio told The Advocate. "Watch the videos. We know what ISIS has done to people they accuse of being homosexual. They throw them off of buildings. They execute them."
But Orlando's openly lesbian city commissioner, Patty Sheehan, said she expects to see her senator do more. 
"Marco Rubio, the senator from Florida, walked on our blood-stained streets with people from the Hispanic community," Sheehan told Michelangelo Signorile on SiriusXM Progress. "And he went right back to Washington -- one of the few times he actually showed up for work -- and voted against sensible gun legislation."
This piece was updated with additional information about Rubio's contact with Stemberger.
Calling all HuffPost superfans!
Sign up for membership to become a founding member and help shape HuffPost's next chapter
BEFORE YOU GO
PHOTO GALLERY
Orlando Florida Vigils