WASHINGTON -- Members of the Congressional Black Caucus expressed outrage at Sen. Marco Rubio (R-Fla.) on Wednesday for stalling Senate approval of two black judicial nominees that he had previously endorsed.
Rubio and fellow Florida Sen. Bill Nelson (D) recommended Brian Davis and William Thomas last year to President Barack Obama to fill vacancies on two U.S. district courts in Florida. But the nominations have since stalled in the Senate because Rubio won't provide a "blue slip" to the Senate Judiciary Committee, a customary step that signals a senator's consent to proceed with nominees from his or her state. Without a blue slip, the committee chairman won't bring up a nominee.
Davis' nomination to the U.S. District Court for the Middle District of Florida has now been pending for 505 days. Thomas' nomination to the U.S. District Court for the Southern District of Florida has been pending for 236 days. Both vacancies come at a time when the federal district court system is backlogged, struggling with a 10 percent judicial vacancy rate.
Rep. Alcee Hastings (D-Fla.) said he has known Thomas since he was a child and can't figure out why Rubio isn't letting his nomination through. Both nominees have cleared Florida's Federal Judicial Nominating Commission, which vets nominees and makes recommendations to senators representing the state.
"I know this much: William Thomas was here before Marco Rubio's family came here," Hastings fumed during a press conference with members of the Congressional Black Caucus, or CBC. "It would seem to me that Marco Rubio could pick up the telephone and call me and ask me a little bit more about William Thomas if he needs to know something more about him."
Rep. Frederica Wilson (D-Fla.) told The Huffington Post she's been trying to talk to Rubio directly, but can't get in touch with him.
"We're friends. We have been for a long time. I don't know what it is," Wilson said of Rubio. "So I say to you, Marco, 'We're depending on you. We're depending on you today. Why now? What is the holdup?'"
Several CBC members guessed that Rubio's change of heart comes down to one thing: politics.
"It's just to block a presidential nominee. That's it," said CBC chairwoman Marcia Fudge (D-Ohio). "To hurt the president as best they can, in any way they can. But it's just too much."
African-American judges are underrepresented in the federal judiciary. Of the 787 judges currently serving on a federal bench, 95, or 8 percent, are African-American. Judicial nominations of African-Americans also are disproportionately stuck in the Senate. Nearly one-third, or 10 of 33, of the judicial nominees currently pending in the Senate are African-American.
"In Florida, we all have heavy hearts concerning the [Trayvon] Martin case," said Rep. Corrine Brown (D-Fla.). "But part of the problem is that we don't feel that the judicial system is fair. Clearly it's not fair. And you need people ... to feel confident that we will take care to make sure that we have representation throughout the system.
"Basically, we don't feel it in Florida," Brown added, "and we need our senators to step up to the plate."
A spokesman for Nelson said the senator returned his blue slip on Davis, but is still waiting for the Senate Judiciary Committee to complete its background investigation on Thomas before turning in his blue slip for him. It is usual for a senator to wait to submit a blue slip until that investigation is done, said the spokesman.
It's not just African-American judicial nominees who are stuck in the Senate. Republicans have been blocking lots of Obama's nominees since he took office, with tactics that include not putting forward recommendations for nominees at the beginning of the process, causing delays in floor votes once nominees clear the Senate Judiciary Committee, and dragging out the committee process by submitting hundreds of questions for nominees to answer.
But it's not often that a senator recommends a nominee from his or her state, signs on to usher that nominee through the confirmation process and then holds up that nominee.
The Huffington Post caught up with Rubio Wednesday to ask why he's holding up his own nominees. He didn't offer much explanation.
In the case of Davis, Rubio cited concerns aired by Sen. Chuck Grassley (R-Iowa) over comments Davis made on race issues at a local NAACP meeting in 1995. Indeed, Grassley has been citing those concerns for more than a year.
"Sen. Grassley wants further clarification on that. Hopefully he'll get that," Rubio said, though he wouldn't give a timeline on how much longer Grassley plans to review Davis' past.
Grassley's opposition to Davis has no bearing on Rubio's ability to turn in his blue slip, though. Plenty of Republican senators have said they may oppose a nominee, but they'll still file a blue slip to let the nominee get a full vote. Most recently, Sen. Dean Heller (R-Nev.) made such a vow.
As for Thomas, Rubio said he's the one holding him up. He cited concerns with "some conduct from the bench in the past," but demurred when asked to elaborate.
"I will [say more], but not in an interview in a hallway," Rubio said. He said his concerns "are serious and they're important and I want to make sure we have all our facts correct."
Asked if he had any response to CBC members who are angry at the stalled nominations, Rubio said it's important to take the time to address Republicans' concerns.
"These are lifetime appointments," Rubio said. "Before someone is appointed to a bench for the rest of their lives, senators who are going to vote on them have a right to have all the information and have answers to their questions."
This article has been updated to note that Grassley's questions about Davis have no bearing on Rubio's ability to file his blue slip.
Before You Go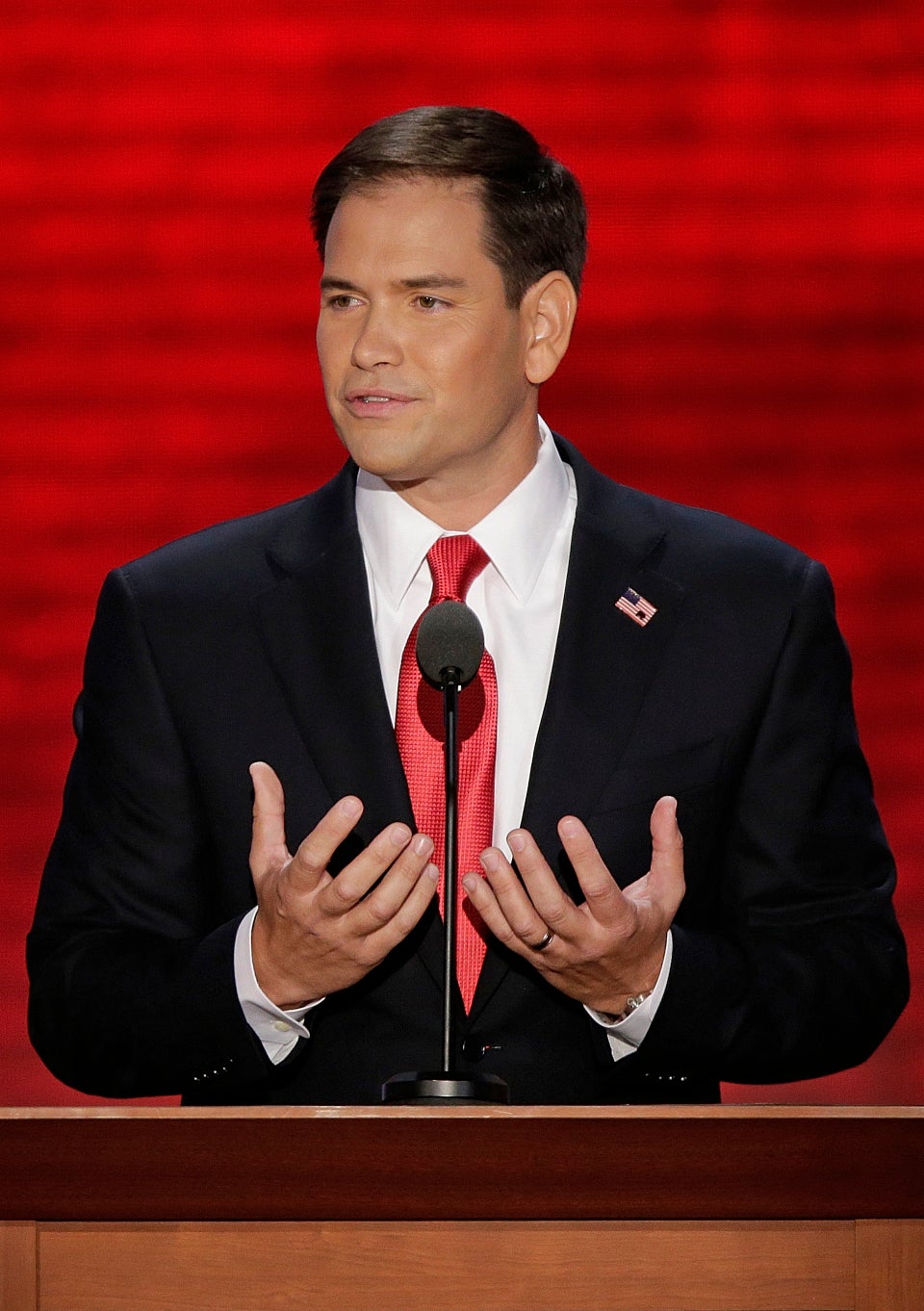 Sen. Marco Rubio
Popular in the Community