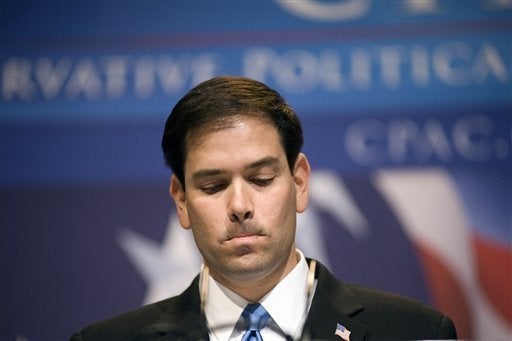 (AP) Senate candidate and former Florida House Speaker Marco Rubio released a torrid letter Wednesday accusing Gov. Charlie Crist's campaign of leaking Rubio's state Republican Party American Express statements showing nearly $110,000 in charges over 25 months.
Rubio also justifies the charges as legitimate travel to promote the Republican Party of Florida, help Republican candidates and participate in county party fundraisers around the state.
"It is clear these internal documents were taken from the RPOF by former Chairman Jim Greer, or someone working for him, and were leaked to the media by the Crist Campaign," Rubio wrote to newly elected Chairman John Thrasher.
Greer resigned from the party under pressure after reports of lavish spending on jet planes and extravagant meals and entertaining. Greer's executive director, Delmar Johnson, was given a secret contract that pumped his compensation up to $408,000.
"As a point of reference, during this time period, the charges on my card amounted to approximately 3 percent of the Party's total American Express expenditures. In fact, I had fewer expenses in two years than my opponent's hand-picked RPOF Executive Director spent in just one month," Rubio wrote.
The Miami Herald and the St. Petersburg Times, which obtained the records, listed several personal items found on the statements, including grocery bills and wine bought from a store near his Miami home. Rubio said he personally paid American Express $16,052.50 for nonparty expenses.
"To the greatest extent possible, I made sure the Party never paid for any personal charges," Rubio told Thrasher.
Sharon Day, the state party's national committeewoman, defended Rubio and said she was angry someone would try to use the credit card statements against him.
"I'm not upset with Marco Rubio at all," she said. "If you can raise $12 million on $110,000, we all should be that good."
Day said Greer told her and other party leaders in a private meeting that if he went down, he would take others down with him. Greer didn't immediately return a call seeking comment.
"It's very convenient that the only one that gets released (is Rubio's)," she said. "This is silly. They want to talk about $110,000 in 25 months when Delmar spent $130,000 in one month."
Reached at home, Thrasher, who replaced Greer last Saturday, said he had no idea who had access to the statements.
"It's unfortunate they were leaked. They're internal documents of the party," Thrasher said. "We're taking steps to make sure it doesn't happen again."
Rubio pointed out only top party officials had access to the statements and noted Greer was picked by Crist to run the party. Crist, who says he never carried a party charge card, has previously said the statements should be released.
"These actions are an appalling act of political desperation. The idea that the former chairman of the RPOF, or those working for the Governor, would selectively leak internal RPOF documents is disturbing. But sadly it is not surprising because these are the very men who put the party in the mess it is in today," Rubio said. "The Florida GOP under Jeb Bush was never run with this sort of arrogance, mismanagement, lack of integrity and lack of leadership."
The Crist campaign didn't immediately return a phone call and e-mails seeking comment.
Rubio said 89 percent of his expenses were for travel, lodging, and meals related to official party work.
"During this time I crisscrossed the state countless times for Lincoln/Reagan dinners, GOP fundraisers, and other party business. In all, more than half of my expenses were transportation costs: 40 percent for commercial airline travel and 14 percent for car rentals, tolls, parking and fuel," Rubio said.
Popular in the Community