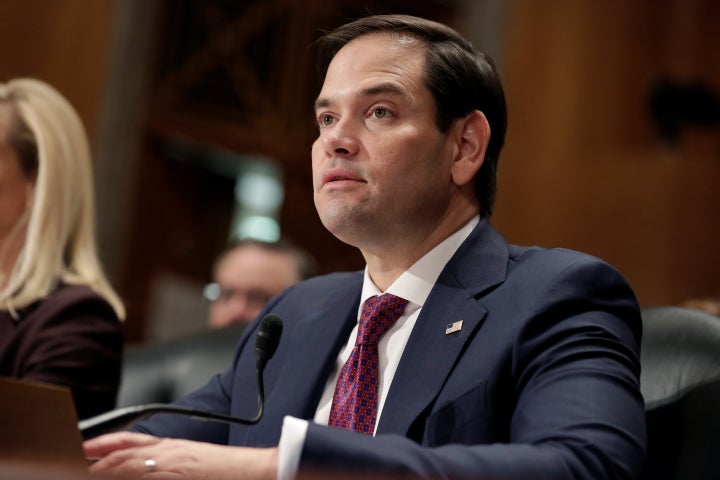 WASHINGTON ― Sen. Marco Rubio (R-Fla.) offered a curious explanation for his vote to confirm Rep. Jim Bridenstine as the next NASA chief after initially opposing Bridenstine's nomination.
The Oklahoma Republican narrowly won confirmation Thursday after having served on the House Science, Space and Technology subcommittee that oversees the agency. But Bridenstine's nomination by President Donald Trump last year generated bipartisan opposition because of his partisan reputation and his lack of a scientific background.
Rubio at the time expressed concern that the congressman's "political baggage" would weigh him down and tar an admired organization that has traditionally "been free of politics."
But on Thursday the senator changed his tune. Addressing the flip, Rubio argued that NASA couldn't afford a prolonged vacancy if the Senate was unable to act this week ― a fair enough concern.
But then the senator launched into another explanation. Opening with a spiel about the Senate's constitutional power of advice and consent, Rubio then landed on this:
It is my view that the more important the job, the more discretion the president deserves. That's why I decided to support [Rex] Tillerson. ... And it's what led me to decide to support Congressman Bridenstine despite my reservations.
It's an odd position for someone in a co-equal branch of government to take. Not only does the opposite seem true ― the more important a nomination, the more scrutiny it deserves from the Senate ― but Rubio himself took the contrary position on... Rex Tillerson.
"My view is that the president deserves wide latitude in our nominations. But the more important the position is, the less latitude they have," Rubio told reporters last January, after grilling Tillerson during his confirmation hearing to be secretary of state.
"It's like a cone," Rubio added. "It's really wide in some positions — as it gets higher and higher, the discretion becomes more limited and our scrutiny should become higher. And I consider [secretary of state] the highest of them all."
By that standard, Rubio would have felt less compelled to confirm Tillerson, whose post ranked far higher than the one Bridenstine is assuming. But he ended up voting for both.
The topic of nominations has been politically divisive in recent years, with members of both parties taking advantage of the rights of the minority to stymie and block a president's Cabinet and judicial picks. In 2013, then-Senate Majority Leader Harry Reid (D-Nev.) had to force a change in filibuster rules in order to approve President Barack Obama's executive and judicial nominees after years of unified GOP obstruction ― including to the Environmental Protection Agency, the Department of Labor, the National Labor Relations Board and the Consumer Financial Protection Bureau.
Republicans, including Trump, are now accusing Democrats of similarly slow-walking executive and judicial nominations ― even though the threshold for those is now only 50 votes.
Sarah Binder, a professor of political science at George Washington University, said that while both parties have engaged in the politics of obstruction, one party deserved more blame than the other.
"Any norm of deference to the president for executive branch nominees ('his team') was nearly shredded by Republicans during the Obama years," she said. "Past GOP presidents have faced difficulty at times getting their nominees confirmed (John Bolton comes to mind). But by sheer numbers, past GOP presidents have faced far less obstruction of their 'teams' than past Democratic presidents."