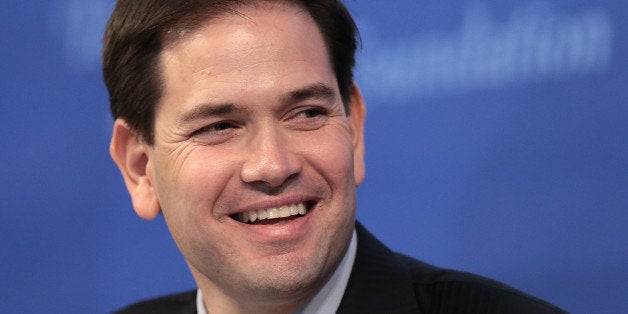 WASHINGTON -- In his first major foreign policy address as a presidential candidate, Sen. Marco Rubio (R-Fla.) urged the Senate to permanently authorize core sections of the Patriot Act, the landmark law that granted the National Security Agency broad authority to conduct surveillance, including controversial programs like the bulk collection of telephone data revealed by leaker Edward Snowden.
"A strong military also means a strong intelligence community, equipped with all it needs to defend the homeland from extremism -- both homegrown and foreign-trained," Rubio said Wednesday at the Council on Foreign Relations in New York. "We cannot let politics cloud the importance of this issue. We must never find ourselves looking back after a terrorist attack and saying we could have done more to save American lives."
But during his time in the Florida House of Representatives, Rubio was a much more moderate voice on national security issues than he is known for being today. Then a member of a panel charged with overseeing Florida's safety procedures, the Republican bucked his party and fought against a slew of restrictive anti-terrorism policies proposed in the aftermath of the Sept. 11 terror attacks.
Alarmed by threats of new attacks, state lawmakers unleashed what the Orlando Sentinel called at the time an "unprecedented assault" on Florida's public-records laws. They passed some two dozen bills -- out of 150 that were considered -- that curtailed the right to request public information, such as government building plans, all in the name of national security. It was in that atmosphere that Rubio, the son of Cuban immigrants, raised some of the loudest concerns about what he viewed as invasive measures that reminded him not of American democracy, but rather that of Fidel Castro's communist haven several hundred miles south.
One of the most controversial bills, HB-109B, would have given state police the ability to detain a witness for up to four days if it pertained to a terror investigation. Another measure, HB-131B, would have allowed authorities to suspend public record laws for up to 21 days in terrorism investigations. Rubio's objections -- along with that of 12 other members of the legislature who were also of Cuban-American descent -- were so notable that, in October 2011, the Palm Beach Post described the efforts as "veering closer to the liberal camp of the American Civil Liberties Union."
"So many of these measures that we are talking about implementing were the very same ones that were forced on the people of Cuba right after Castro took over," Rubio said, according to the Post.
In March 2002, the following legislative session, Rubio led the fight to defeat a fellow Republican's bill that would have required universities to submit visa information on foreign students. Rubio told the Miami Herald he was concerned that, under the bill, immigrants "won't be able to go to school without being tracked."
"I hope no one thinks we're Captain America saving the world," Rubio said of the measure, adding that it was "part of what appears to be a pattern of legislation that targets people who are here to make their lives better and contribute to the good of the country."
The Patriot Act, which Rubio enthusiastically supports, expanded government tracking of international students. It also directed the Immigration and Naturalization Service to monitor language training and other vocational schools.
A year after the clash in the Florida House, Rubio reflected on the post-9/11 mentality of the country in a March 2003 article in the Orlando Sentinel. He appeared to criticize law enforcement agencies for going too far in the name of national security.
"I think the atmosphere is less urgent and much calmer now," Rubio said in 2003, then House majority leader. "In the aftermath of 9-11, everything with law enforcement was terrorism-this and terrorism-that."
Granted, Rubio's statements years ago don't necessarily contradict with his newfound zeal for robust government surveillance. His objections then were to particularly onerous measures that tipped the scale against public interests. Controversial government surveillance programs like the NSA's bulk phone data collection, Rubio argues now, are necessary when America faces more threats than any time since Sept. 11.
But the shift in tone is striking, especially considering his rightward lurch to become one of the Senate's most hawkish members to seek the presidency.

Calling all HuffPost superfans!
Sign up for membership to become a founding member and help shape HuffPost's next chapter
BEFORE YOU GO
PHOTO GALLERY
Sen. Marco Rubio