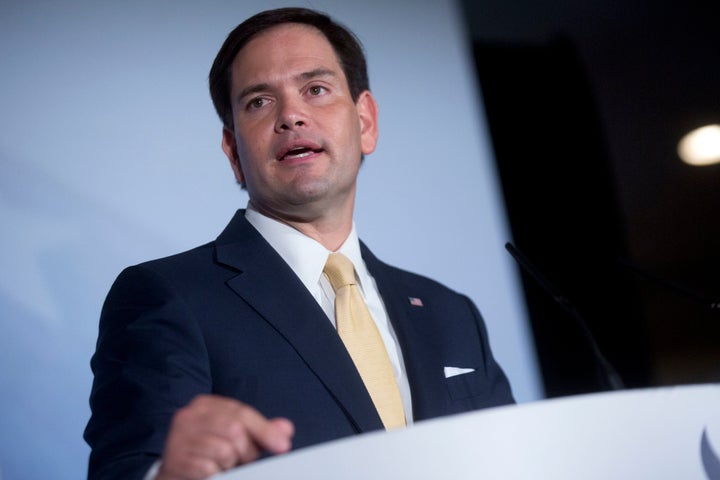 WASHINGTON -- Sen. Marco Rubio (R-Fla.) on Sunday slammed President Barack Obama's forthcoming standards for power plant emissions, charging that they would do little for the climate at far too great an expense for American consumers.
"It will make the cost of electricity higher for millions of Americans," Rubio, a presidential candidate, said during an interview at a private gathering of wealthy donors in Dana Point, California, hosted by billionaire brothers Charles and David Koch.
The new rules, should they withstand legal scrutiny, would call for a 32 percent reduction of planet-warming greenhouse gas emissions from power plants, compared to 2005 levels. The plan would also increase the percent of power that states will be expected to draw from renewable sources like wind and solar.
In his remarks, which drew applause multiple times, Rubio took a veiled shot at billionaire environmentalist Tom Steyer, who has funded campaigns to fight climate change. In doing so, Rubio positioned himself, the son of an immigrant bartender, as the defender of the middle class.
"So if there's some billionaire somewhere who is a pro-environmental, cap and trade person, yeah, they can probably afford for their electric bill to go up a couple of hundred dollars," Rubio said. "But if you're a single mom in Tampa, Florida, and your electric bill goes up by thirty dollars a month, that is catastrophic."
The Florida Republican, who is a climate change skeptic, also argued that taking action to unilaterally curb emissions without similar reductions by other countries would be nearly pointless.
The new carbon regulations, he said, will "do nothing to address the underlying issue that they're talking about. Because as far as I can see, China and India and other developing countries are going to continue to burn anything they can get their hands on."
The climate deal reached between the United States and China last year, however, may kneecap that argument somewhat. Under the terms of the agreement, China would stop expanding its emissions by 2030, or earlier if possible.
Popular in the Community