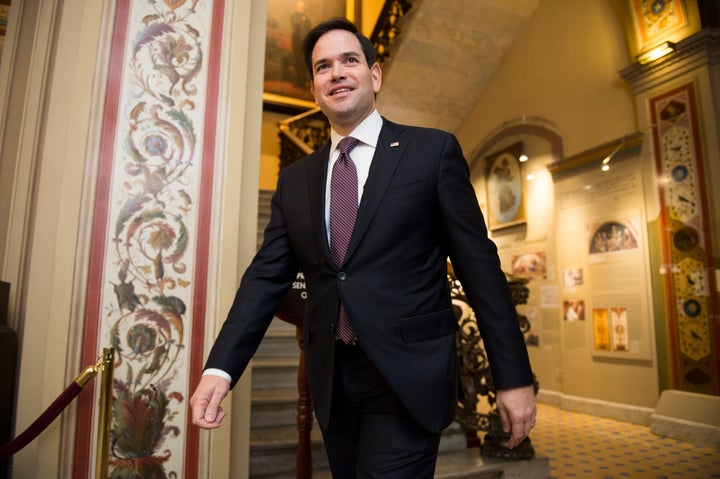 Now that it's pretty clear that either Donald Trump or Ted Cruz is going to be the Republican nominee for president, reporters who've collected dribs and drabs of information on the candidates once thought to be contenders are taking that material and stitching it up into story form. After all, if "labor" doesn't result in "content" then can these reporters truly say they ever existed at all?
That's the best explanation for a story by Manuel Roig-Franzia and Scott Higham in today's Washington Post titled "Rubio's summer of '90: An arrest, then newfound purpose." In it, you'll find the incredibly true tale of that time Rubio was nicked by the cops for standing in a park that was closed, and how this could have potentially been -- you never know! -- the singularly profound experience that would forever change his life.
The backstory on this: Rubio is a man who is alive and 18 years old. He has some bad grades and he hurts his neck, and he needs money. Poor dissolute Marco, what's he gonna do?
Ehhh, he's going to hang out in a park at the wrong time, drinking a beer, that's all. Per the Post:
He resolved to go back to Florida and get his life on a path to success. Instead the 18-year-old added to his troubles after returning to Miami for summer break: He was arrested one night in May 1990 for being in a crime-plagued public park after closing time, according to police records and an interview with a friend who was cited with Rubio that night.
That's it? I'm just not feeling the weight, guys. What else do you got?
The previously unreported misdemeanor, which eventually was dismissed, tugged Rubio into the criminal-justice system just one year after the conviction of his brother-in-law in a major drug-trafficking case had exacted a devastating toll on his family.
I can picture the scene. Mom is wailing in the bedroom. Dad, a bent and downcast portrait of wrecked middle-class masculinity in the kitchen, stares at his feet, as his son Marco quietly, almost imperceptibly, vibrates with worry by the stove. Marco's dad slowly unwraps himself, and takes a deep breath before speaking:
DAD: Marco! How could you? First your brother-in-law devastates the family by being convicted in a major drug-trafficking case, and now you? Standing in a park after it closed? How are we going to come back from this?

MARCO: Um, I was drinking a beer in a park, and the cops cited me, it's not a big deal and I'll get it cleared up without any trouble, I don't understand why you're reacting --

DAD: Marco! Marco!

MARCO: What?

DAD: (Slowly, and with great disappointment, standing to exit) Just... try to make something of yourself. (Suddenly animated) By God, Marco, I was a bartender at Sam's Town! Never forget that!
And he obviously never did. But as the Post relates, he did forget to include this event in his book, An American Son. Now, my explanation would be that getting poached by a beat cop for drinking in public while underage is a pretty common thing to happen to anyone around Marco's age, and when you write a memoir, you tend to want to focus on details that set you apart from everyone else on the planet. At the very least, you don't include quotidian things like that time you were 18 and had a beer like almost every other 18-year-old.
(Sometimes I think political reporters don't understand that memoirs have editors and they typically inveigh against including every piddling detail of your stupid life, because no one wants to read a 4,000-page autobiography about Florida's junior senator.)
The Post reporters seem to have gotten it into their heads that this event was some sort of formative, game-changing experience that put Rubio on the path to coming in fourth, or maybe third, in a presidential primary. Go read, if you want, and judge for yourself, but the only real conclusion the paper arrives at is that some stuff happened, and then Rubio got nicked in a park, and then some other stuff happened, and here we are. 
To listen to the other guy who got cited by police, Rubio's friend Angel Barrios, it doesn't sound like a big deal at all: "We were there just hanging out." He goes on to say that he and Rubio received, from the police, a promise-to-appear form, ostensibly obligating them to appear in court. "I don't think we even ended up going to court," he told the Post.
PHOTO GALLERY
Most Awkward Moments On The 2016 Campaign Trail
Calling all HuffPost superfans!
Sign up for membership to become a founding member and help shape HuffPost's next chapter