Republican presidential candidate Marco Rubio says Hollywood has "bigger problems" than trying to create more opportunities for people of color.
"I don't know, what does that mean?" Rubio asked.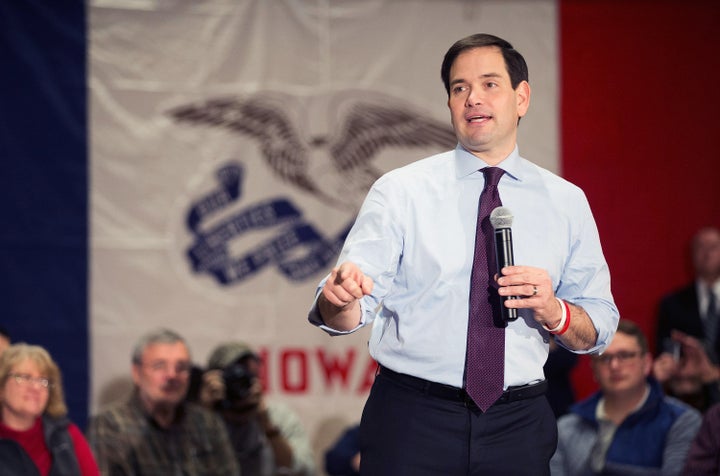 Rubio argued instead that the larger issue in the entertainment industry concerns the values that it promotes.
"Hollywood has bigger problems than that," he said. "I think the bigger problem with Hollywood is the values they are trying to ram down our kids' throats and how hard it's made it on parents."
Rubio has frequently cited his love of hip hop and rap as evidence of his relative youth compared to some of his competitors. Some of his favorite artists include Eminem, Tupac, Nicki Minaj, Pitbull and N.W.A. -- the latter group the subject of "Straight Outta Compton," a movie whose lack of Oscar acting nominations was cited by many critics as an example of the awards' overwhelming whiteness.
But on Tuesday, Rubio said he no longer listens to those artists very much because the lyrics are inappropriate for his children.
"Over the last couple of years I've gotten really into electronic dance music, so Avicii and Calvin Harris," he said. "The lyrics are clean, so I can listen to it in front of my kids without worrying about it."
Republicans often turn to values-based arguments to criticize pop culture. Last year, GOP presidential candidate Ben Carson, the only black candidate in either party, accused "the hip-hop community" of damaging the black community.
This year's #OscarsSoWhite controversy created a wave of protest against the awards, particularly given that it was the second consecutive year they featured all-white acting nominees. In response, the Academy of Motion Picture Arts and Sciences, which awards the Oscars, revised some of its membership procedures and voting rules, and announced an initiative that would double the number of women and minorities in the Academy by the year 2020.
Critics have noted that the controversy reflects a larger problem in the entertainment industry: a lack of opportunities for people of color, both in front of and behind the camera.
One culprit? The people who determine which movies get made are overwhelmingly white and male. A UCLA study of diversity in Hollywood noted that in 2013, a whopping 92 percent of studio executives and 94 percent of senior management, such as producers, were white.
In addition, most major movies do not feature actors of color. Scholars at the University of Southern California analyzed 700 popular movies released between 2007 and 2014, and discovered that about 75.2 percent of speaking roles were filled by white actors.
"Are we making sure that everybody is getting a fair shot?" he said. "Look for talent and provide opportunity to everybody."
PHOTO GALLERY
Iowa Caucus 2016
Calling all HuffPost superfans!
Sign up for membership to become a founding member and help shape HuffPost's next chapter