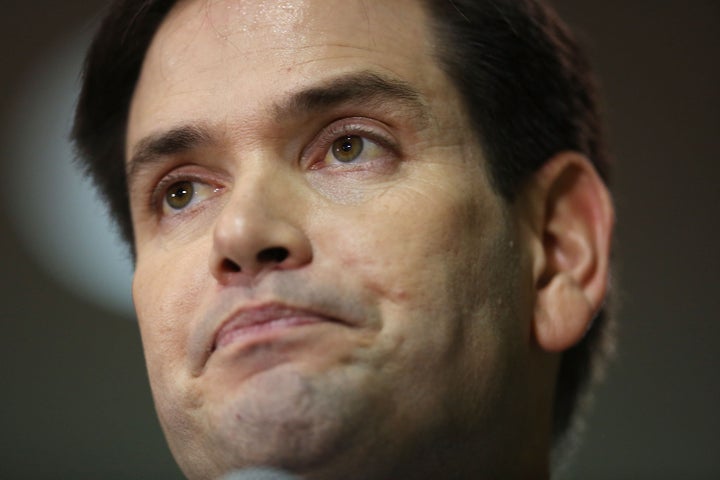 As if winning zero delegates during Tuesday night's Republican primary contests in Michigan, Mississippi, Idaho and Hawaii wasn't bad enough, Sen. Marco Rubio woke up to some grim news out of his home state of Florida.
A CNN/ORC poll released Wednesday finds Donald Trump has a double-digit lead over Rubio in the Sunshine State, 40 percent to 24 percent. Sen. Ted Cruz (R-Texas) trails them with 19 percent, and Ohio Gov. John Kasich is in last place with 5 percent. (The numbers are in line with previous surveys of the state, meaning things are looking particularly bad for Rubio -- unless polling in Florida is off as badly as it was in the Democratic race in Michigan.)
Asked about the new poll on Wednesday, Trump said it was time the Republican Party saw the writing on the wall.
"At that point it's pretty tough for anybody to do anything," the businessman said in an interview on CNN's "New Day." "I would love to see the party come together and unify."
Rubio has said repeatedly that he would win his home state of Florida, which awards all its delegates to the winner of its primary. But even he does, it's almost impossible that the state's 99 delegates would put him back in the running, given the performances of Trump and Cruz so far. With 450 delegates, Trump is still on track to secure the GOP nomination this summer. Cruz currently has 359 delegates, while Rubio trails badly with 151 delegates.
Add to the mix Cruz's plans to campaign hard in Florida -- he's hoping to deny Rubio votes and kick him out of the race come March 15 -- and it's bad news all around for the candidate preferred by the party's establishment wing.
It's not hard to see why, then, reports of jumping ship are making their way to the media -- despite the campaign's insistence that Rubio isn't dropping out before Florida's primary next week.
REAL LIFE. REAL NEWS. REAL VOICES.
Help us tell more of the stories that matter from voices that too often remain unheard.
BEFORE YOU GO
PHOTO GALLERY
Marco Rubio On The Campaign Trail